A High School Woodworker, Mysterious Steps, A Garden Society With Spring Fever, and more.
Brady Beahler on honing the skills and values that will serve
him for life.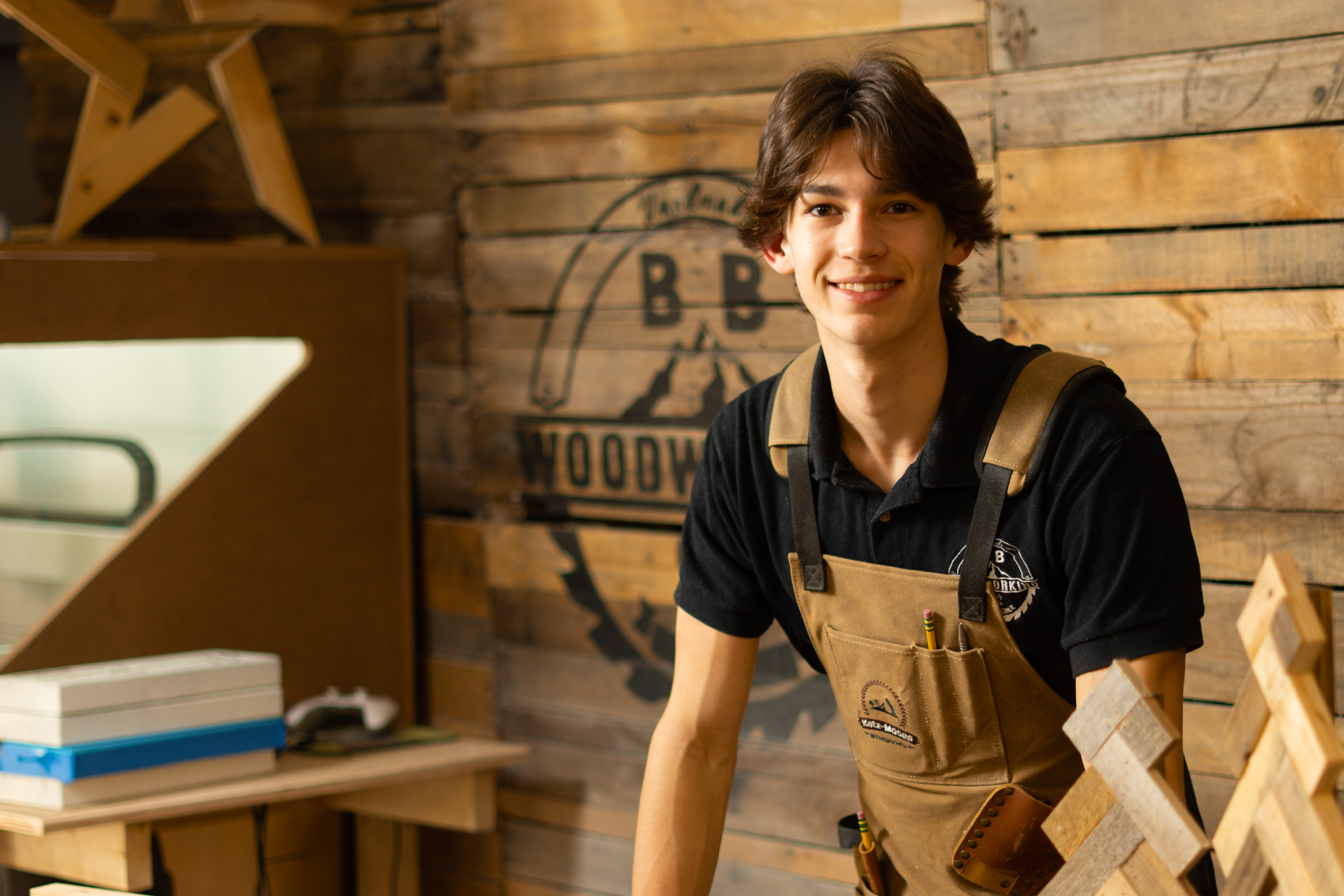 It's early Monday morning, and Brady Beahler is preparing for his upcoming week. For this aspiring West Orange junior, every day mimics the last—go to school, get as much done as possible, come home, work on a client's project for a couple hours, skip over to lacrosse practice—and then do it all again the next day. We know we'd be exhausted, but if you asked Brady, he'd say he doesn't mind the daily bustle. In fact, he prefers it.
Founder of BB Woodworking, Brady is learning what it takes to run a local business, all while navigating the throes of being a teen. "It all started my freshman year of high school when I took a woodworking class. I learned the basics there—how to use the tools and how to pay attention to the details in making a quality piece," he says. "During Thanksgiving break, I got bored and decided to make a serving tray for my grandma. She loved it, and it came naturally to me."
It wasn't long before Brady began honing his skills on more challenging pieces. "I learned pretty much everything from YouTube," he laughs. "I think that's how my generation is."
What sets Brady apart from his generation, however, is relentless ambition; with every new project, Brady strives to weave his passion into something worthwhile. The best part? "I don't have to get a minimum wage job like a lot of other kids my age. Instead, I'm doing something I love."
Between pressing school assignments, a demanding lacrosse schedule, and expectant clients, Brady's free time is nonexistent. Maximizing his time, Brady still finds relaxation pushed to the side. "I try to stay involved; I'm part of my school's student government and National Honor Society. I definitely have to make some sacrifices, though. There are times where I'll have to pick between hanging out with my friends on a Friday night or finishing a client's project."
But Brady knows that this dedicated attitude is exactly what will get him through the rest of high school and after that, college—and he is already looking into pursuing business and entrepreneurship. "I've learned so much about building and running a business; it's great to have this knowledge that I can apply to any business in the future, woodworking or not. It's rewarding to know that somebody likes your work enough to pay for it. I spent a lot of time learning the art of woodworking, and I work hard to make the products the best they can be, so it always feels good to know they enjoy what I've crafted."
A set of mysterious steps with a juicy past.
Winter Garden is often referred to as a "charming town with a juicy past." So, it is no surprise when relics from the past pop up, sparking intriguing conversations about the town's heritage. Recently, when a set of stairs was revealed behind overgrown brush on the corner of Avalon and Highway 50, Winter Garden locals began to question its origin. According to information provided by the Heritage Foundation, these mystery steps were likely one of many in a neighborhood that was built for citrus grove laborers, established in the early 20th century. Set in motion by Mabel McKinnon, daughter of Charles Tilden, these dwellings were built along the east shore of John's Lake in the 1930s. During this time, an African American settlement surfaced here: a set of independent farmers and citrus packers that would come to help Florida's citrus industry prosper. While a lot of these houses have since been torn down, many of them still reside near the intersection of Avalon Road and Highway 50. Even today, this isolated staircase serves as a reminder of the considerable influence citrus packers have had on shaping the Florida citrus industry and, more specifically, the place we call home.
This quirky booth has 'plantcentric' goodies for everyone.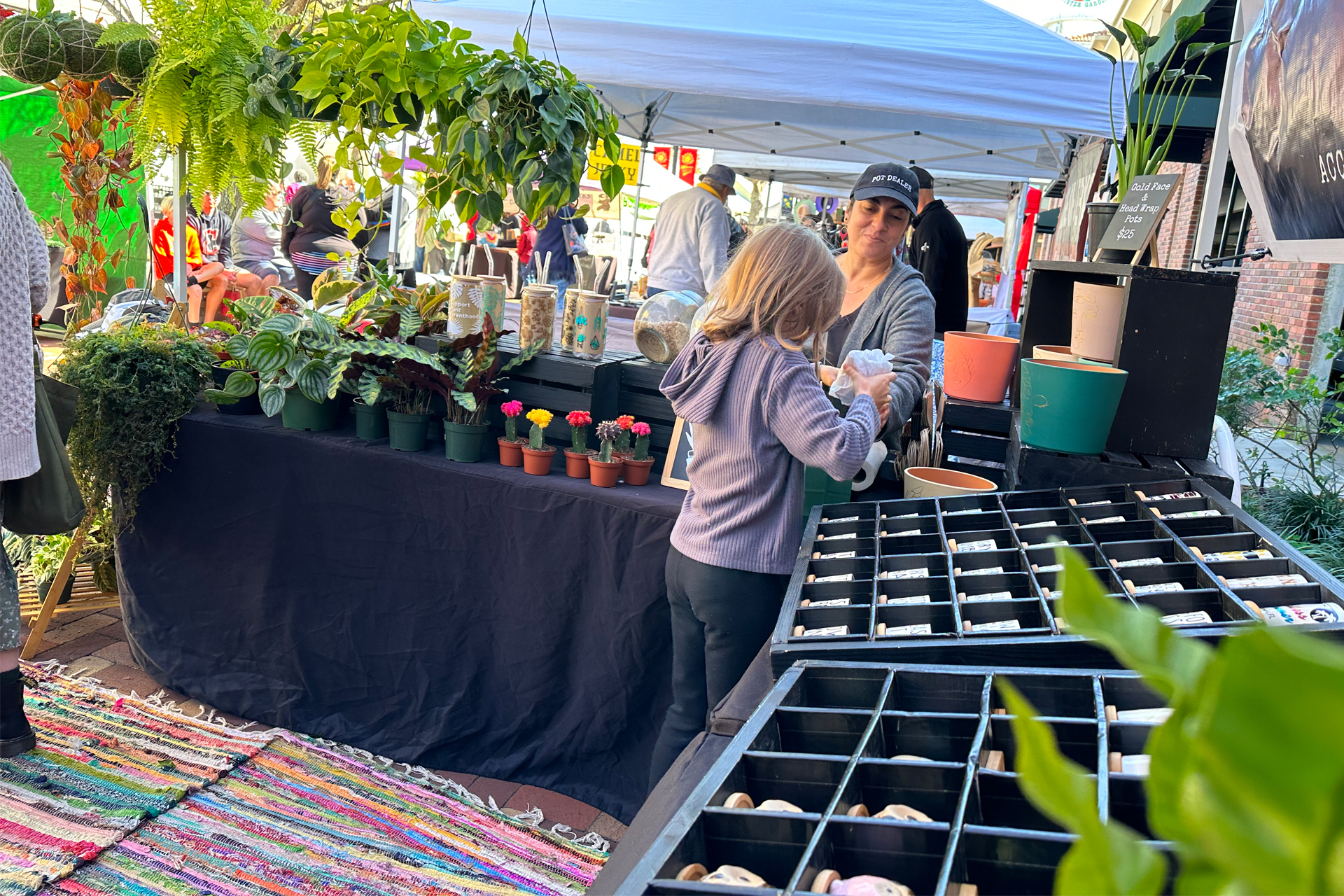 Whether you boast a green or black thumb, this quirky booth has 'plantcentric' goodies for everyone. From intricate knotted jewelry to handmade plant pots and macrame hangers, Knotty by Nature Co. strives to include the beauty of nature in each elaborate design. A newer vendor at the market, founder Lisania Cruz weaves her goofy personality into every product she crafts. "I think a lot of my inspiration comes from humor. I'm very punny; I find humor in everything. I love when people come to my booth and they're looking at my pots and they're just standing there laughing for 5 minutes."
But for Lisania, it's not just about the laughs—her goal is to provide her customers with something even more valuable. "We have a natural innate connection to nature; it's calming, it's soothing. When you put plants in your home, it brings a different type of value. It's something that helps your mental state; it helps you create an environment. It's self care when you look at it." This is certainly exemplified in her craft; her products demonstrate colorful individualism. Between Lisania's bright demeanor and inherent geniality, you'll leave her booth with more value than you came with, even without making a purchase. "I just love the connections I make at the market; a lot of people come to talk plants with me and ask for advice. I'm able to encourage people to continue learning and asking questions, and at the same time, fill their houses with something that benefits them."
Bloom and Grow Garden Society
The Bloom and Grow Garden Society has Spring fever.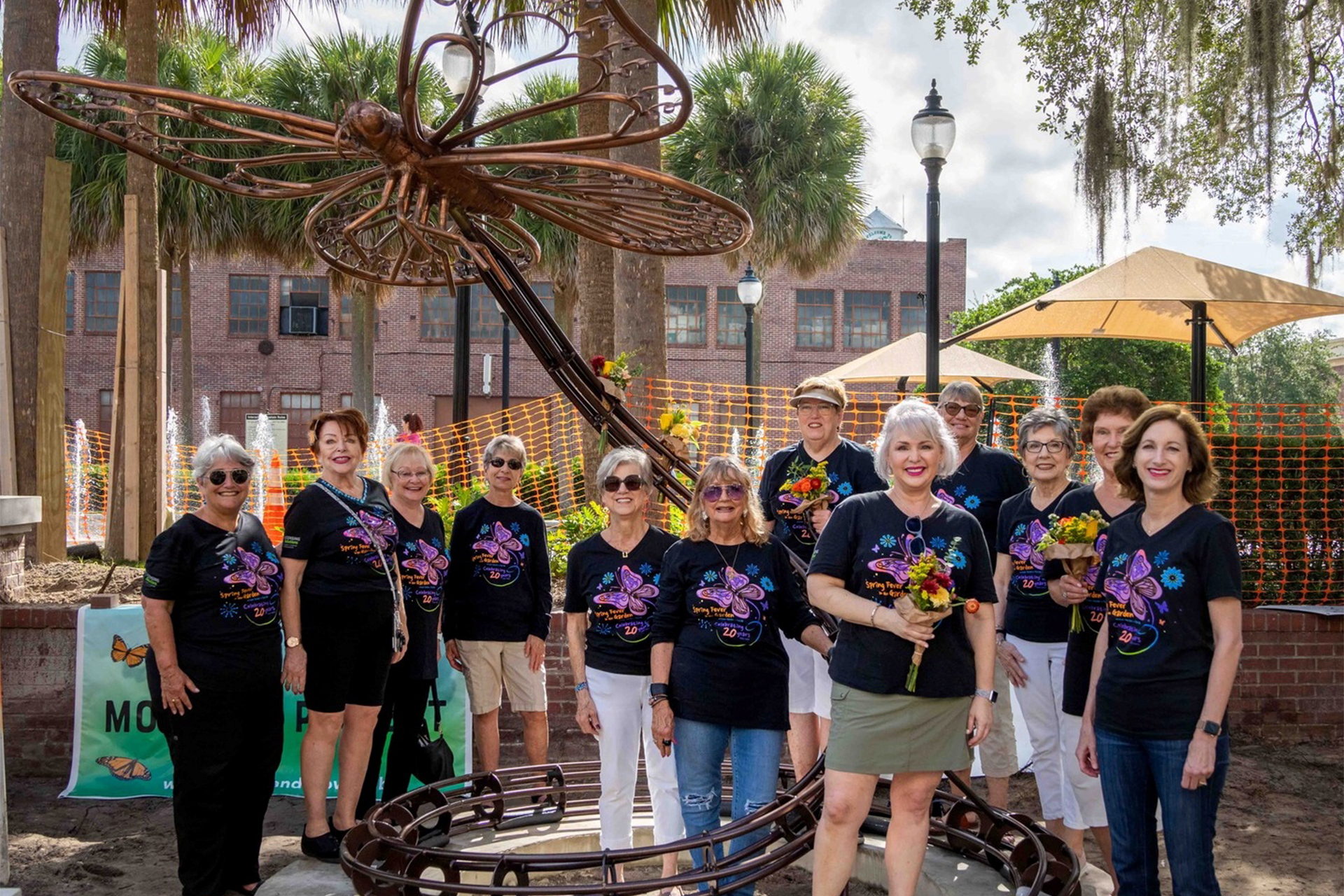 For 25 years, the Bloom and Grow Garden Society has literally dug roots into the grounds of our city. Of course, that's not all they've been planting. Every September through April, fellow gardeners and horticulturists meet, coaxing the community to flourish in many ways. With an overarching goal to preserve the natural environment as well as bring forth awareness and education, Bloom and Grow continues to maintain the area's luster. A non-profit 501(c)3 group, Bloom and Grow conducts various ongoing projects during the year. Co-chairs Ann Blastic and Joyce Carcara illuminate the impact these projects have. "Just last year we started Plant It Pink. We are turning the Winter Garden area into a 'pink cloud', or a pink tree community; we want to see a cloud of flowers in the early spring when they bloom. We bought 250 pink trumpet trees for the community, which we gave away for free, as well as 30 big ones that we put in the schools."
Bloom and Grow is no stranger to long hours and physical labor; it's this hard work that cultivates character—and results. All of which will be on display this April, during their annual Spring Fever in the Garden. An ode to spring, not only is Spring Fever this group's primary fundraiser, it also helps fund scholarships for local horticulture students. Still, for this ambitious group, seeing the community flourish is more than enough reason to keep up with their projects, and even better when people get involved! "Being environmentally conscientious is something that a lot of people want to do, and it's not hard to achieve. Whether it be helping the butterflies or simply offering support, everyone can make some change. It's our goal to educate the upcoming generations on the importance of this, and to keep moving forward with our mission."
Yes, we know. Many other businesses have likely opened their doors since January. But we can't be everywhere, people. Tell us about them! Meanwhile, we are clearly motivated by food, so let's dig right in!

This editor is currently sipping Filigree Coffee's (@filigreecoffeeco) Lavendar Buzz. You had me at Toasted Honey Nut Cheerio infused oat milk. Haven't been yet?

They're open every day inside of HomeState Brewing (@homestatebrewingco).

Word on Plant Street is that NY Bagel Deli & Pizza (@realnybagel) will become a full-service restaurant in the next month or so. Stay tuned for more on that development.

Winter Park Village is on fire with two new openings. We will be first in line when Volcano Hot Pot (@volcanohotpotbbq) opens this month.
And you can bet that we are happily munching our way through the entire Just Salad (@justsalad) menu during working lunch.

We were sad to see The Big Easy in Stoneybrook close, but are axious to bite into Beth's Burger Bar (@bethsburgerbarwintergarden).

Speaking of "big" news, shout out to our good friend and supporter Pam Thomas of Pammies Sammies for her second place chili cookoff win.

By now, everyone has probably heard the news that Crooked Can (@crookedcanbrewingcompany) is planning to open a 40,000-square-foot destination brewery in Minneola.

Cheers to Andy Sheeter and team! Ashley Rogers (see page 64) has joined with Jessica Villegas and Shweta Patel to launch Bloom. "Disrupting the industry with an innovative approach to women's wellness." Color us intrigued!
Local news from our friends at: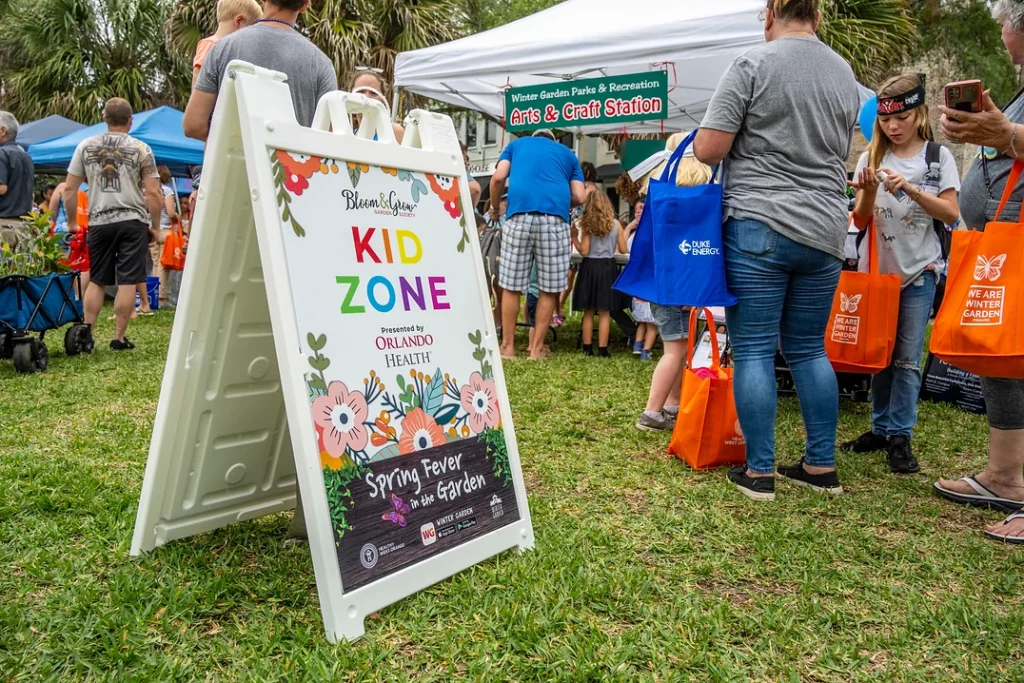 People often ask, "What makes Winter Garden so special?" The answer is simple: It's the people. The community has a way of coming together to support our local businesses and nonprofits in incredible ways. And this Spring, Winter Garden is giving back with a series of really extraordinary events.
Evening At The Pops
On Saturday March 25th, The Winter Garden Rotary presents Evening at the Pops in partnership with the City of Winter Garden to celebrate their 120th Anniversary of the City's establishment. The Event will feature Space Coast Symphony Orchestra. You can purchase tickets on your Winter Garden App.
Eight Waves Golf Tournament
On March 27th, Eight Waves Golf Tournament Presented by Dickens Wealth Management. Registration begins at 11:30AM, the range will be open at noon, and the shotgun start at 1PM. A buffet dinner will be provided after the round. For more information, please visit www.eightwaves.org/golf-tournament.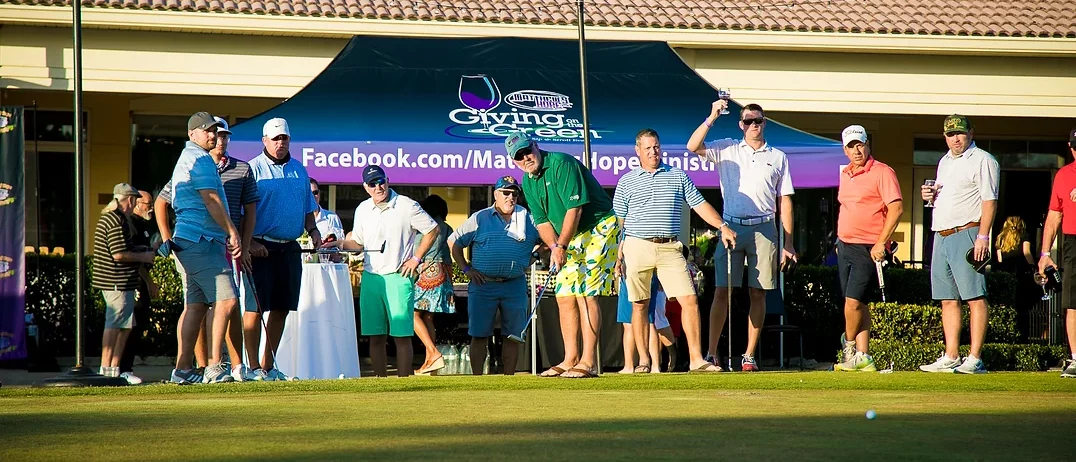 West Orange Chamber of Commerce Business After Hours
On March 30th, the West Orange Chamber of Commerce will be hosting its Business After Hours at Matthew's Hope Ministries celebrating the 13th Anniversary for Matthew's Hope. Please Click Here for tickets.
Spring Fever in the Garden
On April 1st and 2nd, The Bloom & Grow Garden Society of West Orange County and the City of Winter Garden will hold its 21st annual Spring Fever in the Garden festival. Plant Street will be filled with the quintessential homage to spring and gardening. www.springfeverinthegarden.org
Matthew's Hope Giving on the Green – A Sip & Stroll Event
On Monday April 4th, Matthew's Hope Ministries will be hosting it's Annual Giving on the Green Golf Tournament which starts at 1pm. The Sip & Stroll Event follows from 5 – 8pm and is open to the public! The community is invited to attend even if they did not golf. Matthew's Hope will feature Wine & Beer tastings along with light hors d'oeuvres to tantalize your taste buds. There will be a silent auction and raffle. Make your reservation now as tickets are limited and selling fast! www.matthewshopeministries.org/givingonthegreen. Monies raised go to help successfully move people from homelessness into a life of independence and self-sustainability
Lift Cornhole Tournament
On April 15, Lift Disability Network will be hosting it's 2nd Annual Cornhole Tournament! The corn hole tournament helps raise funds to send families to Breakaway Camp. give.liftdisability.net/cornhole. Please join Lift Disability at this event as a Competitor, a Sponsor or a donating spectator for this exciting day of gaming, food and fun. The players will be competing for prizes and bragging rights! (Fun fact: Both The Local and We Are Winter Garden are proud sponsors of this event. Come see who's the better Ace! )
Whether you are supporting these local non profits as a sponsor, attendee, or a volunteer, your time, money, and effort is staying close to home and helping those in your community who need you most. To learn more about upcoming events in Winter Garden, download the Winter Garden App.