From downtown to Horizon West, locals just love living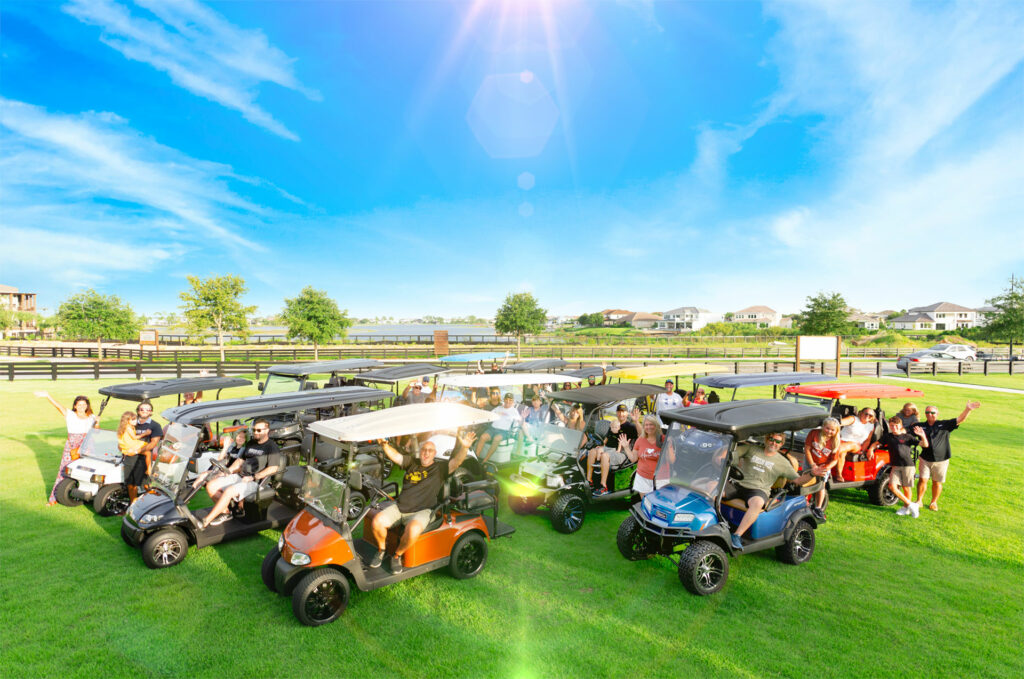 It's Saturday morning in Hamlin, still early enough that summer's convection-oven breeze circulates, tickling the hair on your beard, but not dense enough to draw a sweat. Yet. A lawn mover cranks to life in the distance, drowning out the birds, but not your music — Elvis Presley's "Blue Hawaii" on repeat. It's a great day to go for a drive.
At least, that's what Jack Oakes is doing, taking his Club Car DS out for a spin, running errands before things get crazy.
Why take the car when you can take the cart? That's Jack's mantra, as well it should be seeing as though he's the co-founder of Horizon West Golf Cart Club (HWGC).
Jack discovered his love for golf carts a few years ago. "I got jealous," he laughs. "That's why I wanted a golf cart. Some other guy was taking his daughter to the park, and the cart was loaded with all these toys, and they were driving in the shade, and I was like, 'I've got to get one of those.'"
Little did Jack know that this simple thought would lead to an entire change in lifestyle and mindset. He is not the only one either. Amid finding a new hobby, Jack discovered—and since fostered— the rapidly expanding HWGC and its very active Facebook Group Page with co-founder Matt Aguiar. But it's not just Horizon West and Hamlin. Downtown Winter Garden is flush with carts every day of the week, filled with families making the most of a growing niche of cart-friendly community.
One passionately supported by the city itself. "The City of Winter Garden is fortunate that there are many neighborhoods and parks located on pedestrian-friendly streets making them suitable for golf carts. In fact, the City adopted a golf cart resolution last summer to create golf cart-friendly zones, creating a wonderful amenity for many of our residents while ensuring safety," says Tanja Gerhartz, Economic Development Director for the City of Winter Garden.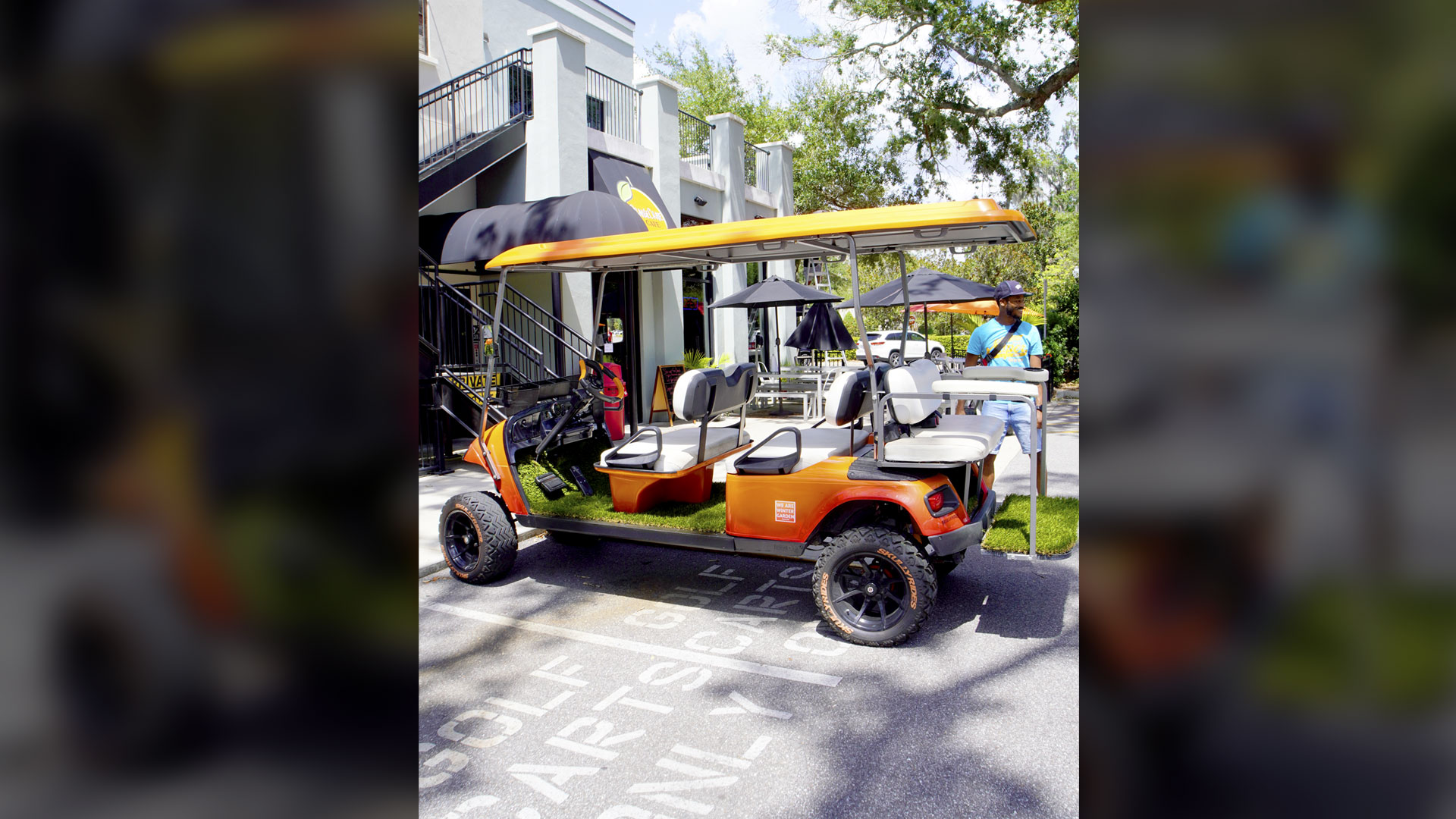 So, what is so great about driving a golf cart anyway?
"Everything just comes slower. You leave 15 minutes earlier because you don't want to be in a hurry. It's about the journey. You enjoy that time," Jack explains. He also revels in the fact that he is no longer getting destroyed by the sun consistently, and his need for air conditioning dissipates into the breeze blowing into his face while he delightedly drives his cart.
Bryan Fifer, an active HWGC group member and golf cart evangelist, agrees. "It's a different feel than just being in your car. You can connect with people, wave to your neighbors, and stop for a quick chat. This is a lifestyle … it's becoming more of a trend too, just a more fun way to get around."
Bryan sees the HWGC Facebook group as a great way for people all over Winter Garden to connect on a common passion, and to share resources, contacts, and connections with one another. What started with fewer than 50 members has mushroomed to more than 500 members in about two years. "There is just something great about having a sense of community, and this community of people are all family-oriented and are simply having fun with their hobby," he says.
"I've been working with Orange County to get some signage letting drivers know that golf carts are present and legal on the main roads in our community...It's a small victory toward making this a golf cart legal community."
"It's really about hanging out and connecting with people in the neighborhood. We do a lot of stuff together, and host a ton of events. Cart people want to be active, they want to have fun," says Jack.
Look no further than the wildly popular Winter Garden Christmas Golf Cart Parade, which draws hundreds of spectators and probably just as many carts. Organized by the West Orange Junior Service League for the last nine years, 100% of the money is donated and distributed to local non-profit organizations in West Orange County. Benevolence certainly plays a role, but really it's about the "friendly" competition for the most unique carts, costumes, and lights.
Similarly, the HWGC club is notorious for its events and parades, including its infamous Halloween and Christmas parades. The Halloween parade might just be Jack's favorite: "That was excellent! We had somebody decorate their cart as the Haunted Mansion carriage, and someone else did the Flintstone's car, and everyone had a lot of fun. You can measure the success of the club by the events we have."
Turns out, the events appeal to cart and non-cart goers alike. At first, Tom Terrusa wasn't a fan of the golf carts in the community, but that's since changed: "It has become a part of life around here for me and my family. These events truly seem to bring our little town together."
More recently, HWGC hosted a poker run this past April to raise money for immigrants displaced by the war in Ukraine. "You know, it inspires people who might not be in the club or have a cart to join us if it is for a cause," Jack says.
If fun is the name of the game, a little friendly competition doesn't hurt. When two or more cart owners are together in one space for more than a few minutes, the conversation almost always turns to customization. Sound systems, tricked-out lighting, custom paint, engines, rims, wheels, tire lifts, vinyl wraps, dashboards, you name it, there's a cart that has it.
Locally speaking, the man making that happen is most often Sean Courterier, owner of the Extreme Golf Cart Customization. Sean's an active admin on the HWGC Facebook group page, freely offering advice to cart owners looking to purchase, repair, trade, improve, or otherwise outfit their new lifestyle.
Sean began cart customization at the mere age of 14 with his father in their garage, so he's seen it all over the years."It comes in trends. One guy will come in for a custom job on his speakers, and a few days later all his friends will be in as well."
Of course, golf carts tend to reflect on the owners' personalities as well, and Sean definitely has a few favorites. "I did a golf cart that looks exactly like a 1965 Ford Mustang. It has a body on it that actually makes it look like a real car. That cart was custom painted, custom wheels, I even built a trailer that goes behind it that has extra seats on it, a storage trunk, and speakers and lights." Sean explains that he also built this cart from the ground up. Right now, he is even working on a Kermit the Frog-themed cart!
"They're having me paint it lime green, so it looks like Kermit, and then they are getting a sticker made for the back of it that says, 'It ain't easy being green!' It is things like that, that I can do with a golf cart that makes it personal to each owner."
"The City adopted a golf cart resolution last summer to create golf cart-friendly zones, creating a wonderful amenity while ensuring safety."
Design. Community. Friendship. Philanthropy. Winter Garden's golf cart lifestyle is certainly bringing people together. For Jack and Bryan and Matt and a host of other owners, however, safety is as much a factor as having fun. But those nuances vary from area to area, even within Winter Garden.
There are various technicalities when it comes to driving the carts around town, especially in the Horizon West area. Jack explains: "In downtown Winter Garden, you don't need to register your golf cart with the state. You can drive your golf cart wherever you want within the city limits. I want the same thing for [Horizon West]. I've been working with Orange County for months to get some signage letting drivers know that golf carts are present and legal on the main roads in our community. The signs were just recently installed, so we feel the need to thank the local Orange County government for meeting our needs. It's a small victory toward making this a golf cart legal community."
Jack continues, "It's all about safety, saving gas, entertaining our kids, and being able to roam around the neighborhood," Jack says. But truth be told, his ambitions don't stop there. "If [the commissioner] lets us make this a golf cart legal community, other communities will take note. They'll start to do the same thing, and before you know it, Florida has the cheapest gas prices, the least gas usage, etc."
The rise of golf cart usage is gradually increasing around the community year by year, and cities like Winter Garden are taking notice. The city recently added specific new parking spots just for golf carts, something Jack would like to see become more prevalent.
Ultimately, Jack's overall goal is to "make a blueprint for what we can do in Florida. It is about influencing everyone to drop the habits that we all have, which is constantly sucking up gas wherever you are going. It's up to the people in charge of building our towns. I wanted to live in a place that is safer and cleaner. And we've done that. Every time you take a car off the road and replace it with a golf cart, even if the golf cart is gas, you've taken so much carbon footprint away from that. Your neighborhood is becoming safer; people are driving slower… More fun, safer, cleaner, healthier, everybody's richer, that's the goal, and it all starts with leading the way."