The culinary career and award-winning chili of the best cook you've never heard of.
Blaine Nelson is not a chef. Sure, he worked in professional restaurants for decades. Yes, he now collects blue ribbons at chili cook-offs throughout central Florida. But to Blaine, "chef" is a job, and "cooking" is a joy.
"I'm just a guy who likes to cook," he says. "Feeding people is always an act of love, whether you do it in a restaurant or at home."
What Blaine is, is a wine shop owner—who also happens to be a former musician and budding artist who just finished his first commissioned piece. Really, he's a Renaissance man.
But food is his first love, and it keeps drawing him back in—these days, in the form of award-winning chili. "I first did the cook-off because it sounded fun, and I had a recipe that wasn't ground beef or beans," he said. "I wanted to be outside, meeting people and cooking good food. Food is just fun."
His childhood home in Massachusetts is where Blaine first felt love baked into the act of cooking. "My mom was a great cook… a really great cook. She was from Casablanca, so I grew up eating wonderful, weird Mediterranean food. My friends would kill to eat at my house… they'd brag about how my mom made them squid with legs and stuff. So that's really where it began, my genuine love of food."
Coincidentally, his cooking education also began at home, when his brother took him under his wing. "He was the real chef in the family," says Blaine. "We worked together for eight years. They say don't work with family, but he's the best."
By all accounts, not-a-chef Blaine had a very successful career, starting "way back" in 1978 with his first executive chef job on Cape Cod. "I loved the job, but I hated the cold. I just hated it. So as soon as that was over, I moved to Florida."
After a few years working the music scene — "It was fun, but it wasn't a lifestyle to keep up. At least not if you wanted to live."—he found himself at Park Plaza Gardens, where he first met famed chef Mike Orr. "His style of cooking was so cool. It was like an amalgam of American, French, continental and everything. I just wanted to learn from this guy; he knew so much. So he gave me a line cook job to start, and eventually, I became the chef there."
The '80s consisted of stints at high-caliber restaurants throughout central Florida (with one year in between spent in Switzerland as an apprentice at the Palace Hotel). He even opened his own restaurant, Big Sur, in the Winter Park Mall. Ultimately, that venture failed, but it wasn't long before circumstances led Blaine to the Las Vegas strip—and an executive chef position at Bertolini's at Caesar's Palace. "That was a wild ride," he says. "1,500 covers a day. Boom, boom, boom, the ticket machine never stopped. It was bonkers."
But with four kids and a challenging divorce, Blaine left Bertolini's in search of something that gave him more time with family. Before he ultimately returned to central Florida in 2012, he worked a variety of ventures in Vegas, including a catering gig at the Liberace House, and an old-fashioned casino called Westward Ho. "I was at Westward for eight years; I never wanted to leave that job," Blaine remembers. "For the first time, it wasn't about the food. I mean, it was meatloaf, mashed potatoes, pot roast. But the culture was so, so good. They truly loved their people."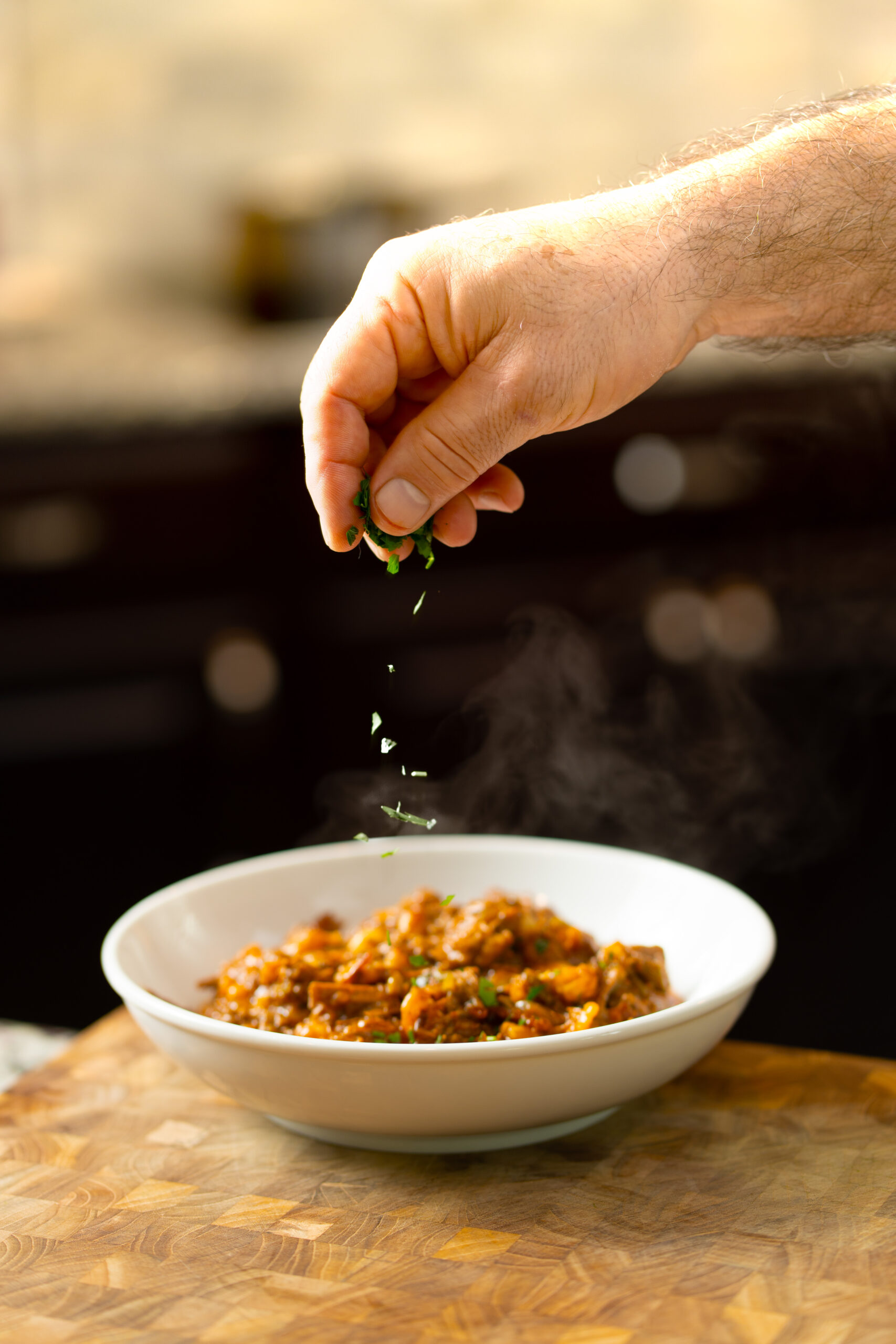 These days, Blaine cooks purely for pleasure, not pay. The closest he gets to reliving his high-octane restaurant days is when he prepares gallons upon gallons of his signature brisket hominy chili for the next cook-off.
"The first year, I made my chili for an event in Clermont and won that. Then, last year, I did the Legacy Events for Education Chili Cook-Off and won People's Choice there," he says. "But it was never about winning. There's no ego here. I'm too old to care!"
Instead, it's about being around people who share his passion. "It's fun when you get to show people a new ingredient like hominy, which so few people know about," he says. "I only really learned about it from the Mexican line cooks in Vegas. That's the beauty about food: every day, you can learn something new."
Blaine says he's often chided for being modest. But he doesn't consider "chef" and "home cook" value judgments. In fact, if anything, Blaine relishes home cooking for its spontaneity and freedom, far greater than he'd had at any restaurant. "I think home cooking is more comforting and creative. It's certainly more enjoyable. Being 'just a home cook' is something to be proud of—with no 'just' necessary."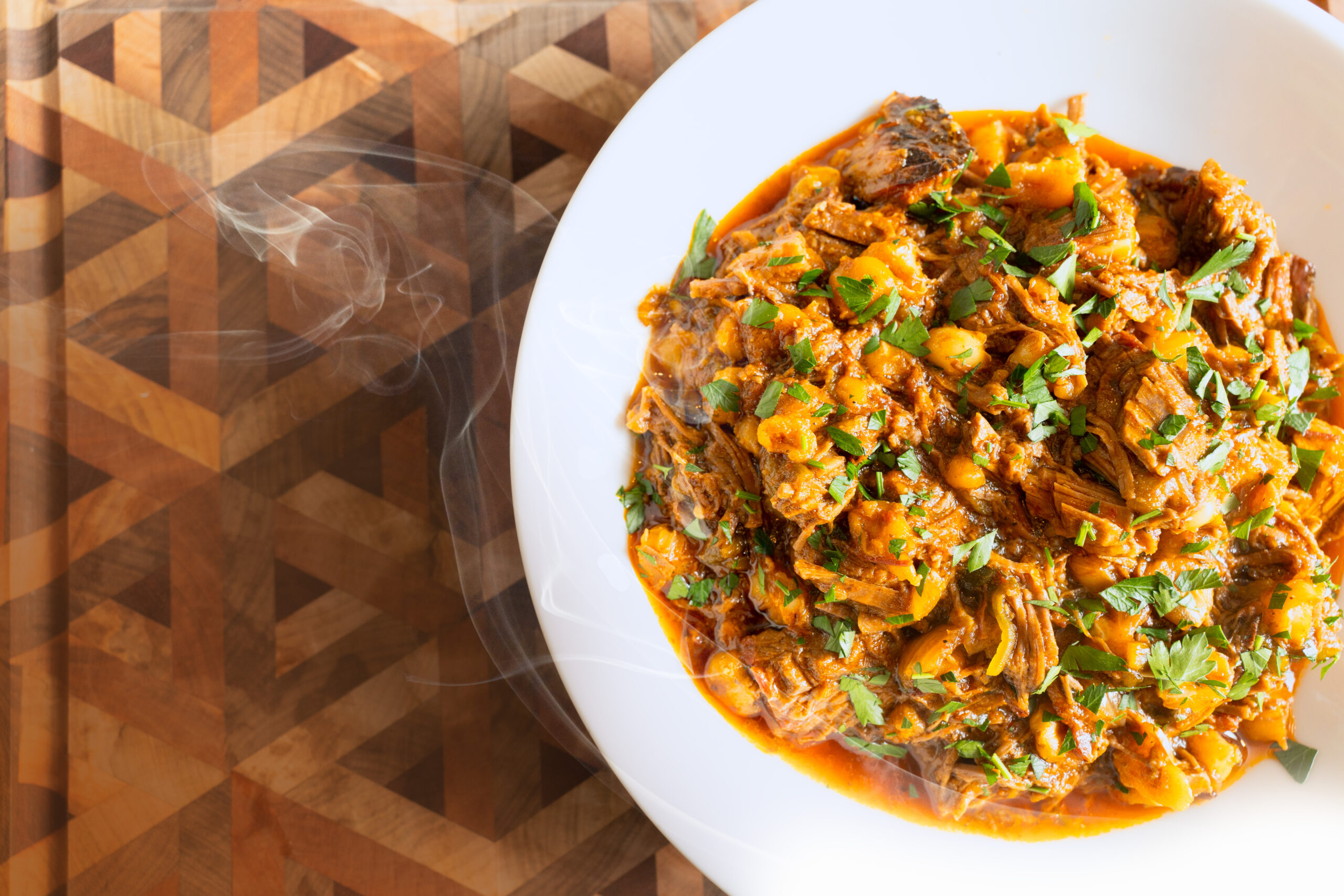 Blaine's Brisket & Hominy Chili
14 lb Brisket—Full
1 lb Bacon
1 head Garlic, minced
2 large Onions, diced
4 Poblanos, peeled
4 Jalapenos, peeled
6 Hatch chilies, peeled
2 Chipotle peppers in adobe, peeled
3 Guajillos
3 Ancho chilis
3 29oz cans White
Hominy, not drained
1/4 cup Chicken Base
1 can Tomato Paste
3 tbsp Basil, dry
1 tbsp Oregano, dry
2 tbsp Cumin
3 tbsp Coriander
2 cans Refried Beans
Salt & Pepper as needed
Brisket: Smoke for 4 hours. Cover and put in oven at 300ºF for 4 more hours. Cool, remove fat to your taste, cut in 1-inch cubes.
Try not to eat all.
Poblanos, jalapeños, hatch chilis, and chipotle peppers: remove seeds and stems. (Leaving the seeds makes the chili way too hot. You can always add heat later* to get it where you want.) Char slightly in a pan before chopping.
Guajillos and Ancho chilis: Remove seeds and stems. Put in small saucepan, just cover with water, cook until completely soft. Blend until smooth.
In a large pot (really large) render bacon, add onions and garlic, cook until soft.
Add the remaining ingredients, except brisket and refried beans. Cook slowly for at least 1 hour. (You will get liquid from the hominy, but add more as needed. It should be soupy.)
Add the refried beans and cook 1 more hour to thicken. Taste, season. (*Now is the time to add more spice.)
Add brisket, cook until soft, about an hour. Re-season. Enjoy with some cast iron cornbread.
People don't usually think of champagne when they're eating chili, but sparkling wine helps cut through the fattiness of the brisket. Laurent-Perrier La Cuvee Brut has enough structure to keep the pairing interesting, but it won't overpower the chili.
You also can't go wrong with the Pinot Line Pinot Noir—but a more traditional pinot noir wouldn't work. You need the dark fruit of Sonoma to support the meatiness of the chili.
Yes, there's a science to pairing—and when it's done right, it's transcendental. But what's more important is that you like it.
Blaine was enjoying wine in his Winter Garden backyard with his wife, Lisa, and his in-laws, Susan and Jason Maynard, when Mayson's Wine Shop bubbled into being. We asked Mayson's (@maysonswineshop) to help create a spring-ready wine list that both enlightens wine noobs and impresses wine snobs. Here are 8 great bottles every home should have.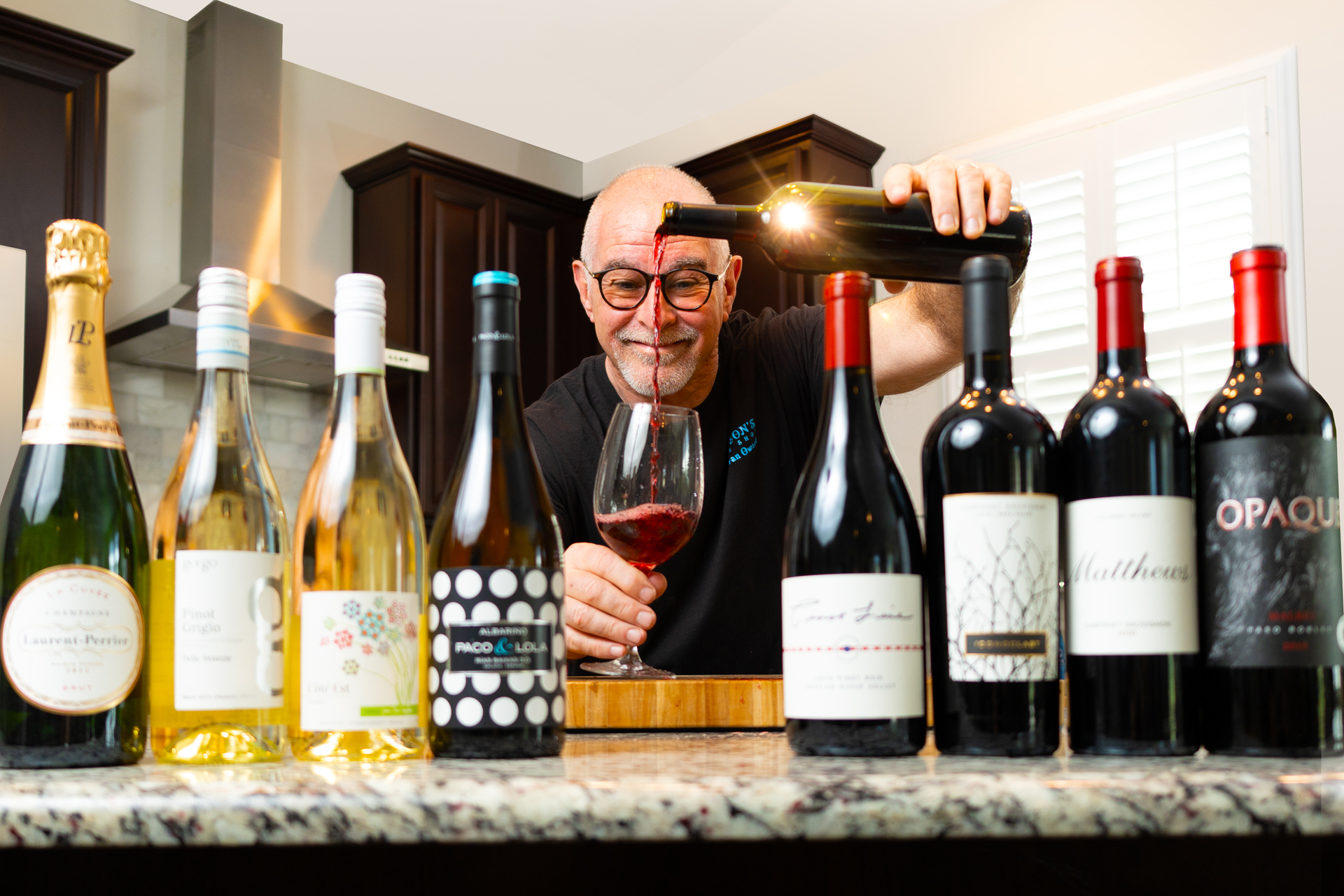 1. Laurent-Perrier La Cuvee Brut
"Every journey needs a sendoff, so begin with Champagne. Its long aging process gives this brioche-scented bubbly a mousse-like richness."
2. Gorgo Pinot Grigio Delle Venezia
"It's a Pinot Grigio with hidden depths. Elegant, sophisticated, and versatile, Gorgo is excellent for poolside sipping or for pairing with food."
3. Domaine Lafage Côté Est
"You know that wine you get at a local bistro in Italy? The one you'll never have again, but you can't stop thinking about? That's Côté Est, a blend of Grenache Blanc, Chardonnay, and Roussanne that's easy to drink and highly affordable."
"Light, fun, and fresh, with just a touch of citrus acidity, this is the ultimate Florida summer wine. Next time you want Sauvignon Blanc, reach for this instead."
"Dark, complex, and a little bassy, this is the Pinot Noir you give to Cab lovers. But it's better because you can just open and pour."
6. Iconoclast Cabernet Sauvignon
"When people ask what we drink at home, this is what we give them. If you're a wine geek, all you need to know is that it's made by Chimney Rock, and is identical in every way but price."
"Sure, Argentina and Chile are doing malbec, but this one blows them out of the water. Lush, dark fruit; all the complexity without the overbearing tannins. This is the miracle red wine—literally open and drink. What's not to love?"