Dr. Donita McCants celebrates seven dog years in the driver's seat at her mobile veterinary clinic.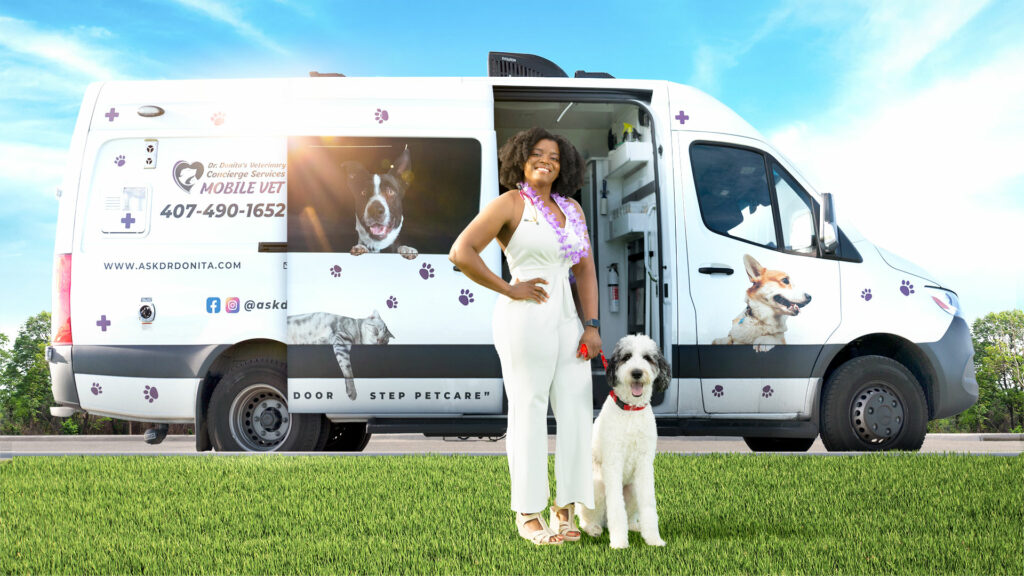 Dr. Donita McCants is a veterinarian on the go, literally. Her practice runs on a deeply held love of animals—at five years of age, she was already rescuing baby birds and squirrels. Today it also runs on four wheels. Yes, Dr. Donita is a new breed of veterinarian, a doctor who actually makes house calls!
She'd been considering the idea of a mobile vet practice from as far back as vet school. "I have a strong entrepreneurial spirit and so, I already knew I wanted my own practice. I looked deeper into going mobile, and talked about it with other veterinarians at conferences. There was a lot about the concept that appealed to me. Much less overhead compared to a brick-and-mortar location. I wouldn't be tied down. I could set my own hours. And I had a lot more control."
She conducted exhaustive research, and after kicking a lot of tires set her sights on a custom-equipped Mercedes Sprinter van. She pulled the trigger on the van over a year ago, but it wasn't until March that the fully customized van—complete with a hydraulic lift table for surgeries and exams, x-ray machine, blood analyzer, microscope station, and more—rolled into town.
"I was fully operational the day it was delivered. I can perform surgery, spays and neuters, remove tumors, do dental procedures, and most everything else, my mobile clinic is that well equipped. For anything else that might require specialized care, I partner with Blue Pearl Specialty Hospital.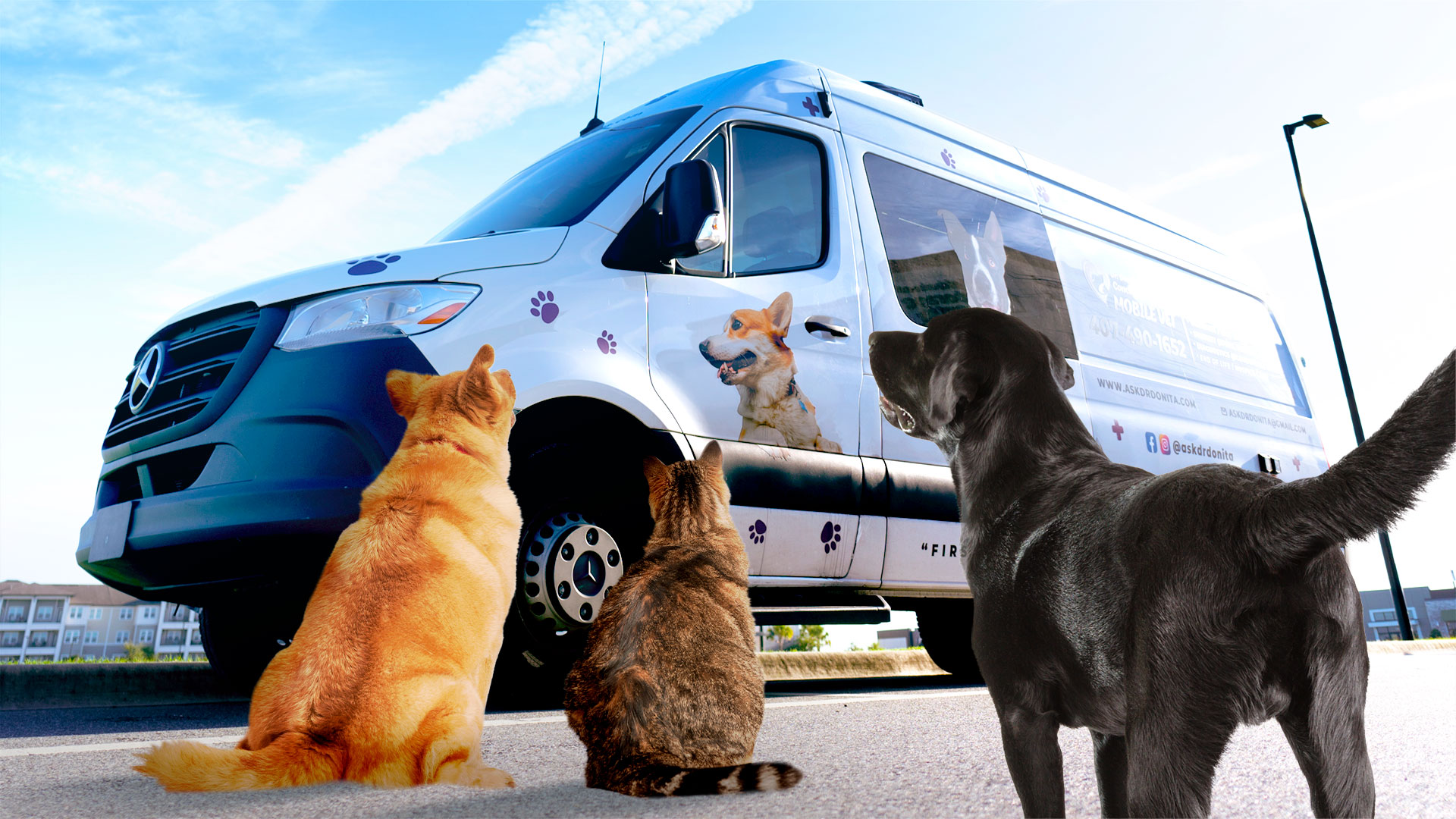 "My business model has never changed. From the very beginning, I set a high standard for first-class, concierge-level veterinary service brought right to a client's doorstep. Mine is an open, honest practice and I promise not to waste money on unnecessary procedures. The van gives me every tool I need to deliver on that promise."
Having your veterinarian come to your home may seem, at first, like a luxury—which it is. Or, an unnecessary way to make a vet bill cost even more—which it is not. For many of Dr. Donita's clients, a vet that makes house calls is a bona fide necessity.
"I have many seniors in my client list who don't get around as easily anymore. When you add a pet to the mix, a trip to the vet's office can become a daunting task for them. Persons with disabilities certainly appreciate the convenience. And for households with more than one pet—I have one family member with five dogs!—there is simply no better way."
If only we could ask Dr. Donita's patients what they think of the service, we're pretty sure we know how they'd respond.
"When it comes down to it, yes, my services are very convenient for pet owners. But for pets, they can be essential. Many dogs and cats don't exactly enjoy a trip to the vet. They've either had a bad experience at a vet's office, are nervous about the whole procedure, or, are scared to death of strangers and new places. Pets feed off the energy around them, and there is no more comforting, stress-free place for them to get a checkup or a belly rub than in their own home.
"Plus, we are officially Fear Free Certified. We've gone the extra mile and undergone special certification to be able to treat pets that are especially skittish or anti-social. New clients even fill out an 'emotional report card' so we are fully aware of a pet's behaviors before we ever begin treatment. Clients with nervous pets become some of our most loyal fans."
Forging strong connections with her clients—pets and humans—is of prime importance for Dr. Donita. In fact, new clients and prospective new clients are almost always surprised when they call to make an appointment or to ask questions and Dr. Donita herself answers the phone. "If I'm busy, my vet assistant Katie will take the call. But it will always be one of us. That phone call could be our first chance at making a connection with someone new. I considered an answering service, but I like the immediacy of answering the phone myself. It's much quicker and so much more personal."
"I get to meet new people. I discover new things to fall in love with about Winter Garden and the rest of our amazing county."
It's this level of service that first made Dr. Donita a local favorite when she burst on the scene one year ago. Twelve months later, her broad smile and enthusiasm speak volumes: "Business is GREAT! We have about seven hundred active patients and we're growing steadily! If this first year has done anything, it showed us that our original vision of providing a concierge-level vet practice on your doorstep is an idea that people will embrace. We have expanded our services this past year to offer wellness plans to our clients. They're basically financial programs we can put together to provide specific vet services structured to fit a client's budget. We tailor them to fit their pet's needs for every stage of life from puppy to old age. They're a wonderful way to plan medical coverage for your dog or cat when they need it.
"Wellness plans are not insurance plans, however. For unplanned medical scenarios, pet insurance provides an extra layer of coverage for veterinary services. We partner with Trupanion Pet Insurance, rated 4.5 stars out of 5 by Forbes. People often get confused between wellness plans and insurance plans. We are more than happy to explain the differences and answer any questions to help you make the right decision for your pet."
Most people who read about Dr. Donita's Veterinary Concierge Services will agree that, on one hand, it sounds like a great way to provide care for their pets. On the other hand, they'll want to know what it costs. Dr. Donita is quick to point out that the costs for her services are right in line with expected vet fees from traditional land-based vet practices—with the exception of the mobile office fee.
For that, Dr. Donita charges $70.00 on top of the normal veterinary charges.
It's clear to us how Dr. Donita's Veterinary Concierge Services can appeal to a broad range of clients. It's super convenient. It's easier on pets and owners alike. The combination of above and beyond convenience and superior quality of care is a no-brainer. But, what does Dr. Donita get out of it?
"I get to put my efforts into the reasons I wanted to become a vet in the first place. I get closer to my patients and I meet tons of people where they are the most comfortable—in their own homes. Many of them have since become good friends. Because I'm out driving all the time, heading to my day's slate of appointments, I also get to see more of the area and drive down streets and neighborhoods I never even knew existed.
"That makes every day different and exciting. I get to meet new people. I discover new things to fall in love with about Winter Garden and the rest of our amazing county. Every day I get to wake up to a new adventure. I couldn't ask for more than that."