Think you know sourdough? Think again. Colin Reichardt is on a mission to put German artisanal bread on every table.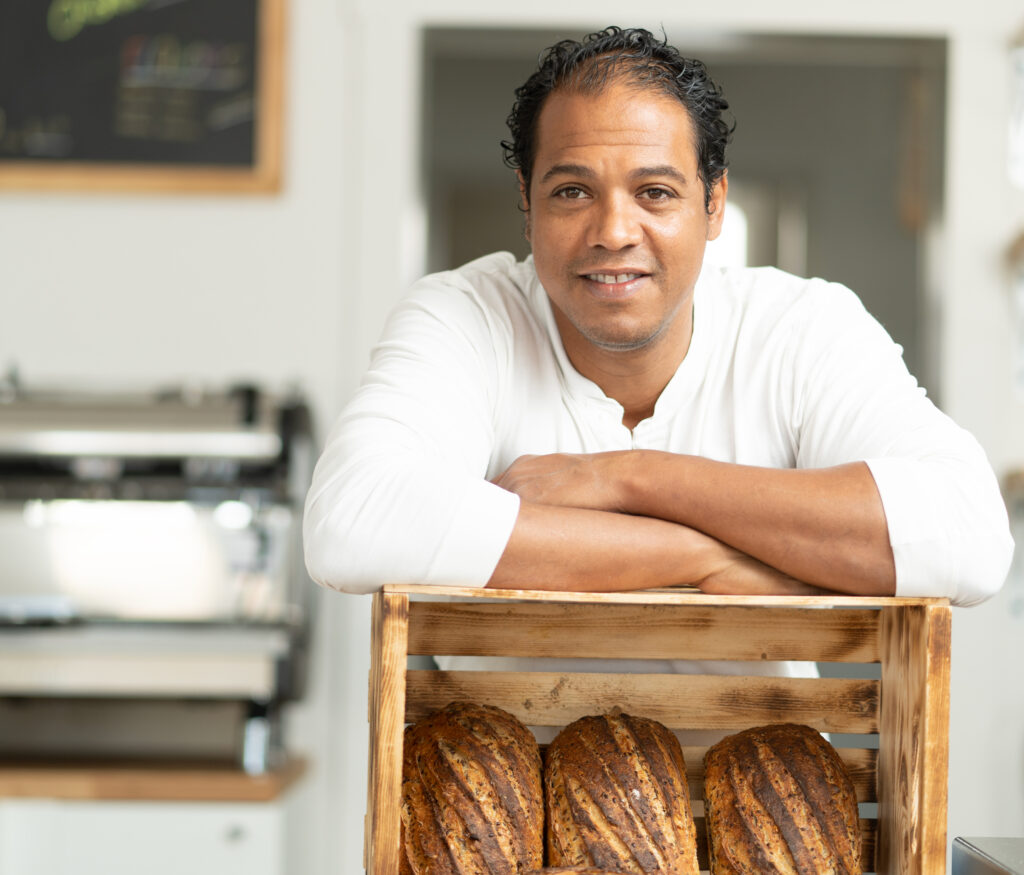 You've seen the French sauntering around with slender baguettes under their arms or fashionable Italians with market bags laden with crusty Ciabatta.
Those cinematic scenes are nice, but when you really get down to business, the world's best bread comes from … Germany?
"In Germany, bread literally sustains our culture," says Colin Reichardt. And the former wrestler is betting the bank that he can prove it to you. 
Gregarious and passionate, Colin is a German bread evangelist. Born to an American father and German mother in Idar-Oberstein, West Germany ("The same town as Bruce Willis," he says, with a broad smile), he grew up eating SauerteigBrot, German sourdough bread.
"Germans have more bakeries and eat more varieties of bread than most other countries in the world," he says.
He's not wrong. According to the bread register of the German Institute for Bread (of course there is such a thing), there are now more than 3,200 officially recognized types of bread in the country. And German bread culture was officially added by UNESCO to its Intangible Cultural Heritage list in 2015.
"Germans were baking nutritious whole-grain, sourdough bread long before the organic health food renaissance. And my bread carries on that tradition. Just four ingredients — hand-milled, organic flour, salt, spring water, and starter." 
Colin was new to America 12 years ago when he went to a grocery store and discovered row after row of the same packaged bread in plastic bags lining the shelves. He asked the manager why all the bread had the same color and shape, but the manager didn't have an answer. "There were six of us in the aisle talking about it, and no one could explain what these ingredients were or why there were so many. It was fascinating. There's nothing wonderful about Wonder bread," he laughs.
Fascinating is a word that comes up often in conversation with Colin. Curious by nature, he approaches life with an innate joie de vivre, or rather lebensfreude. Boring, flavorless, commercialized white bread? Fascinating. Problems getting a gas line put into his new building? Fascinating.  Buying an authentic German bread oven only to find out it requires a different electrical grid? Fascinating.
"I'm drawn to German breads mainly because that's what I grew up eating, and it's healthy. The kind of bread even diabetics can have," he says. "But mostly because you can't find this kind of bread in the U.S. Yes, we have Jewish Rye, which comes close, but the coarse, thick German bread was really non-existent, at least in my travels."
"Germans were baking nutritious whole-grain, sourdough bread long before the organic health food renaissance."
In the end, Colin concluded that American bread has too much sugar, too much salt, and way too many unnatural ingredients, so he set out to create his own.
"At the time, it was just a hobby, but I quickly realized that I needed more than a recipe. I needed to learn the science part of things: how sugar level reacts, what ingredients are beneficial, and what techniques are helpful or harmful. I wanted to bake as healthy as it gets, without any harmful preservatives or ingredients like dough conditioner, artificial flavors, preservatives," he says. "Our breads don't contain sugar or milk powder either. We never use enriched or bleached flour. In fact, we source our flours from two millers—one is a fifth-generation family of stone ground millers, the other is a third-generation family. We even use spring water instead of tap," he says. "In other words, we believe the ingredients we use need to be organic and natural — since natural, organic ingredients benefit our body, health, and soul. It's literally in our name: Beneficial Breads."