Enjoy this sampler platter of 13 delicious local restaurants to taste and try.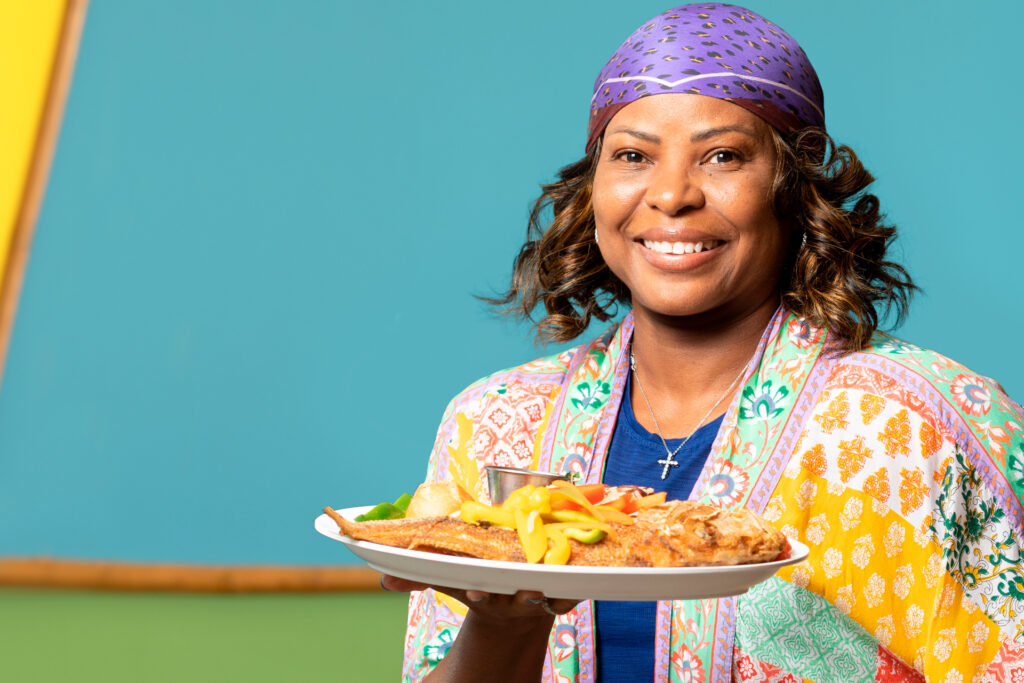 Caribbean Sunshine Bakery & Restaurant
Karen Daley's authentic Jamaican delights.
Want to take a trip to the islands tonight for dinner? You absolutely can, because Karen Daley's bakery and restaurant—Caribbean Sunshine Bakery and Restaurant—is just around the corner. She and her husband, Peter, have been at that same location for 15 years, serving truly authentic Jamaican food.
The island's famous beef patties, jerked chicken, oxtail, curried goat, and brown stew chicken are all on the menu here. All of it scrumptious, home-cooked comfort food with island flavor.
Karen is not shy when she describes her food. "We're the only ones who make our beef patties fresh daily. That light, crispy buttery crust and delicious beef filling! They're not frozen like the other restaurants. Our food's been all homemade since day one."
Stop in. Grab a beef patty, an ice-cold Ting grapefruit soda, and head for the islands … You'll thank us when you get there.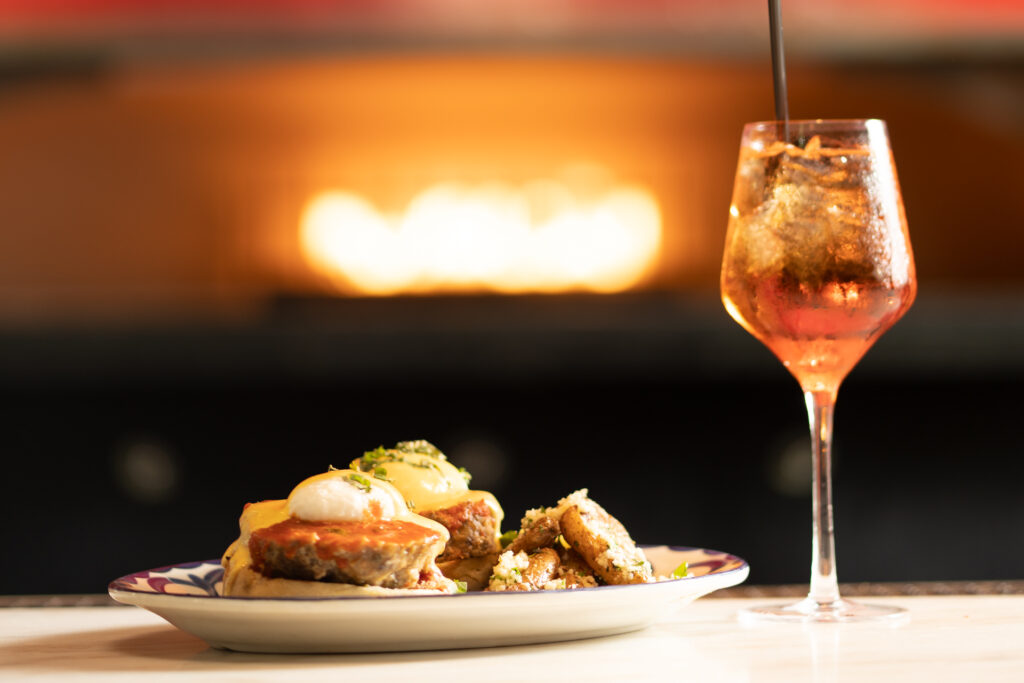 Scratch-made, family-style favorites just like Nonna used to make.
If it's a weekday and you find yourself enjoying a lunch with a side of brunch, featuring dishes inspired by a Sicilian grandmother, and there's an 880-degree, red tile brick pizza oven in the room—you're definitely at Mia's Italian Kitchen.
The Italian eatery is excited to announce their new lunch service, offered Monday-Friday from 11 a.m. to 3 p.m. Guests can sip on a variety of boozy cocktails, including spritzes, sangria, and Bloody Marys, all while savoring a selection of new lunch and brunch dishes. Mia's Chef Jose Gonzales says, "We are thrilled to be launching our new lunch menu. From our homemade pastas to our wood-fired pizza, we know our guests will love every bite."
Mia's serves food like Grandma used to—family-style. Dishes are prepared and served up for sharing. Try the Crispy Chicken Panini, Eggplant Parmigiana, Italian Cobb Salad, Hot Chicken and Waffles, or, a huge crowd favorite—Rigatoni Alla Bolognese! Now, go. Mangia! Mangia!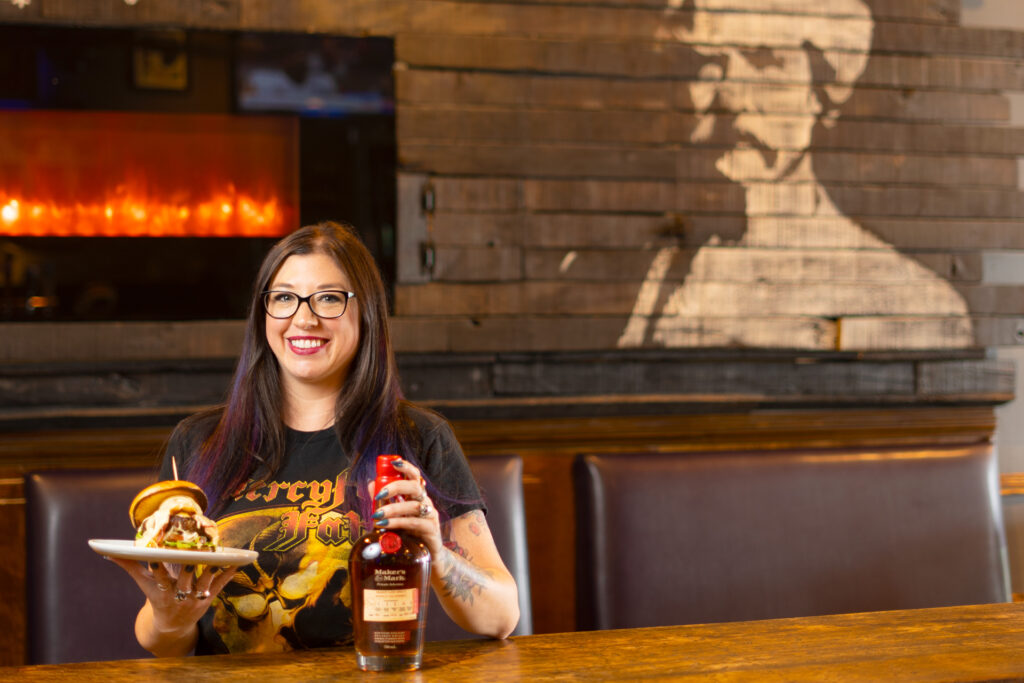 Chef–driven gourmet burgers in a craft cocktail environment.
Barrel on in to The Whiskey and get your taste buds blown, courtesy of owner, Katie Zagaroli. Yes, they have whiskey, over 750 different types. But The Whiskey is a restaurant that serves gourmet burgers, from a proprietary blend of 100% certified Angus beef, brisket, chuck, and short rib. All cooked to temperature in their open kitchen.
Patties are all 8-ounce handfuls, dressed and served with delicious creativity. The Salty Pear, for example, adds a Bourbon Poached Pear, Smoked Applewood Bacon, Creamy Brie Sauce, and garlic Aioli to their already amazing burger. Want to get exotic? Try a bison, elk, or camel burger!
Barrels are the thing here, in the decor and the whiskey. Barrels give whiskeys their unique flavors. The Whiskey works with all the major distillers to craft their own flavor profiles of classic brands. Sip some. We guarantee you'll find two, maybe 10, favorites from their amazing collection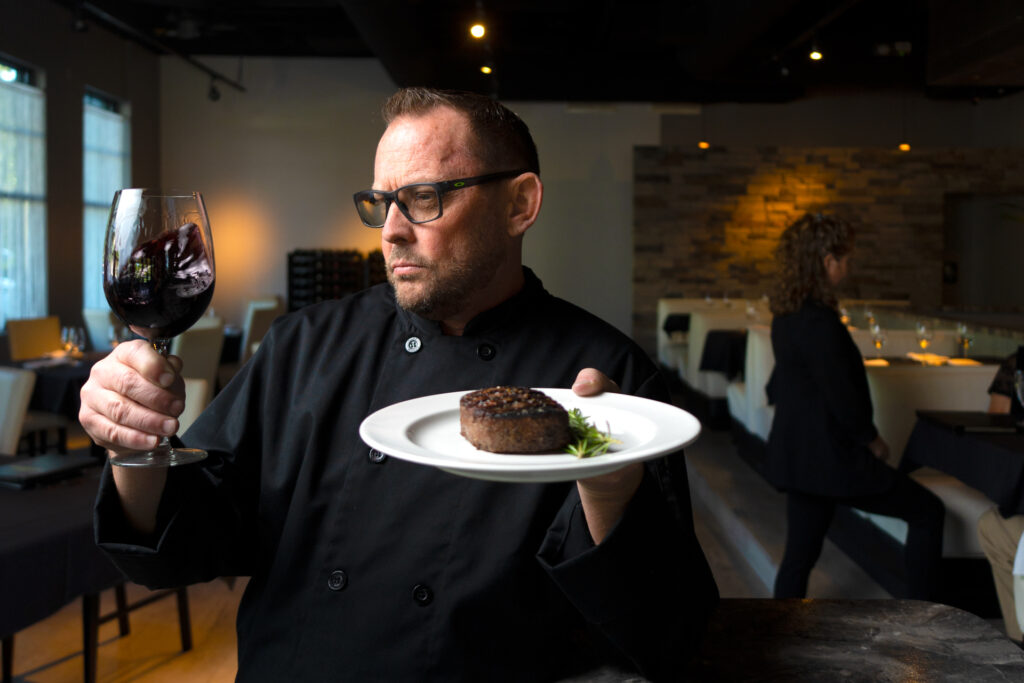 Beloved steakhouse classics served with a side of comfort.
A Winter Garden legacy restaurant gets refreshed! Eddie and Chystal Gaunt are the proud new owners of Matthew's Steakhouse. Eddie used his 30+ years in the restaurant industry and experience as a chef to revamp the menu to showcase the high quality of all of their food.
"We source locally when supplies allow," Eddie says. "Most of our recipes I've cooked in my own home for years. Our beef is certified prime aged Angus beef, and I butcher the steaks myself. Our seafood is fresh, never frozen, and delivered every two days. Meat is the star here. Grilled over an oak wood fire pit while our diners watch right from their tables.
"Our wine list features small releases from vineyards I've worked with for years. My chefs and I are very selective about what comes into our restaurant. We are a relaxed, intimate, reservation-only destination restaurant.
Three new sandwiches with a rockin' vibe that'll have your mouth watering.
Foodies rejoice! Pammie always says, "We don't do normal!" And she proves that once again with her introduction of three new sandwich adventures.
These tasty innovations include your choice of side, so you better come with an appetite!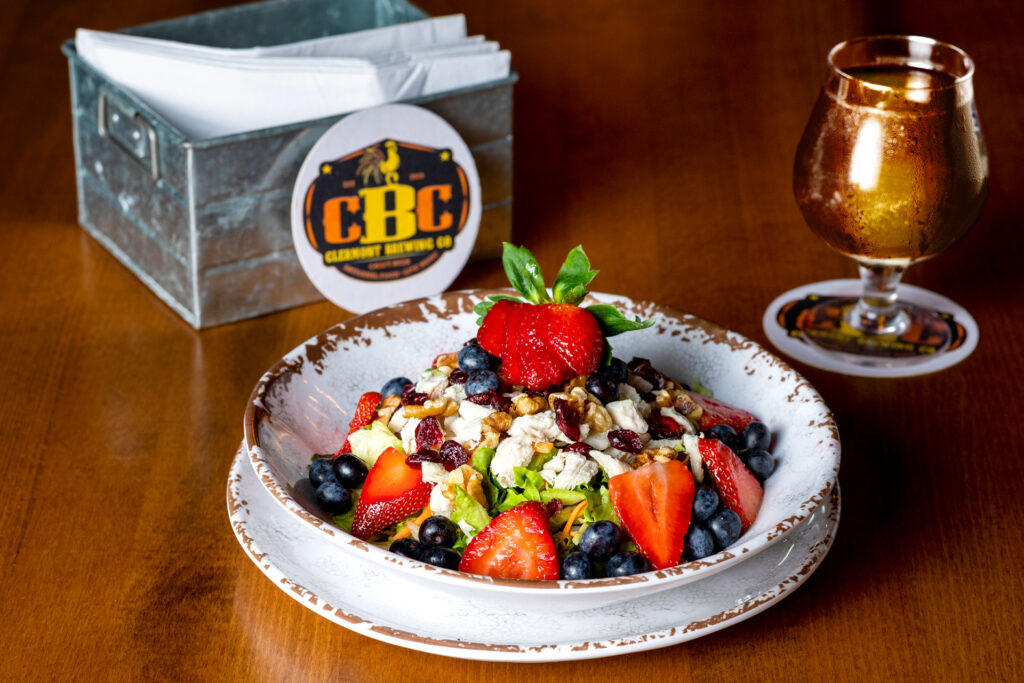 Craft beer, unique flavors, and good old-fashioned fun.
It's a brewery. It's an eatery. It's home to a rotating selection of handcrafted and seasonal brews for every taste. It's also a place where artisanal dining creations from sushi to smoked brisket to pizza tantalize a wide variety of passionate palates.
Owner Darren Johnson created a hidden gem in Downtown Clermont when his brewery—CBC to its many fans—opened in 2019. From day one, it began developing its own sense of community, something Darren really wanted to do. He felt downtown needed a more hospitable, inviting community feel; one inspired by Florida's more relaxed, fun vibe. What better way to do that than with outstanding craft beers and amazing food?
Something is certainly working. Is it the beer? The food? You'll have to decide for yourself. Or, ask the folks who show up hours early for Tuesday Night Bingo, but beware. CBC regulars tend to be very passionate!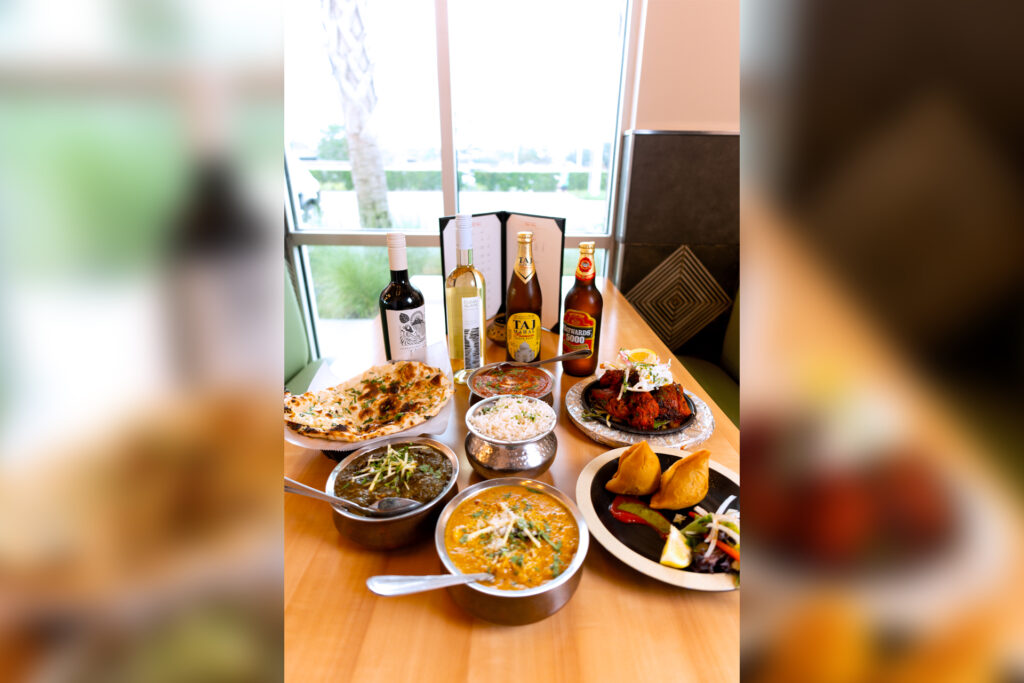 Traditional to inventive fast casual Indian delights.
Indian food lovers will find a lot to love at the Naan Stopp because the menu is purely authentic, North Indian cuisine. The restaurant's chefs worked all over India gathering their recipes and building the menu.
"India used to be a land of 10,000 kingdoms, each with its own customs and traditional dishes. Indian food has 10,000 origins because it comes from all local ingredients," Ram explains. "We serve all the popular dishes like Chicken Tikka Masala, Lamb Vindaloo, Lamb Korma, Butter Chicken, Fish Curry, Chana Masala, and of course, our amazing freshly made Naan Bread. We make all of our dishes to order, customized per person."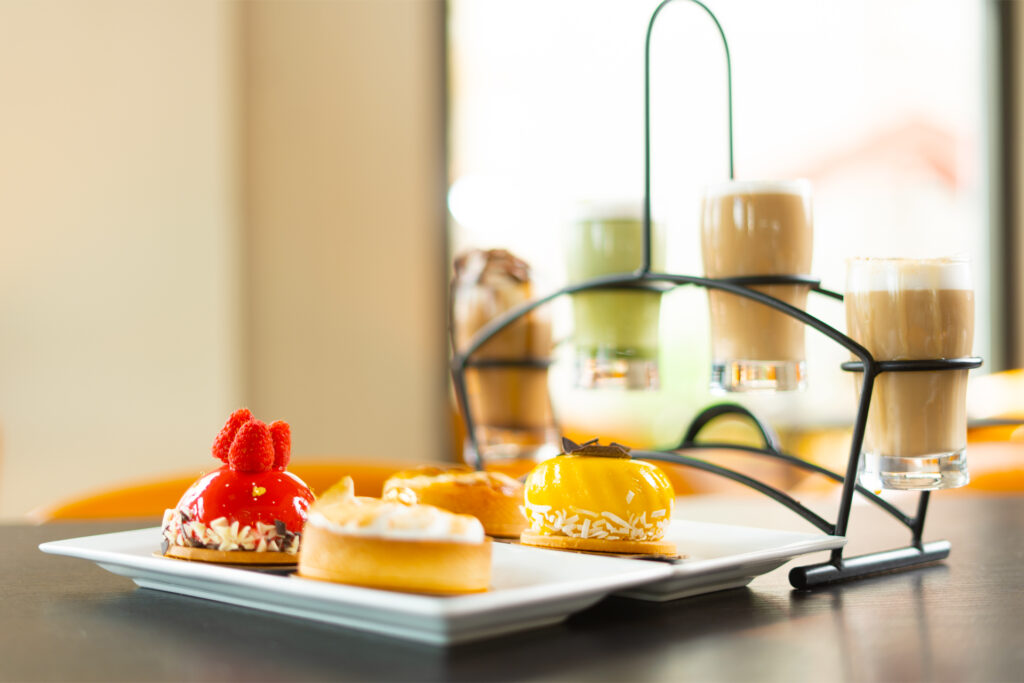 This neighborhood French bakery and bistro will have you saying oohh-la-la.
The French Cafe is inspired by Paris and its sidewalk cafes—people sitting, sipping coffee, and enjoying fabulous pastries. "Our pastries are made from scratch every day. Our French chefs create fantastic dishes—popular ones include Croque Madame and Croque Monsieur, Breakfast Croissants, and Quiche Lorraine, to name a few. We also make delicioius sweet and savory crepes. Our customers can watch the dishes being prepared through our glass showcase windows", says the manager of the Cafe.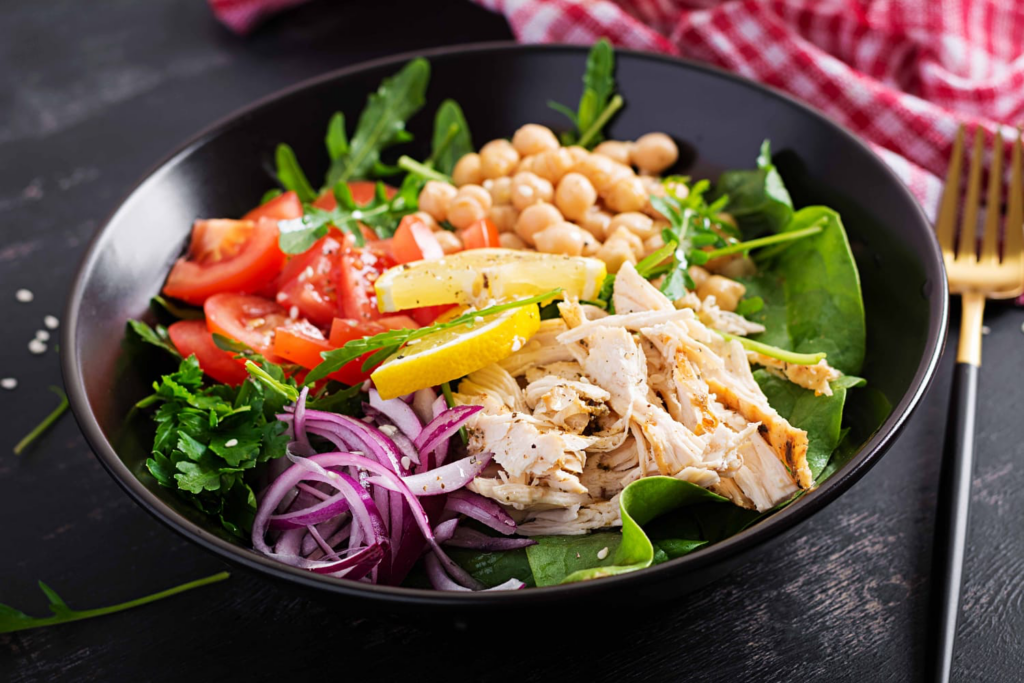 Happy, healthy, hearty Lebanese done right.
Evoo – Fresh Mediterranean Kitchen opens at the end of May and serves Lebanese Mediterranean cuisine. "We specialize in serving the ancient, delicious food of Lebanon. At our fast-casual eating establishment, guests can enjoy our Shawarma, Grill, Falafel, Tabbouleh, and other fresh, healthy offerings. Our mission is to bring you food that is healthy, tasty, and affordable."
Chef Akira's artful elegance served up on a platter.
Nimble and sublime salts culled from exotic locations are a main attraction at Salt & the Cellar, a new restaurant nestled in the lobby of ette hotel, a five-star boutique hotel in Kissimmee, just five minutes away from Disney. Curated by Michelin-Starred chef Akira Back, and served in "salt cellars"—small lidded, ceramic or wooden vessels with ancient Roman origins—these nimbly piquant magicians from around the world release a rare, luxuriant bouquet secreted within the delightfully marbled Japanese Wagyu and other equally precious cuts of beef at the exclusive dining establishment.
A New York steak, a highly prized A-5 steak, and a gold wrapped and regular Tomahawk steak graces the menu and is presented by a salt "Sommelier" with five salt selections: Persian Blue Salt, Hawaiian Black Salt, Espresso Salt, White Truffle Salt, and Purple Salt, each providing a unique savory enhancement all their own for a symphony a flavor fit for the most discriminating gourmet.
Chef Akira, a former professional snowboarder, was born in Seoul, Korea, spent his teen years in Aspen, Colorado. He gained worldwide recognition (and his Michelin Star) with his Yellowtail restaurant in the Bellagio Hotel in Las Vegas. He has since built a culinary empire, encompassing 22 restaurants in London, Paris, Dallas, Houston, Delray Beach, Singapore, Bangkok, Hanoi, Seoul, Marrakech, Riyadh and, of course, the ette hotel in Kissimmee. He has appeared on Food Network's "Iron Chef America," and "Best Thing I Ever Ate," among others. When you visit Salt & the Cellar by Akira Back, be sure to request a tour of the earthy, true, timeless, elegant (ette) hotel in which it resides, and upon whose philosophic and stylistic pillars it rests. The brainchild of Alex Ekbatani and his wife, Sheila, it is a masterpiece of elegance and grace: the perfect setting for an unsurpassed culinary adventure.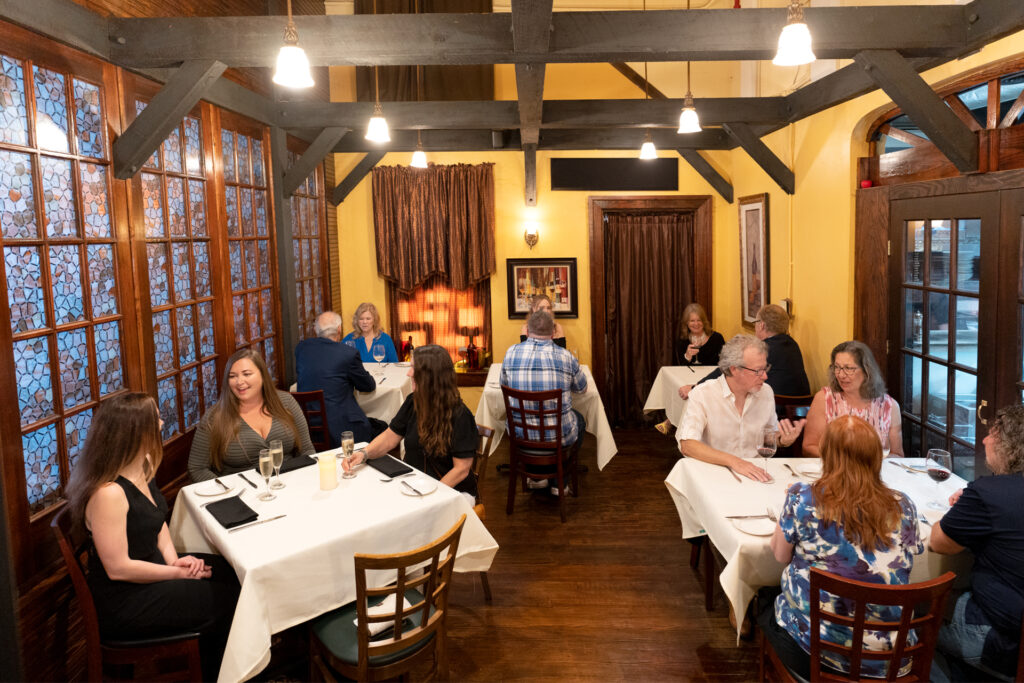 Chef's Table & Tasting Room
A hidden eatery with historical elegance and casual eats.
They began in 2008 with nine tables "hidden away" inside the historic Edgewater Hotel, and won Best New Restaurant in Orlando. Kevin and Laurie Tarter put Winter Garden on the food map by achieving the Florida Trend Golden Spoon, award-naming them a top 100 restaurant in Florida, an achievement they have been honored with every year since.
The Chef's Table delivers a charming fine dining experience, offering a nightly three-course dinner with a sommelier selected wine pairing option. Reservations are highly recommended. The Tasting Room—opened in 2011—is, as owner Laurie Tarter puts it, "our neighborhood gem with craft cocktails, a more casual menu, and brunch on weekends!" Hungry yet? We are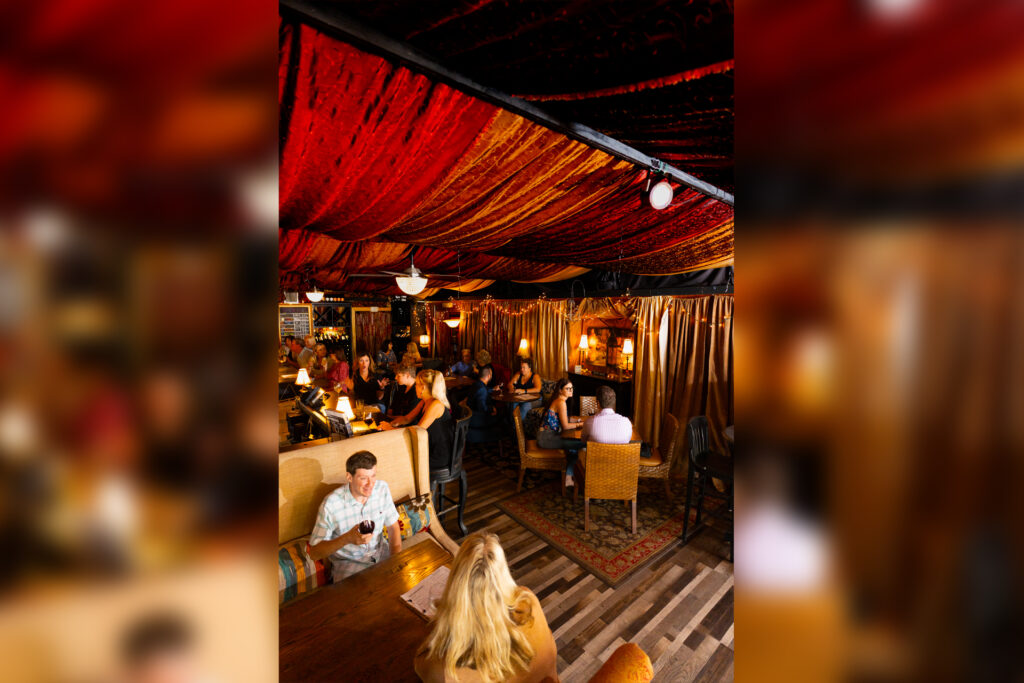 An eclectic experience wrapped in ambiance and intimacy.
The Attic Door had always been one of Laurie and Kevin Tarter's favorite places to hang out. "We moved to Winter Garden in 2005, and The Attic Door quickly drew us in. It was a favorite for years. When my friend decided to sell The Attic Door in 2019, we were lucky enough to snag the opportunity!"
With enthusiasm, the duo purchased The Attic Door in 2019.
Keeping the vibe dynamic and unique, Laurie and Kevin revamped the spot, all while serving delectable food, palatable wine, and some of the best selections of craft beer in Orlando. The best part of this lively bistro has to be the mix of local musicians that perform every night. Their tunes combined with an already vivacious energy just adds the cherry on top to an enjoyable experience!
¡Que rico! Elevated Mexican Cuisine served with a side of sophistication.
A unique culinary journey for guests began with the  "Grande Opening" of Rosa Mexicano in the Walt Disney World Dolphin Hotel at the end of March 2023. Be prepared for a fun, festive adventure that starts the moment you step inside. The atmosphere is like an "elevated fiesta" presided over by a bold, centerpiece painting by legendary Mexican artist Frieda Kahlo.
Now let's talk tequila. Rosa Mexicano has plenty to say on the subject, boasting over 100 varieties of the agave-based spirit that anchors their renowned beverage portfolio. Want to sample a tasty, tangy bit of frozen bliss? Try Rosa's signature drink, the frozen pomegranate margarita, voted the very best in New York City. Yes. New York City. Rosa Mexicano in Orlando is their newest location. The restaurant family, begun on NYC's Upper East Side with the first in 1984, now has restaurants across the east coast.
Tequila is one thing. Truly authentic Mexican food is quite another. Rosa Mexicano takes diners on a taste-inspired trip that covers every region of Mexico. There are the favorite, traditional dishes as well as a wonderful mix of culinary innovations. They're all prepared with the time-honored techniques Mexican food lovers crave, as well as some new, modern food trends current today on Mexico's food scene.
The selection and the unique dishes that await guests will amaze even diehard, Mexican cuisine enthusiasts! The idea for Rosa Mexicano is to elevate what we all think we know about Mexican food to a surprising new level of fine dining—with a healthy portion of festive fun added to the recipe. Hungry for a memorable and delicious good time? Hold our tequila while we give Rosa Mexicano a hearty two thumbs up!