This month, The Local turns one, and what a wild, wonderful ride it's been. We're commemorating our milestone by celebrating all of yours.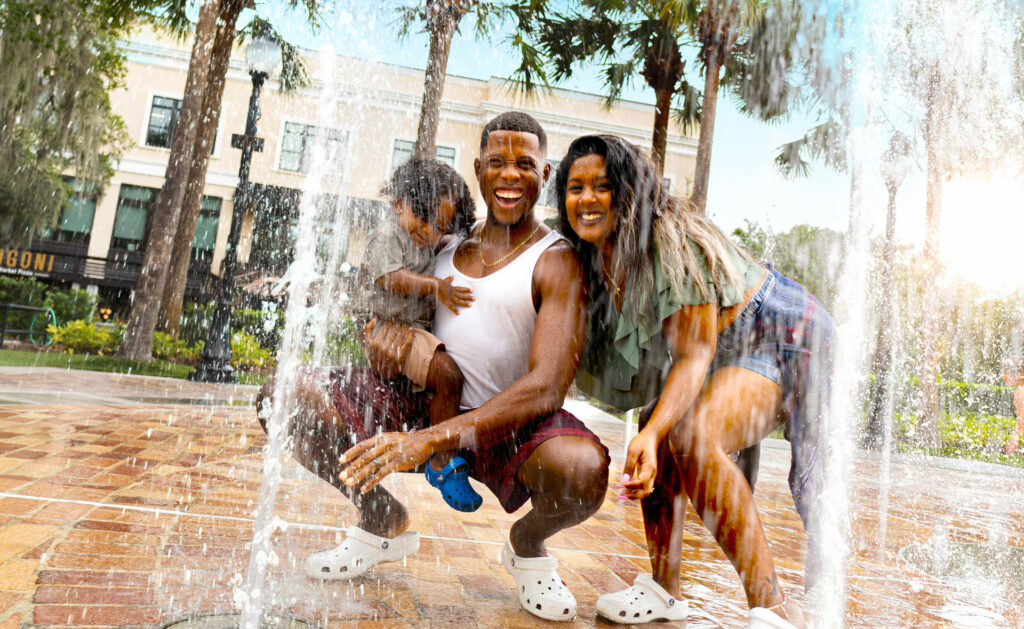 It's only been 12 months since Stacey, Joshua, and 1-year-old Kai Walker moved to Winter Garden, so they are still acclimating to August's sticky heat. But that doesn't stop them from coming to the market every weekend, hunting for fresh, delicious options to meet their plant-based diet. Kai stops to pet a particularly friendly dog, tail wagging and tongue eager to lick those chubby cheeks. Stacey holds Kai's hand, carefully watching the dog, while Josh stops to say hi to friends.
"It already feels like home," Stacey says, with a smile.
"We both grew up in New York, and it was pretty big with city life up there, especially for me," Joshua says. "I lived in intercity apartment buildings, where you've got people all around you. Cars, traffic, everything."
Stacey adds, "So when we had Kai, we knew we wanted him to grow up in a place that was more laid back, more family oriented."
So, they began their search for a new community to flourish in with their family. "We wanted to move to a warmer state, so looked at Georgia, Florida, or Texas. After we did our research, we realized that Florida had more things to do such as beaches, Disney, and parks. We knew we wanted to be away from the crazy hurricane zones like the Panhandle, Fort Lauderdale, and Tampa; and we're not into the party scene, so Miami was out. Once we eliminated those areas, Orlando just made the most sense."
Outside of being close to an airport for family, parks, Disney, and nearby beaches, diversity was also a significant factor. Joshua chimes in, "The diversity was huge. I'm African American, Stacey is Guyanese, and you don't see a lot of black and brown people in certain communities. We wanted to move into a community that was diverse, for Kai to grow up seeing people that look like him, don't look like him, and everything else."
I've become a more relaxed, laid-back, comfortable version of myself. Leaving the hustle and bustle of New York has been so good for my attitude and outlook on life.
Stacey says, "We love the diversity in Winter Garden— wherever you look, you can see different ages, races, cultures. There aren't many communities where you can walk down the block and find someone from every culture— we learned this during Halloween that we are surrounded by such kind and welcoming people of all shades!"
Also, housing prices just made sense, comparatively speaking. Though the market is hot, it's still nowhere near metropolitan New York. "Sure, the housing market was crazy last year, but we were still able to build a new home in Waterleigh, which was great. Plus, this is also our first home living without our parents!"
Indeed, Winter Garden has surpassed every expectation. Joshua recalls one of their first experiences driving through downtown, "The people give it its charm. We were driving around, and a guy waved at us in our car! Every time we drove past someone, about 80% of them waved. I swear, it was a set-up," Joshua jokes. Coming from New York City, he likes that Winter Garden has a comfortable, almost country-like atmosphere. "I mean, there are grazing cows and horses in pastures on my drive home. You just don't see that in New York City."
Stacey's favorite memory from the last year came last fall. "We had never experienced anything like it. At Halloween, everybody was outside; some people barbecued while others handed out food. Kids were going door-to-door. It was an experience. It's only something you can get here; it's so very special."
So special, in fact, that Stacey and Joshua have influenced others to make the move."My parents moved down here!" Stacey says, enthusiastically. "They kind of followed us down, but that was really cool because now we can experience everything together."
So what difference has a year made in the Walker household? "It has been eye-opening," says Joshua. "I've become a more relaxed, laid-back, comfortable version of myself. Leaving the hustle and bustle of New York has been so good for my attitude and outlook on life. I've really grown as a person. It's really important to grow in different ways and see how you can push yourself to be a better version of yourself or a better version of the person you want to be."
For Stacey, "It has taught me who I am and what I value. After moving I realized how important family is, and having my parents here is such a blessing."
One year down, many more to come!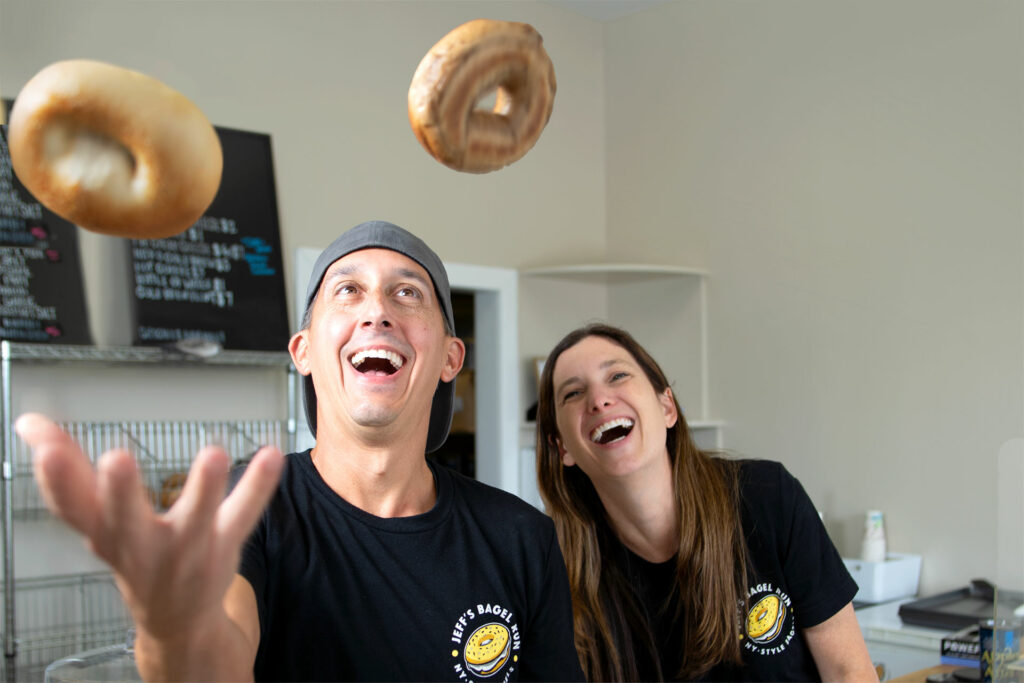 In our first issue, we introduced you to Jeff and Danielle Perera, the dynamic duo behind Jeff's Bagel Run who had just opened their first brick-and-mortar bagel shop. One year later—to the day!—Jeff & Danielle opened their second location in Orlando. Bravo!
Nothing puts time into perspective like having kids! In our very first issue, we introduced you to Winter Garden's newest residents, two babies born in separate hospitals just one hour apart. Seems only fitting that we catch up with Leilani and Kennedy as we all turn one!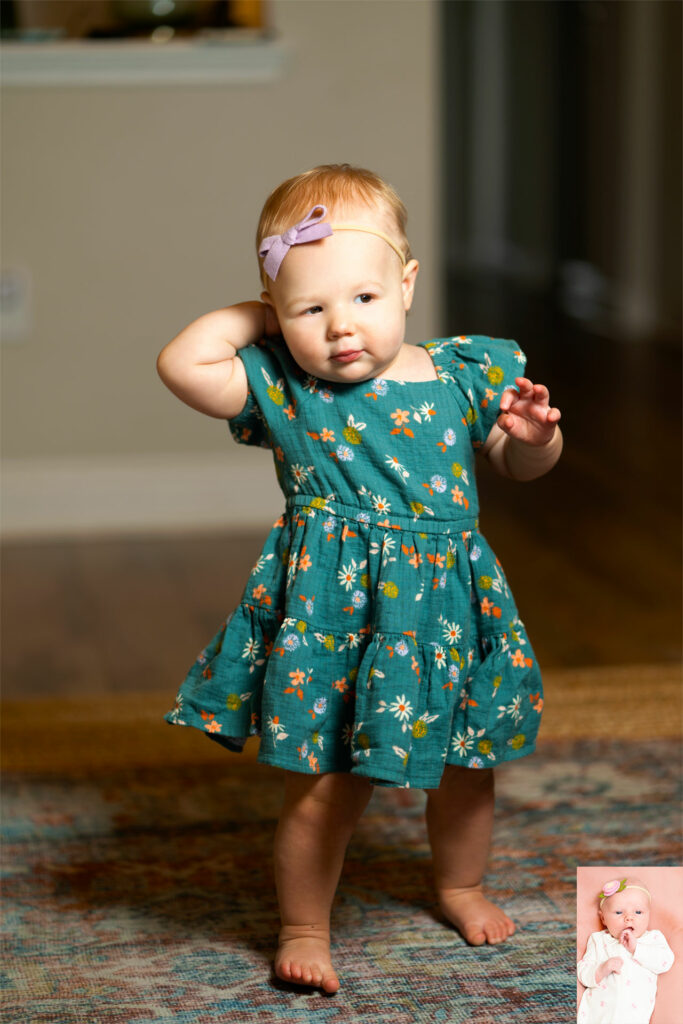 Kennedy Rose Walker has recently started walking and loves waving at everything, something she may have learned from her Disney Cast Member mom. She's a happy, easy-going gal who loves to comfort other kids when they are crying, including giving them a pacifier, patting them, and rocking them in a bouncer. The newest annual pass holder has already been to all four parks and got to meet Mary Poppins while wearing a matching dress. She even got to see the Magic Kingdom fireworks when she was just two months old. When she's not cavorting with her favorite characters, she loves playing in the pantry and showing you her belly button if you ask.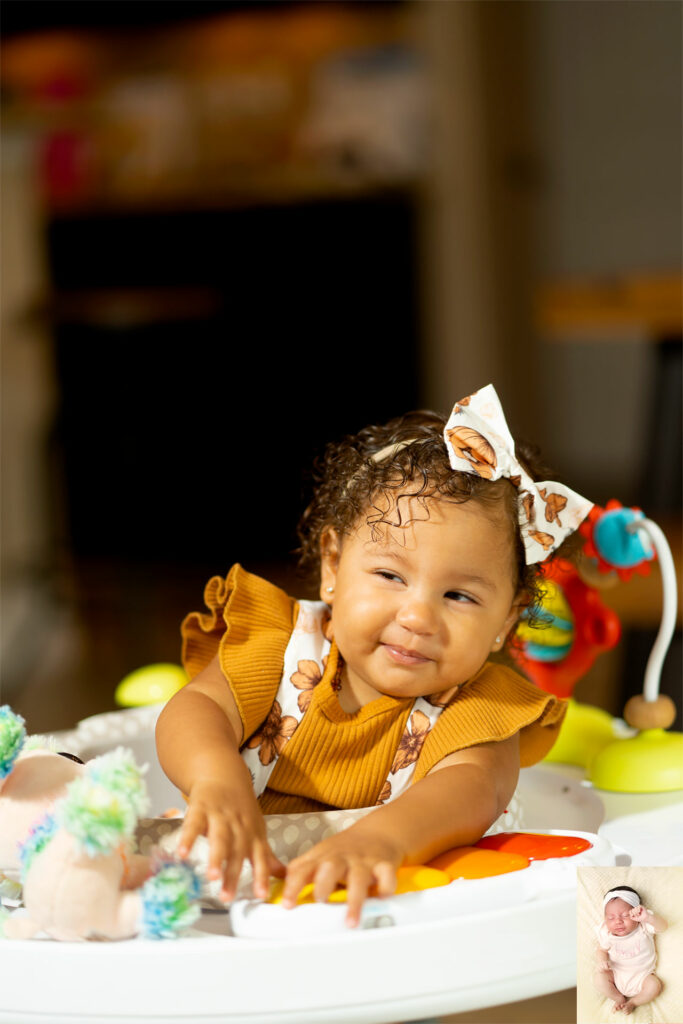 Leilani Juliana Joseph is a dancing machine and doesn't hesitate to clap and boogie as soon as she hears a beat! She is also quite the explorer, using her newfound walking and crawling skills to climb everything and everything. She can say Mama, Dada, bye-bye, and often says Nana? We're still trying to figure that one out. She recognizes and can point out facial features and toes when asked. She knows how to say "all done" in sign language and wave hello and goodbye! And she may look like her mama, but she has her dad's appetite.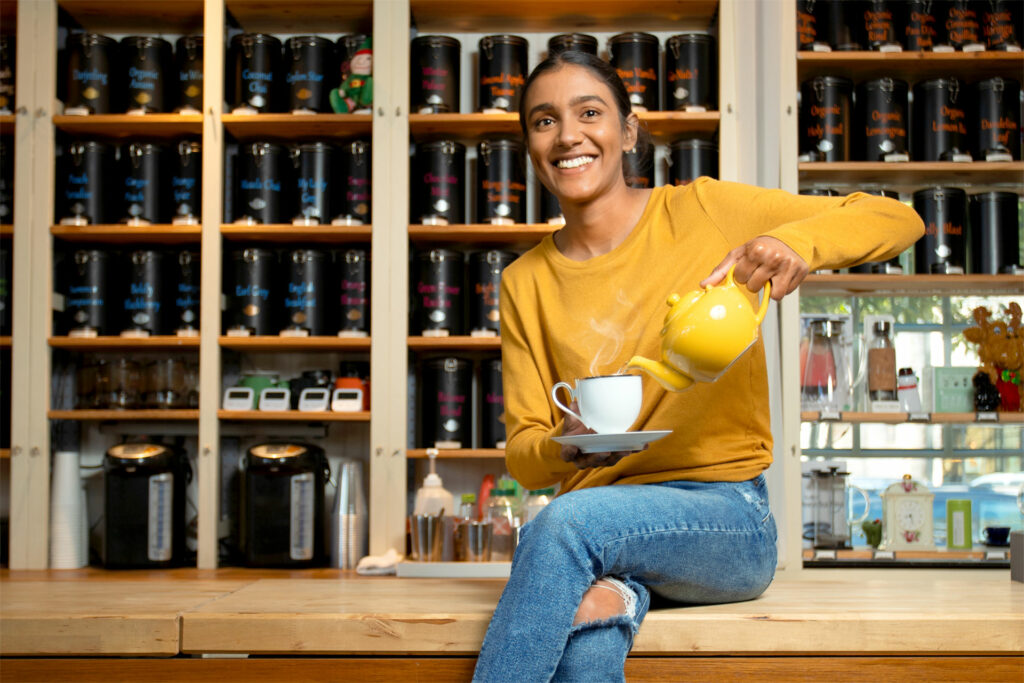 Our favorite pint-sized Bassist/Tea Queen is feeling the heat from a recent cover her band, Lies Behind Your Eyes, produced. Apparently covering beloved K-POP band BTS's "Fake Love" in a thrasher way brings out the haters. Personally, we're darn proud and want to see more!
Check out the music video at in.https://thelocalwg.com/fake-love-video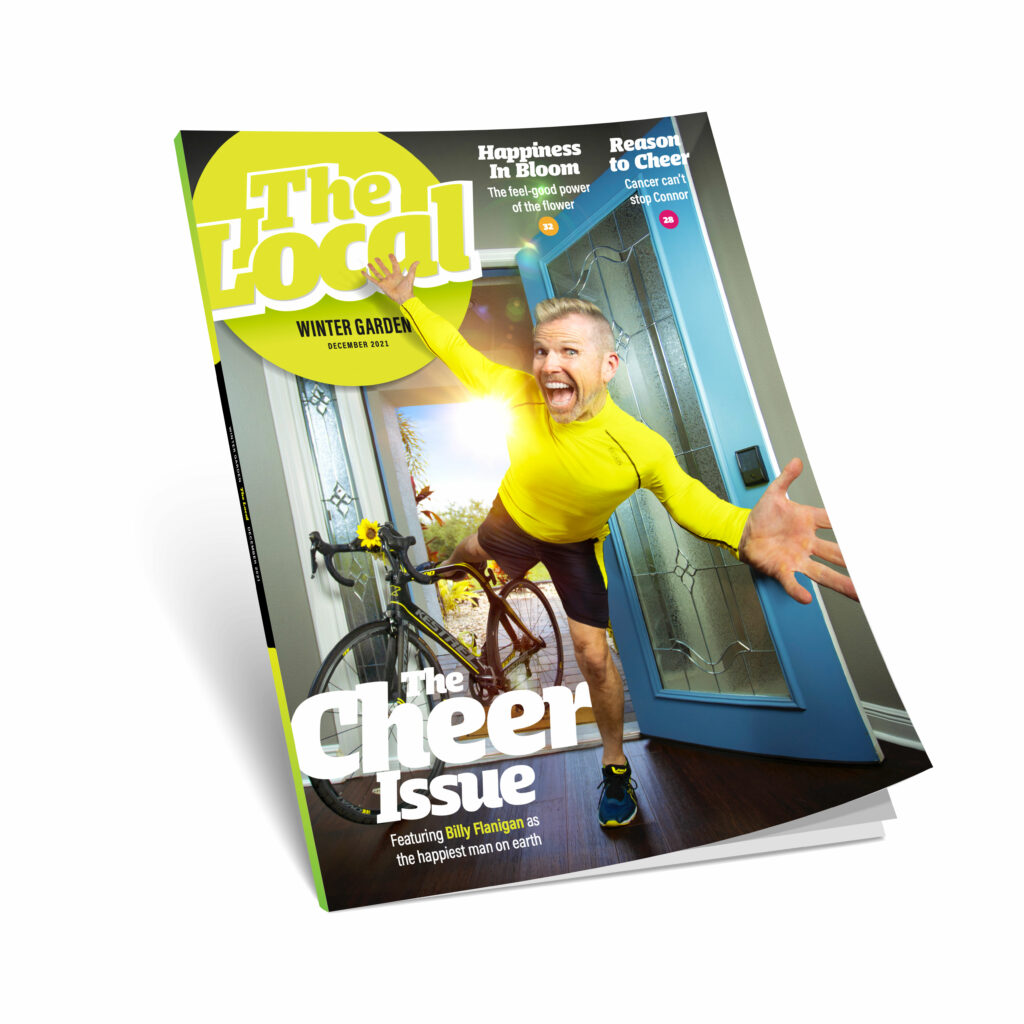 The man, the myth, the (flani)gram. Billy Flanigan lit up the December issue with his colorful personality and compelling story. Since then, he celebrated 40 years at Disney and the official release of his documentary, The Happiest Man on Earth!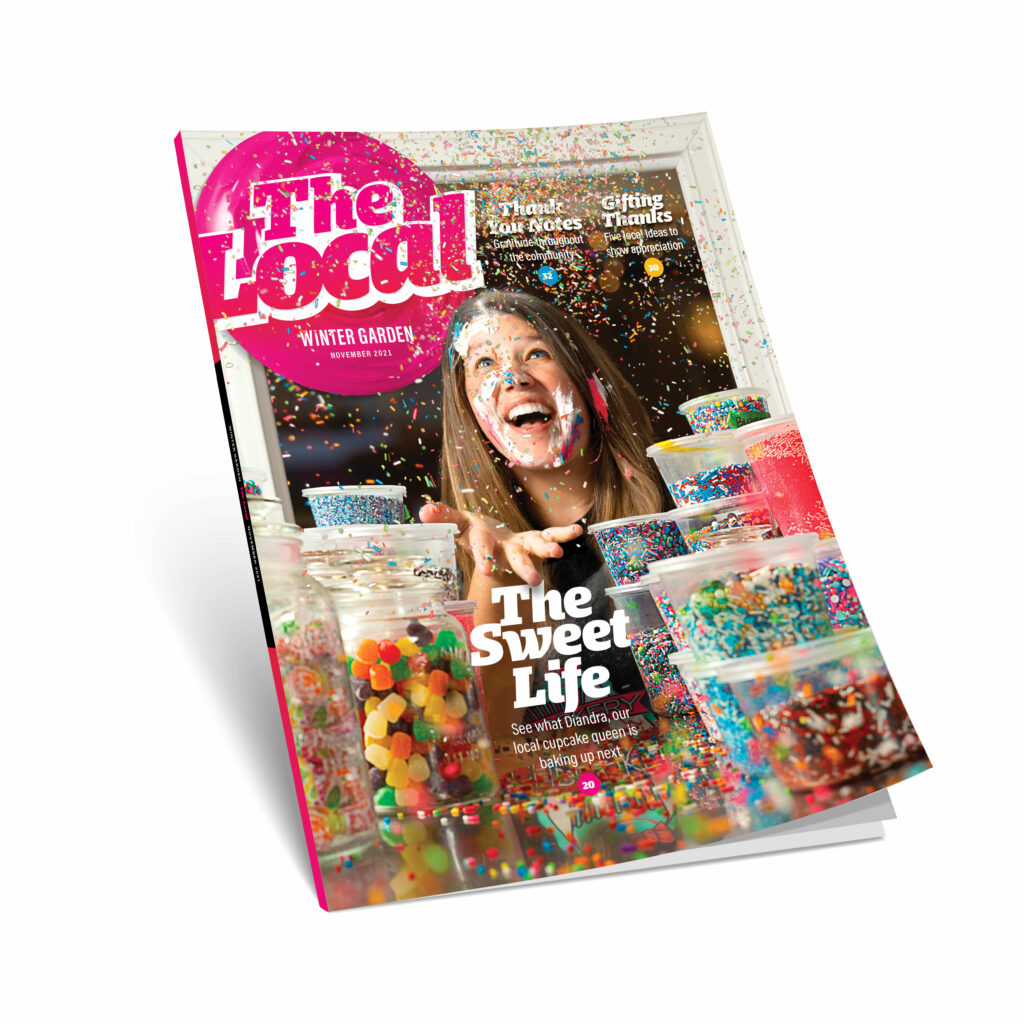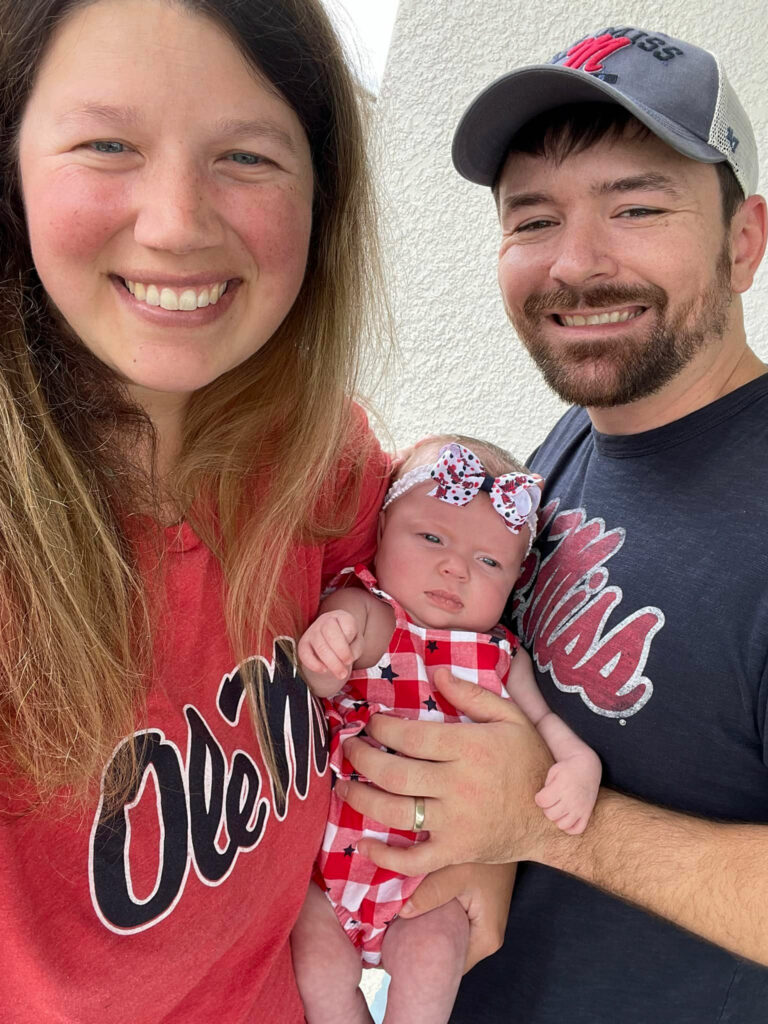 Cue the confetti… again! If you remember, Diandra announced her pregnancy in our November issue. This past April, Diandra and Dustin welcomed their newest little cupcake, Alani Grace.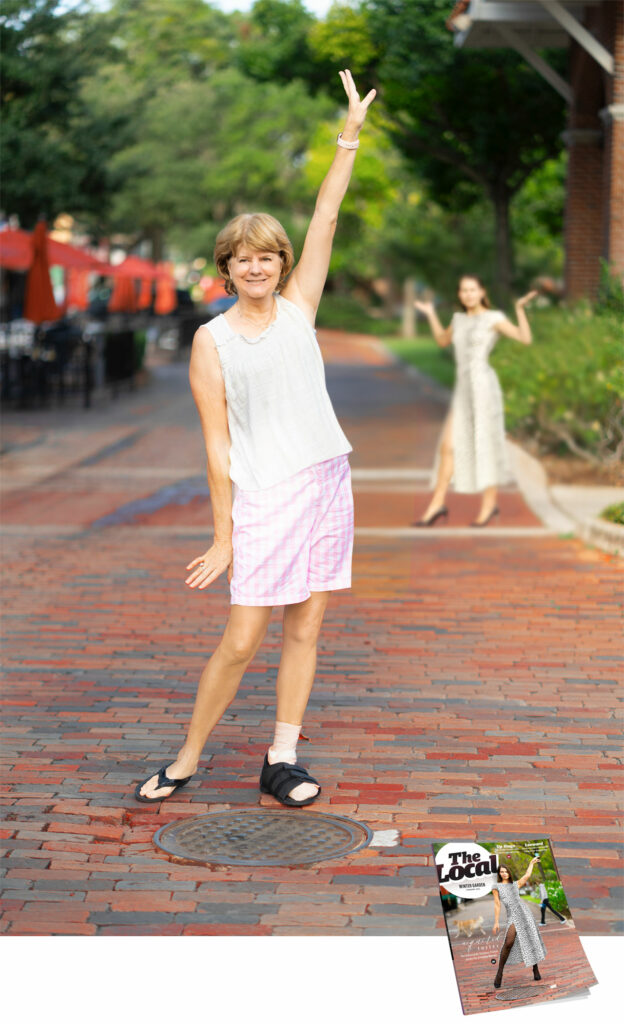 The Accidental Cover Model
Little did Mary Wisham know when she stepped out for her morning walk, she would end up on the cover!
A Winter Garden resident for 26 years and counting, Mary and her Golden Retriever mix, Happy, were just out for their morning stroll when they came across Ashley Morton posing in the street.
"I saw all the equipment and the photo session going on; the model was posing. I waited until I thought we were out of the shot and we walked across. My goodness, I had no idea we crashed the party until the magazine came out and there we were! People kept asking me about it. 'Hey, I saw you on the cover of that magazine—that Winter Garden magazine!' Then a friend saw that The Local was asking who I was. Well, I called the magazine right away … I just hoped I wasn't in any trouble."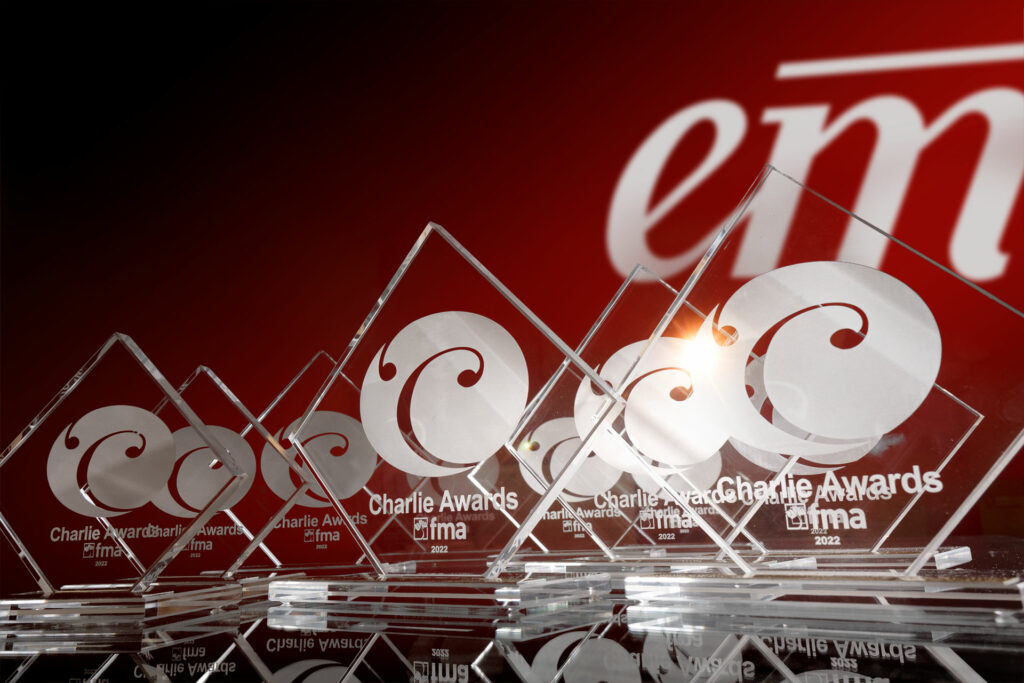 Creating this magazine has been its own reward. Each month, we get to weave new stories into the rich fabric of 34787 and connect more deeply with the people who call it home. But when the Florida Magazine Association (FMA) annual Charlie Awards—the premier magazine awards in the state—opened for entries, we couldn't help but wonder how we stacked up against Florida's most prominent publications. Passion had carried us this far, after all, so maybe passion would help us carry home a trophy or two. Even that would have been an honor.
Nine awards. Three of them golds (or "Charlies"). We weren't expecting that.
Why are we taking the space to boast about our victory? Because it's your victory, too. We're only as good as the stories we have to tell. Your stories, your smiles, and your support are what our now-award-winning content is founded on. Thank you for opening your homes and your hearts to The Local. We couldn't have won it without you.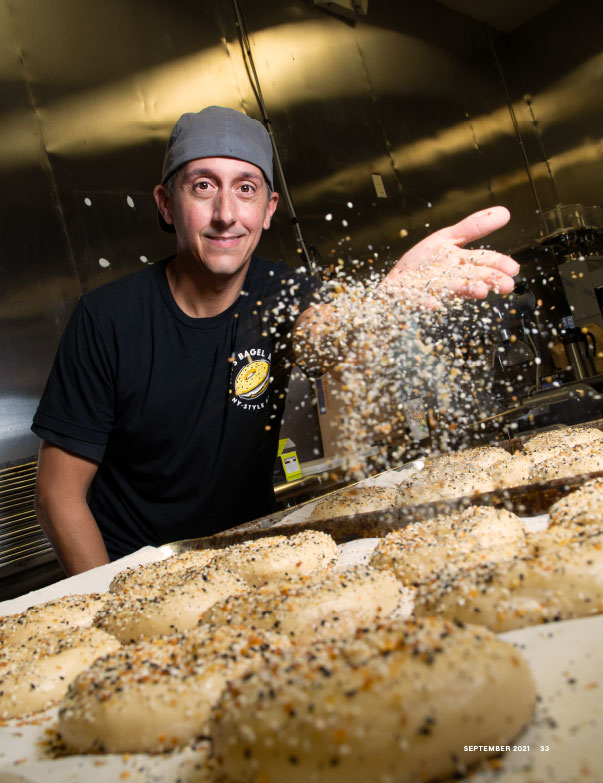 CHARLIE
Best Single
Feature Image
Seasoning Jeff's Bagels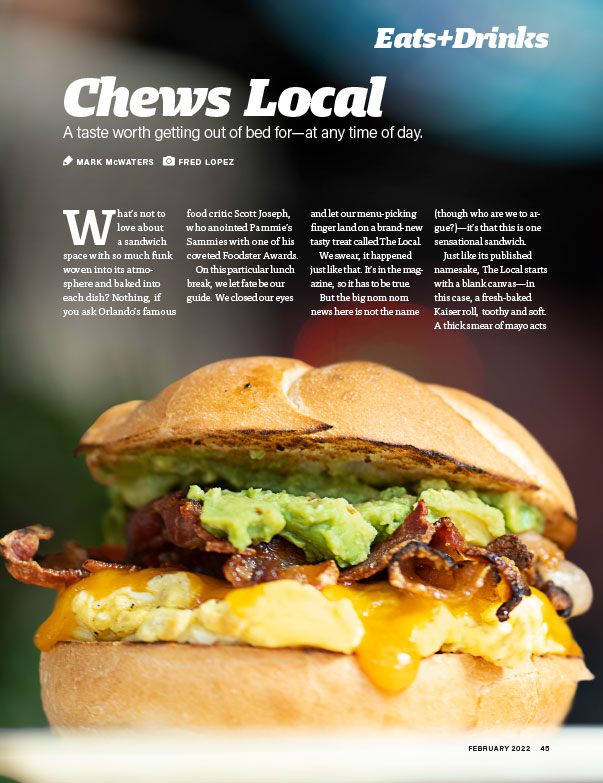 CHARLIE
Best Writing: Department
Eats & Drinks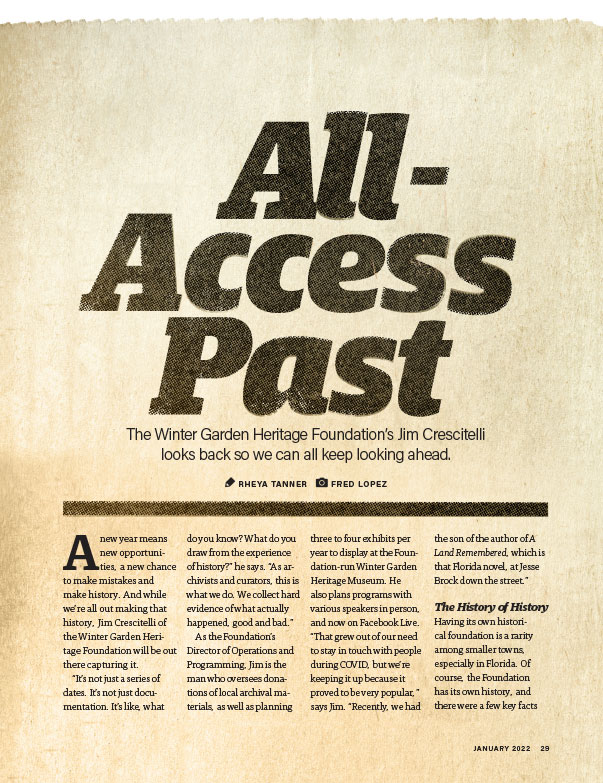 CHARLIE
Best Feature Headlines
"Joy to Be Held"
"Reigning Cats & Dogs"
"All Access Past"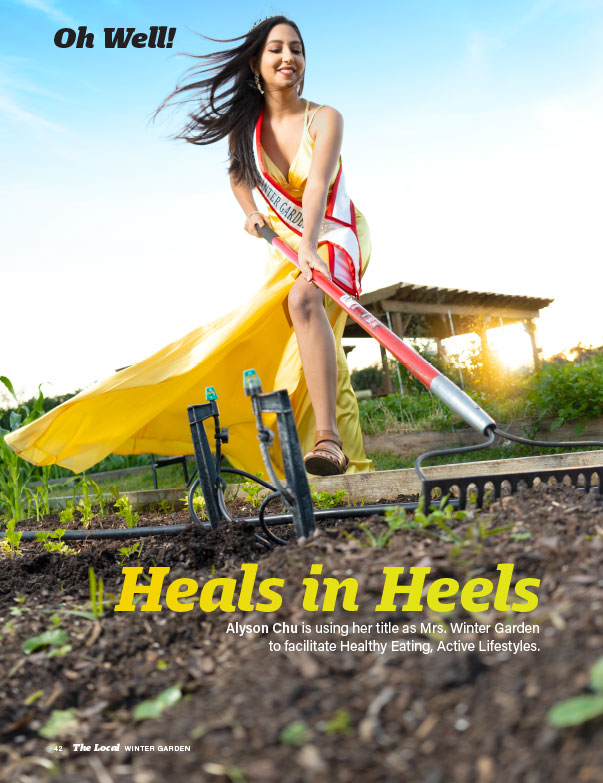 SILVER
Best Single Department Image
Heals in Heels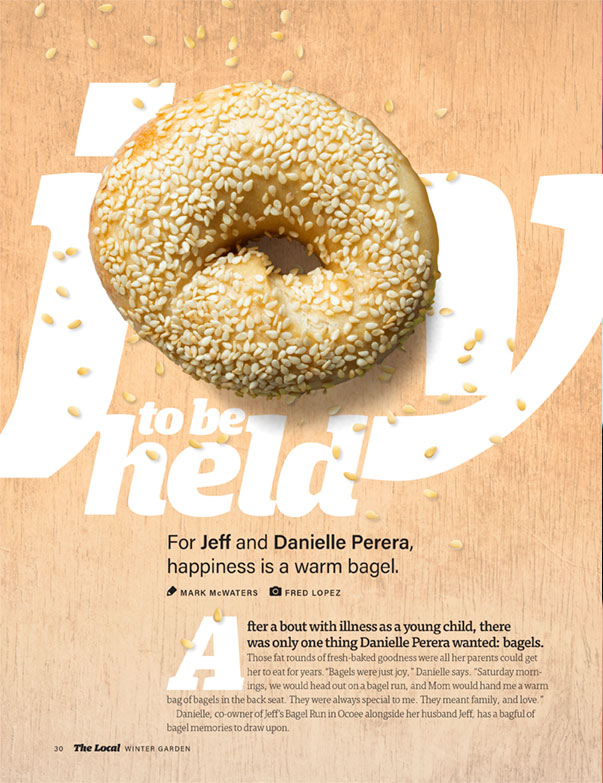 SILVER
Best Design: Typography
Joy to Be Held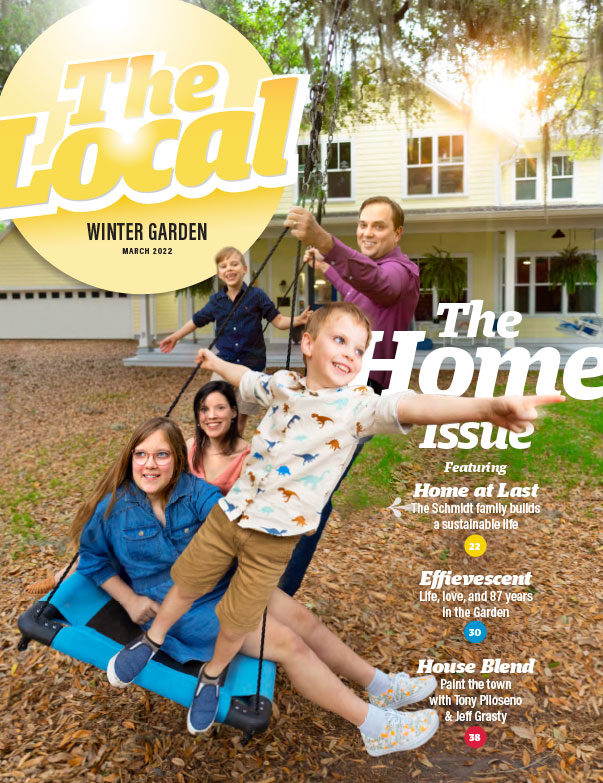 SILVER
Best New Magazine 
The Local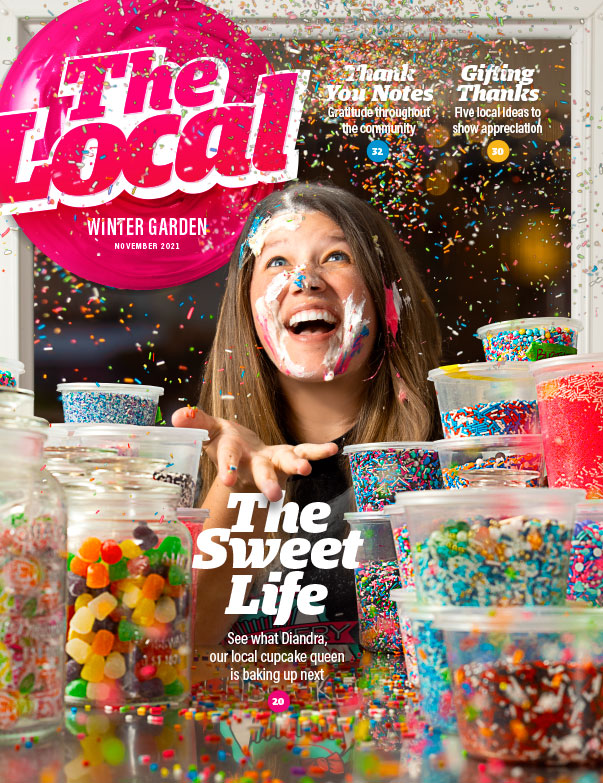 SILVER
Best Overall Design
The Local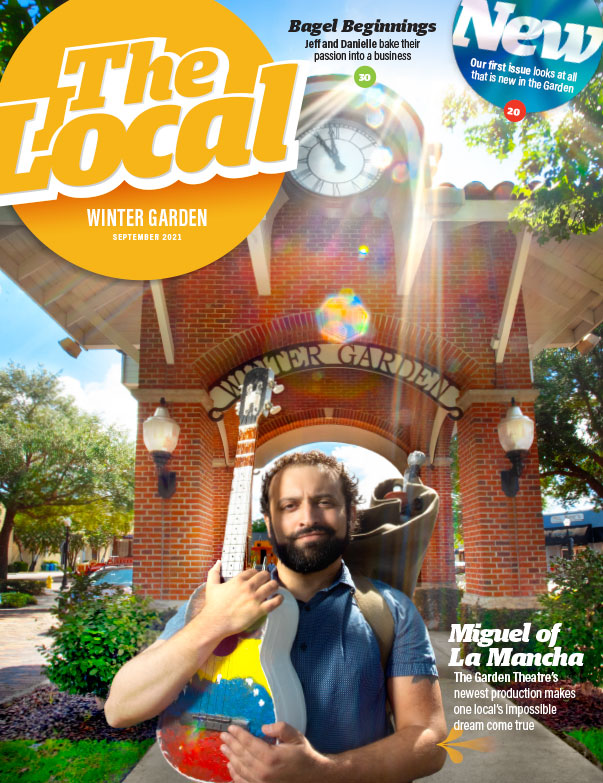 BRONZE
Best Cover Photography
Miguel of La v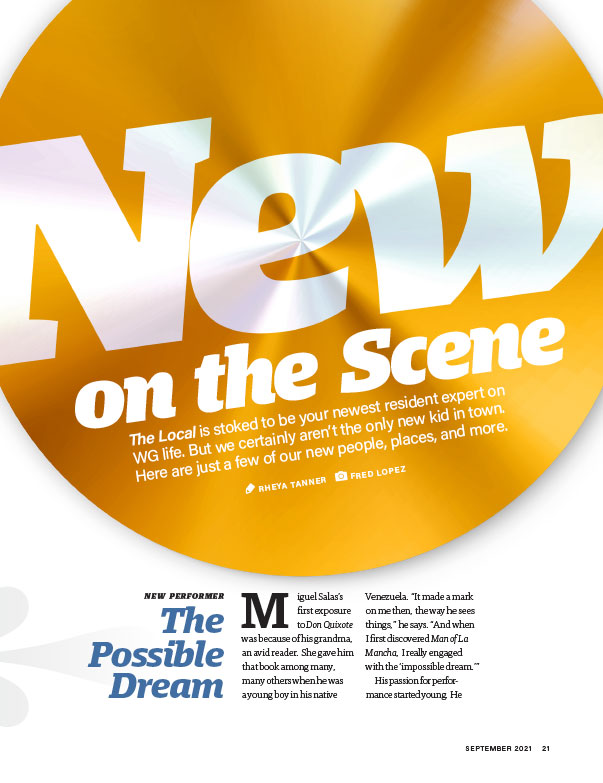 BRONZE
Best Special Theme
The New Issue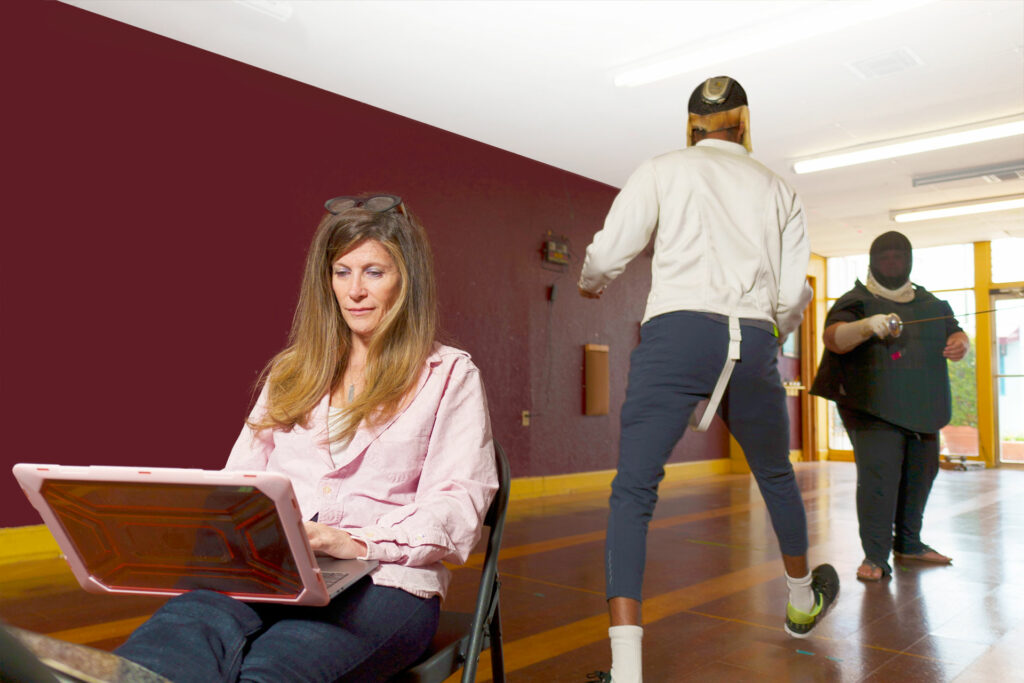 It was a quiet Winter Garden afternoon when Suzi Katz pulled up a chair outside Winter Garden Fencing Academy, and opened one of several composition notebooks. Notes, ideas, questions, lists, and doodles filled the margins. To a stranger, the scribbles would be modern hieroglyphics. To Suzi, it was the start of something big.
She unfolded her laptop, reviewed her notes, and started writing what would become her first book, A Life Revealed.
Those hours outside the fencing academy in 2009, while she waited for her daughter Maia to finish training, became her most productive.
"I'm a night owl," Suzi says. "I can't tell you how many nights I stayed up until 2:30 or 3 in the morning, channeling my thoughts and ideas into these notebooks. And that's part of the writing process, for sure. But my real writing, weaving the ideas into chapters, happened on Main Street. There were fewer distractions. My workday was over. Maia was busy. I could focus on the book. So yeah, I literally wrote this book on Main Street, Winter Garden."
A lifelong reader, Suzi found joy in storytelling early on. "I have so many favorite authors, but Judy Blume really inspired me. Her characters were so memorable, so relatable," she says. And that relatability is what she most wants from her main character, Chloe Jacobs. "I wanted to create a female character who was strong and had a lot of drive, but one who would struggle to keep that drive when faced with hard challenges. I mean, that's what we all face in life, right?!" Suzi says.
Though A Life Revealed is more than a decade old, Suzi decided to revisit Chloe during the pandemic. "There were always some loose ends, pieces that I didn't feel worked with the first edition, so I decided to go back into the story and release a second edition. Plus, I knew Chloe's story wasn't over; the second book was already filling more notebooks," she laughs. And that it has. The sequel to A Life Revealed, titled Hiding in the Open, will be released later this fall.