West Orange Ruckers, Mad Hombre, House of Hope and more!
This tight-knit group is carrying the weight of life together.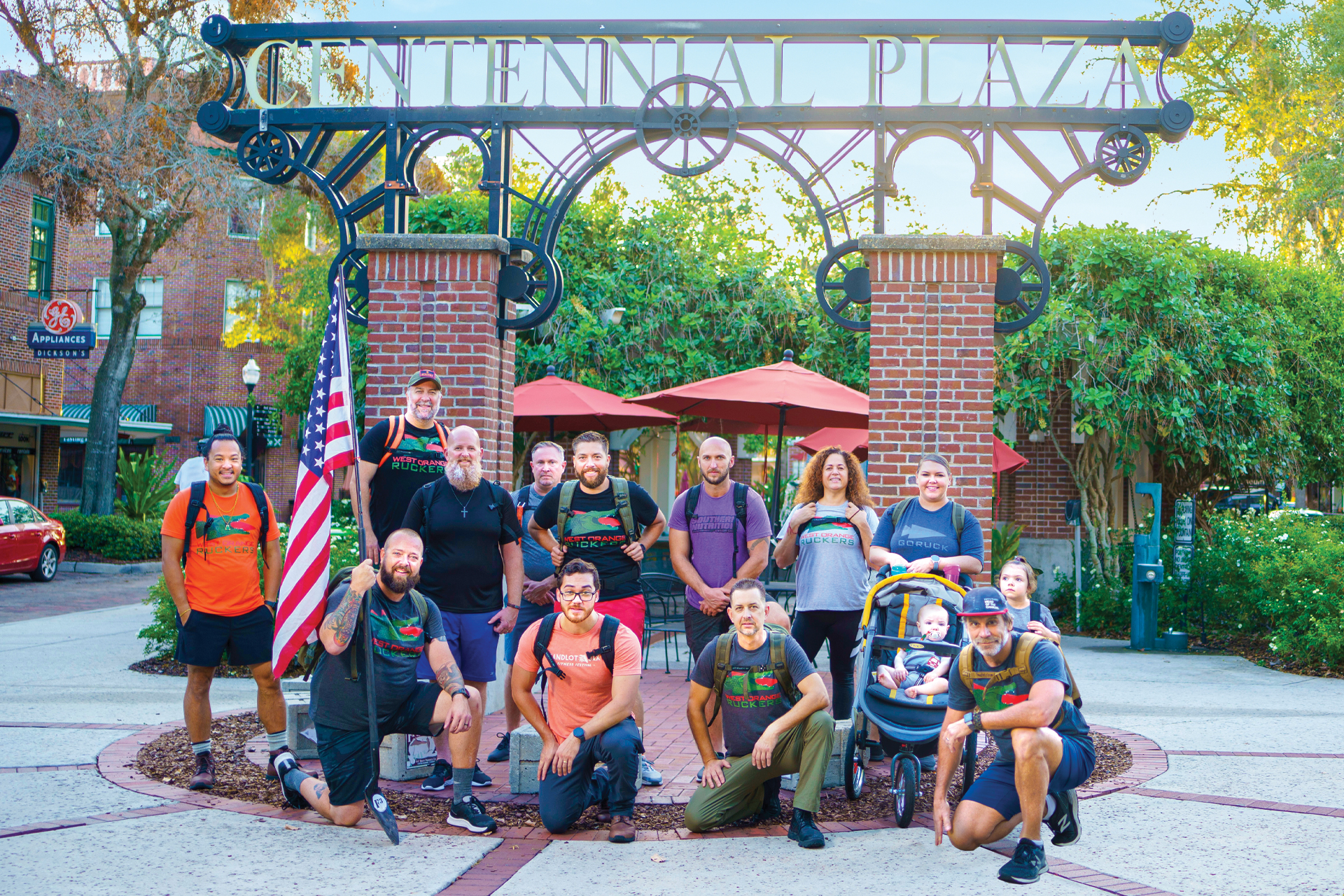 Beads of sweat pour off Chad Haggerty's head as he hefts a heavy backpack off the ground and onto his back. And yet, his smile stretches wide and happy, thrilled to be embracing the suck, as he calls it.
Chad—along with David Tran—is the co-founder of West Orange Ruckers. Rucking, for the unfamiliar, involves walking with a weighted backpack, known as a ruck, typically weighing 20 to 30 pounds. Sure, it may sound a bit crazy, but the West Orange Ruckers have a motto that says it all: "Ruck Around and Find Out." It's an invitation to challenge oneself and embrace the unknown. Whether they're braving the summer heat or chilly mornings, the group gathers regularly to ruck together, forging bonds that extend beyond the trails they walk.
For Chad, rucking has been a life-changing journey that began with the COVID-19 pandemic. Faced with challenges in his job and social life, Chad decided to invest in a GoRuck bag and started walking the local trails as a way to cope with stress. Soon, he realized that this activity had the potential to benefit others. "I'm a social person; I need that connection and didn't have it for the longest time. So I decided that instead of taking the lazy route with COVID and sitting down every day and doing nothing, I invested in one of the GoRuck bags and a weight. I started walking the trails and getting out into nature. Putting that weight onto my back took all the stress off my shoulders," he says.
Since its formation in April, West Orange Ruckers has grown to 81 members, ranging from toddlers to 60-year-old retired military veterans. The age and fitness diversity only adds to the richness of their shared experiences. From overcoming personal hurdles to finding newfound purpose, the power of this rucking community knows no bounds.
"I think what sets us apart is that we're willing to do harder things. People look at us like, 'you're carrying weight in your bag … why?' Because it helps us focus more on getting through the challenge in front of you—if you can get through those harder things, you can get through anything in life."
The community spirit extends beyond their weekly rucks. Chad envisions his group as a force for good in the community. They plan to organize events where ruckers carry food donations to local rescues, emphasizing the value of giving back. "Our mission is to become better—better members of society, better parents, and better for ourselves," Chad says.
Did You Know?
58,000 100-year-old bricks were laid to restore Main Street. Recently, the city completed a project to revitalize Main Street and maintain downtown's historical elements.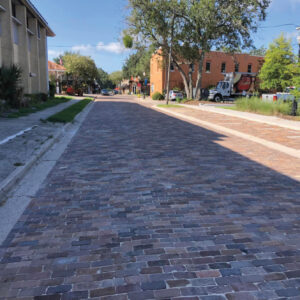 Get Rucking
West Orange Ruckers meet downtown at the Winter Garden Fountain at 5:30 am on Wednesdays, 7:30 pm on Thursdays, and 5:00 pm on Sundays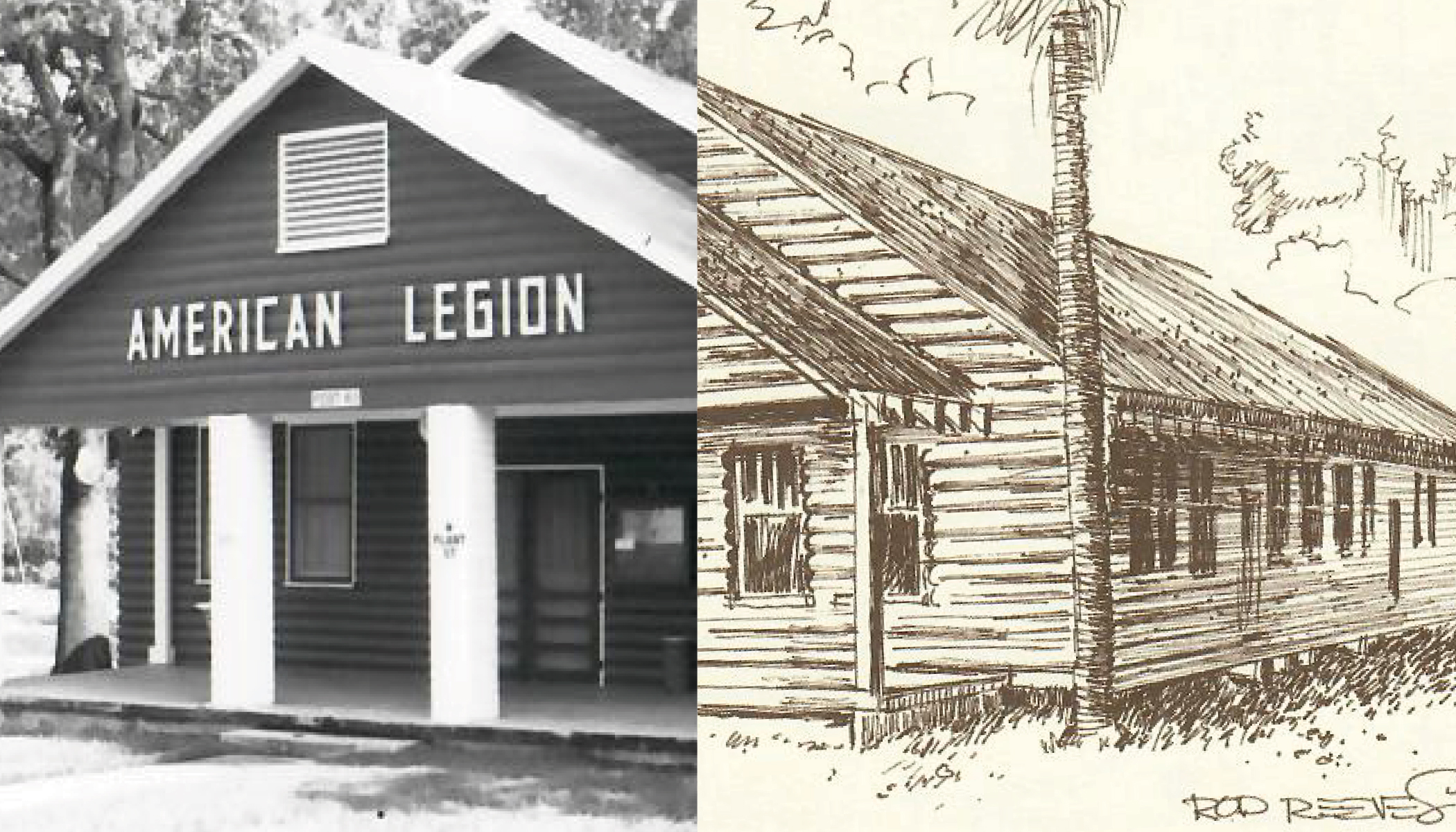 In memory of Winter Garden resident Hugh T. Gregory, who tragically lost his life in World War I, the Hugh T. Gregory Post 63 was established in April 1920. As the 63rd post organized in the state of Florida, it received its permanent charter in August 1921. Determined to create a dedicated space, the post embarked on a fundraising campaign for a new home.
In its early years, Post 63 held meetings in various locations, such as skating rinks, garages, and theaters. However, it wasn't until 1926 that Morgan C. and Blanche Britt, along with B.H. and Charlotte Roper, generously donated a site at 271 W. Plant St. This marked the construction of the Legion building, which has become a cherished community landmark.
Over the years, the Legion building has served as a gathering place for numerous organizations, including churches, civic clubs, homeowner associations, and the Boy Scouts. It has witnessed the growth of Winter Garden, accommodating various meetings and activities that have shaped the local community.
Today, the Legion building stands as a testament to Winter Garden's rich history. Its exterior, constructed with split cypress logs, has gracefully weathered the test of time. Post 63 continues to call this remarkable building its home, hosting monthly dinners and dances for veterans and members of the community.
The Hugh T. Gregory Post 63, with its storied past and enduring presence, remains an emblem of community spirit and tribute to those who have served their country.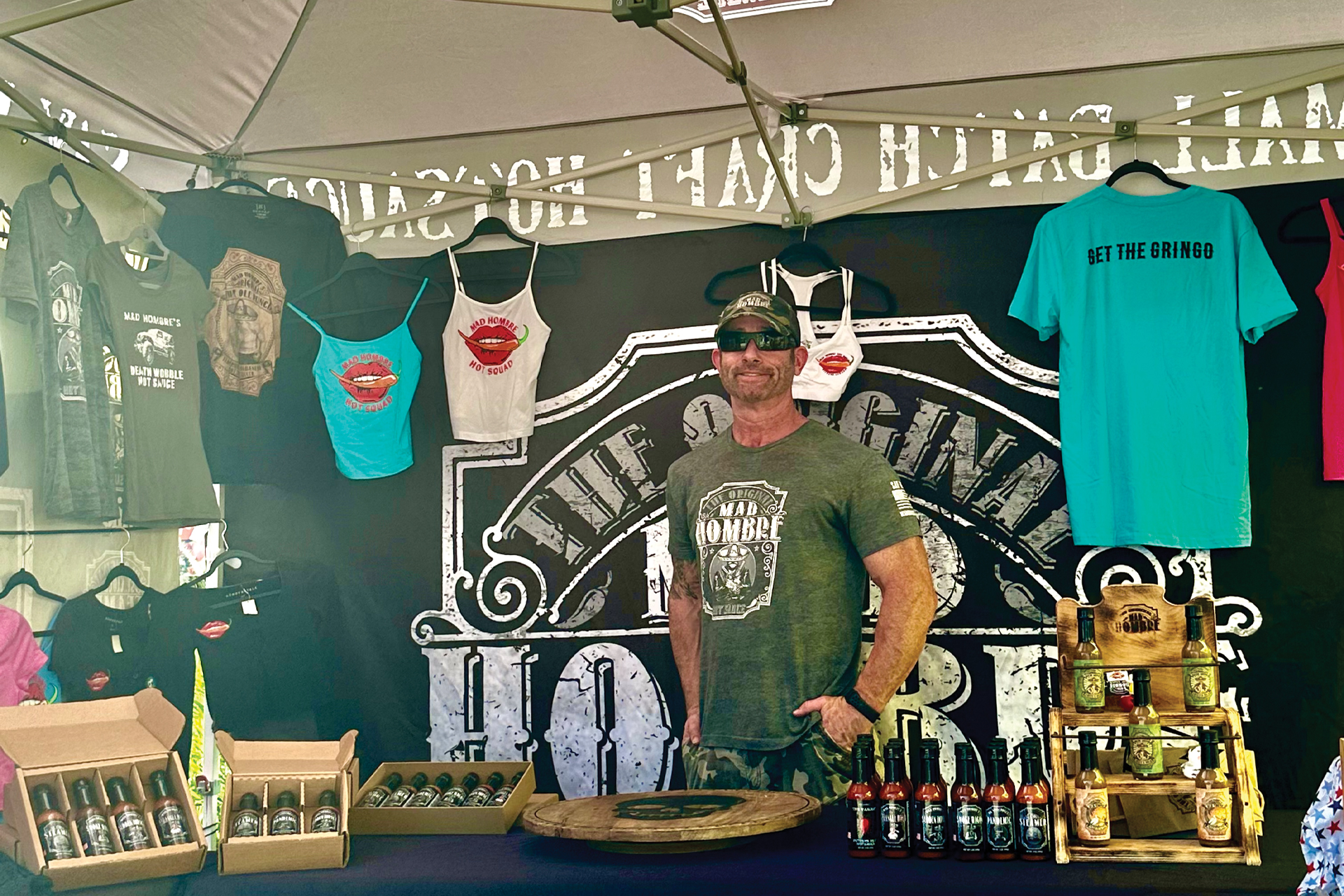 Troy Tiegs grew up in a household that cherished hot sauce. From an early age, he was introduced to the world of fiery flavors. As a child, even his pacifier got a piquant treatment in a vain attempt to wean him off. Little did he know that this spicy journey would shape his future.
After a spearfishing trip to the Cayman Islands, Troy's father returned with an intensely hot sauce. Intrigued, he began smuggling pepper seeds back from the islands to Miami, growing his own peppers, and creating his super-hot hot sauce. Fast-forward to the present day, Troy has continued the family tradition. However, Troy's focus shifted from heat to flavor, using fresh, locally sourced ingredients to craft a unique hot sauce that would stand out in the market. Troy says, "I was aggravated to only ever find brands of hot sauce made with the cheapest ingredients. I just wanted one hot sauce made with quality, healthy ingredients. So I created it."
In 2020, Troy and his wife, Jessica, launched their new business, Mad Hombre, with just 100 bottles, all of which sold within hours. Since then, they've expanded their offerings to include high-quality apparel, which has become as popular as their signature hot sauce.
As Mad Hombre continues its spicy ascent, Troy and Jessica strive to spread their unique flavors across Florida, ensuring everyone gets a taste of their flaming success.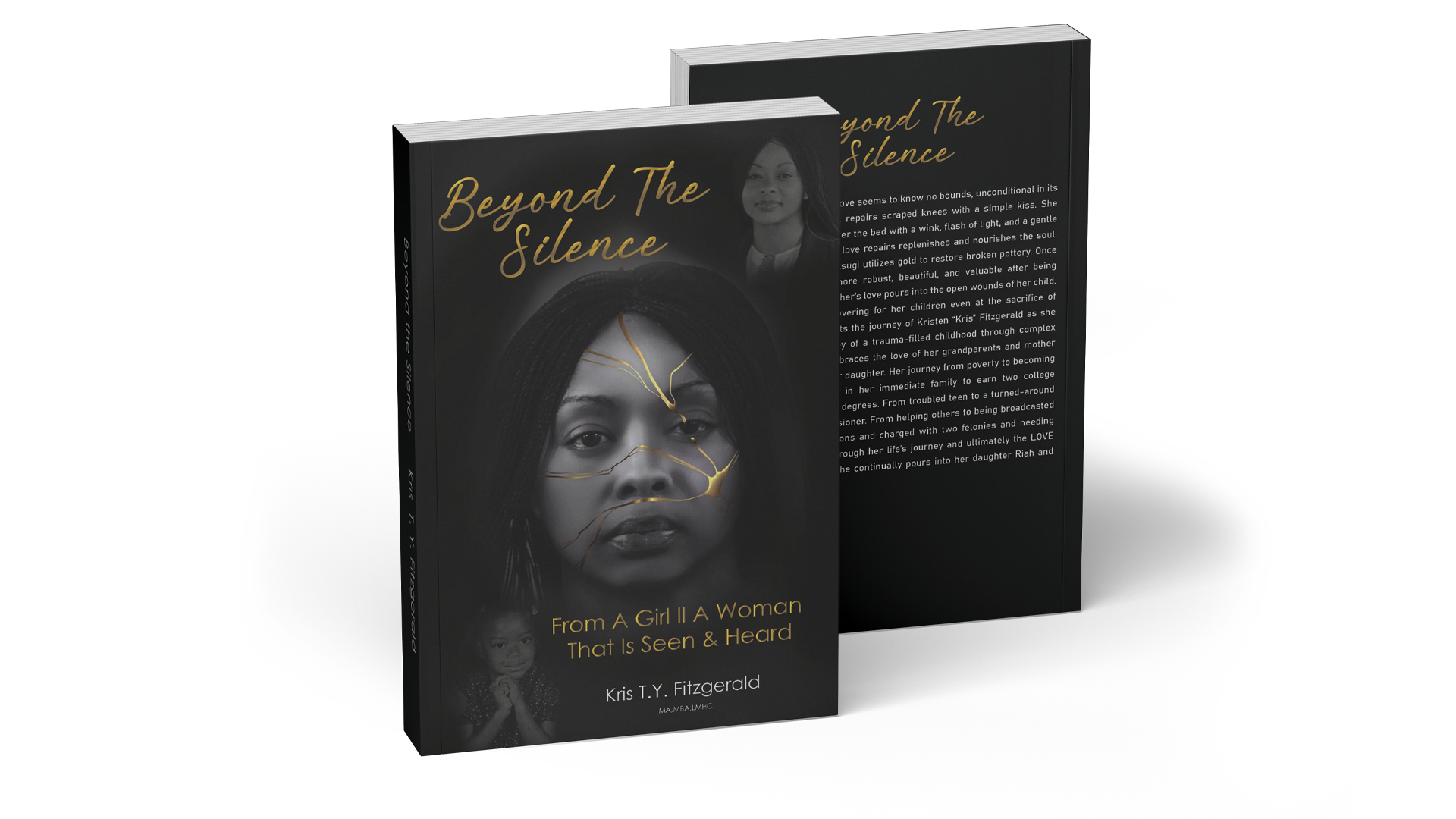 "From the first moment I stepped on House of Hope's campus, I felt an inexplicable peace—every emotional wound I was feeling was mended with love. House of Hope helped to restore not only the broken pieces within myself but also my relationship with my family."
Founded 25 years ago by Sara Trollinger, House of Hope Orlando is a residential program that acts as a safe haven for hurting teens. Their mission is to restore hope, love, honor, and structure in the homes of these teenagers and their families. Kris Fitzgerald, a past graduate of the program, shares her experience with The Local:
"I had just turned 12 when my mother enrolled me in House of Hope. I was depressed, suicidal, failing school, angry, and lost. I felt unloved and unlovable. I had been emotionally and physically abused. Frequently suspended from every school I attended, I had stopped trying; I felt hopeless.
"Joining the 12- to 18-month program turned out to be one of the best gifts in my life. I took the extended course, graduating at the age of 14. The more resistant I was, the staff only rendered that much more love, guidance, and support to see me through. If not for Sara and the wonderful staff at HOH, I would've died before the age of 18.
"Upon completing the HOH program, I returned to my local high school and graduated with high honors. After graduation, I joined the United States Air Force and proudly served my country. Once I was separated from the military, I enrolled at the University of South Florida and graduated Magna Cum Laude with a double major in psychology and criminology. I went on to earn two master's degrees from Webster University: one MA in mental health counseling and an MBA. Recently, in 2022, I published my autobiography, Beyond the Silence. I have continued to stay in contact with Sara, Sandy, and several staff members from HOH.
"I can proudly say HOH has truly been instrumental in my journey of life. Even now, in my 40s, Sara continues to help guide me through career decisions and praying for me as I have become involved in public office. More programs around the globe should be modeled after HOH, whose foundation has been built on integrity and love for others."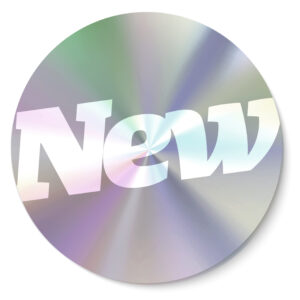 There is always good news in the garden!
Looks like Winter Garden is getting a beauty boost! Not one, but two new salons opened on East Plant Street last month. The Beauty Society (@thebeautysocietyandco) specializes in all things hair—balayage, extensions, cut, color, lashes, waxing and more.  Meanwhile, across the street…

Zen-Diva Tanning & Spa (@zendivatanningspa) is bringing Brazilian tape tanning to the block along with a variety facials, massages, Botox and tanning.

When you're done treating yourself, take a walk over to Suite 1700 and visit the brilliant new Sweet Peeks Imaging studio (@SweetPeeksImaging) and delight in 3D/4D/5D pregnancy magic! 

Over near The Village, there's a new reason to smile. Literally. Artful Orthodontics  (@artfulorthodonticsfl) opened their practice at 1995 Daniels Road. 

3Natives (@3Natives) juice and smoothie bar is now open in Horizon West at 5855 Winter Garden-Vineland Road.

Our friends at Playa Pizza (@eatplayapizza) celebrated their first anniversary by letting us put a new distribution rack in their space. Take a free copy of the current issue with your favorite pie!

Schweini's Delicatessen will open next month at the former Main House Market location on Main Street, bringing German-inspired sandwiches and biers to downtown Winter Garden.

They'll also feature breads for our German friends at Beneficial Breads (@beneficialbreads).

EVOO Fresh Mediterranean Kitchen (@evoo_us) finally opened its new location at 5845 Winter Garden Vineland Road last month.

And last, but not least, Andy's Frozen Custard (@ AndysOcoeeColonialDrive) opened at 1501 Maguire Road. Who's ready for a #FANdys ice cream social?
Share Your Local Good
News

!