Get a holly jolly buzz …
with or without the spirits.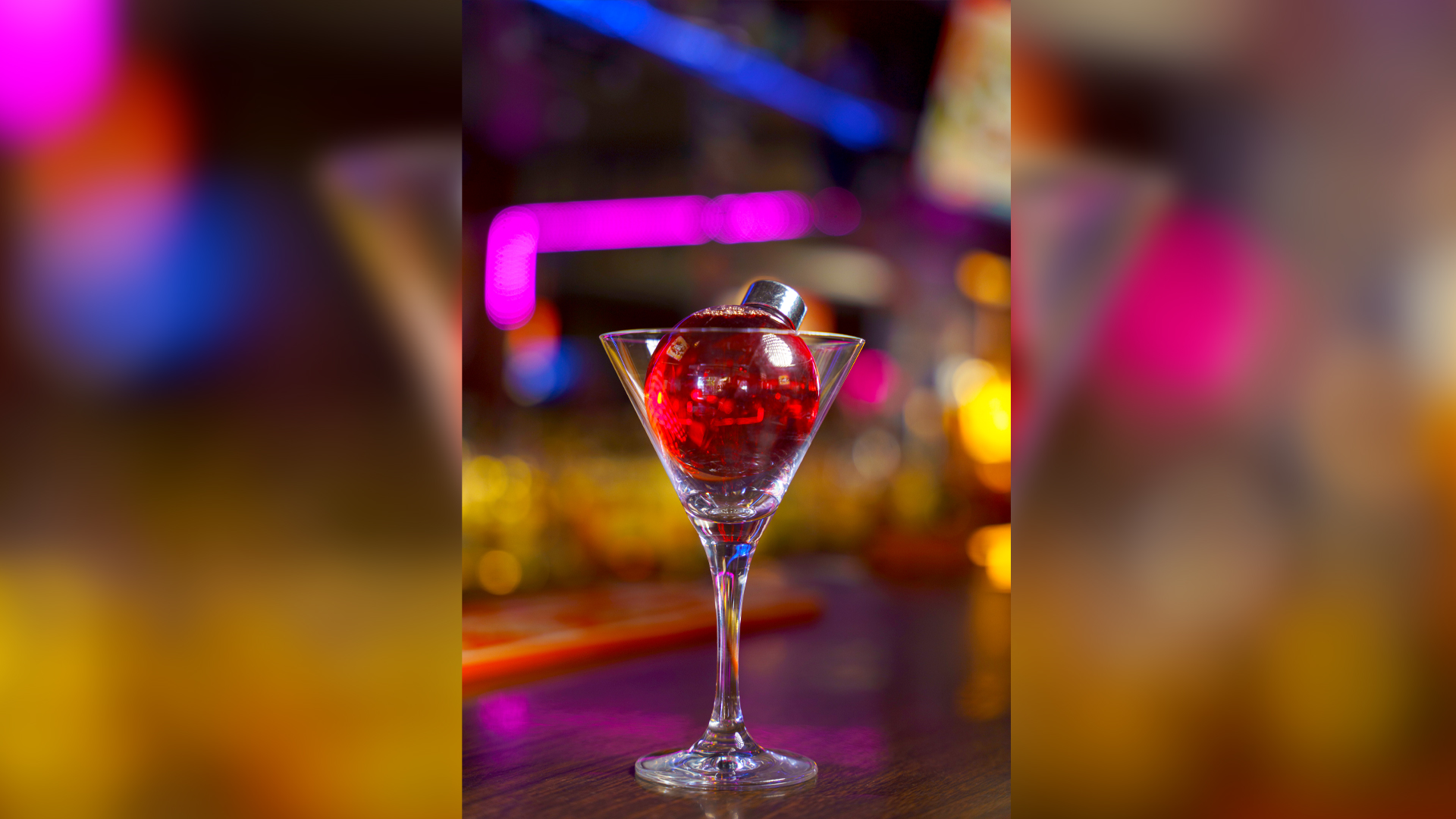 Every year, I start the holiday season by saying "This has been a year!" I use it as an excuse to immediately enter constant holiday mode. Give me all the opulent decorations, ugly Christmas sweaters, cookie platters (ahem, see previous page), and the unlimited parties where I make over-the-top cocktails (as seen on TikTok) poured by the chimney with care. While the season can be stressful, I believe a beverage can truly take the weight off, with or without alcohol.
While I am known to indulge in the occasional alcoholic beverage, the majority of my family doesn't drink. It is very possible to have "too much of a good thing," especially in the season where overindulgence is seen in every facet of the holiday. Often, this excess leaves us tired or moody and can sometimes wreak havoc on the event (or your digestive system). While I'm probably not going to resist a glass of bubbly or two, I decided to curate some of my favorite ingredients to work into a holiday cocktail, leaving you to decide if it's beginning to look a lot like Christmas, or cocktails.
Fresh Herbs
Mint, sage, and rosemary will take you far with your holiday drinks. Not only do they make the drink Instagram-worthy, but they please the senses in terms of aroma and taste. Often, I like to wet the rosemary and then roll it in sugar, giving the impression of Christmas trees in a glass. If using mint, make sure to smack the sprig of leaves in your hand, warming the mint and releasing the oils for maximum flavor.
Sweeteners
To embody the flavors of winter, try substituting a brown sugar syrup or maple syrup in your recipe. This will pack in a richer, darker flavor of sugar and give the drink more warmth. Maple syrup is robust and truly complements any spirit, but particularly whiskey, bourbon, gin, and vodka. Since it's more concentrated, consider using half the amount of maple syrup as traditional simple syrup. You can always add more, but you can't take it back! If you do, consider batching several cocktails and increase the portions of other ingredients.
Spices
Whether you're making cocktails or after-dinner coffee, spice up your drink with holiday spices. These aromatic additions can delight the senses and truly transport you to special memories spent in your life with family and friends. My favorites are cinnamon, clove, nutmeg, and black pepper. Top your apple cider with cinnamon. Simmer some cloves in your mulled wine. If you start your Christmas morning with Bloody Marys, be sure to sprinkle some black pepper on top for an extra punch. My favorite way to have coffee in December is with a dash of cinnamon and nutmeg.
Fruits
Oranges. Cranberries. Pomegranates. Pears. Apples. Lemons. The fruits can add a savory and tart element to any beverage and serve as a delicious garnish to make your holiday drink pop. The ability of fruit to appeal to all the senses—taste of course, but the scent, visual appeal, texture, temperature, and even sound can turn the entire experience into a lifelong memory. Cook your cranberries in sugar to make them burst and really extract the flavor they pack. Add cranberries, raspberries, or pomegranate arils to ice cubes for a beautiful look, and as the ice breaks down, the explosion of flavor and garnish will boost the experience. If you're really feeling silly, try using grapefruit or kumquats for a burst of sour tanginess.
Bubbles
Every holiday season deserves bubbles. The fizzy nature of the liquid is always a celebratory experience, and with the rise in carbonated beverages, it only makes sense to be the focal point of the drinking experience. Any flavored sparkling water can be added to either a cocktail or go sans alcohol for an equally enjoyable experience (this is where you add those fruited ice cubes). I love sangria with a bubbly component, so feel free to top it with sparkling wine. If you do choose to indulge in beverages throughout the day, add a sparkling spritz to the drink so you can maintain throughout the day. Or, just drink straight champagne—that's my plan. I have always advocated for bubbles and believe you need that extra sparkle on top of the glass to complete your holiday season.
Milk + Cookies Aren't Just for Santa
This year, as you set out Santa's milk and cookies on Christmas Eve, consider that you too should be spoiled for your effort in making spirits bright. Given your busy schedule, it may not be the right time for you to indulge in alcohol. Or … maybe it's the perfect time. There's no judgment here. In fact, this mixture of maple syrup, milk, and optional bourbon is a new twist on the classic Christmas cocktail.
Ingredients (With Alcohol):
Maple milk

2 oz

Bourbon

1 oz

Maple Syrup + small drizzle on rim of glass

1 oz

Milk
Garnish

1 Tbsp each

Brown Sugar & Cinnamon Mix

Cinnamon Stick
Instructions:
Rim glass with maple syrup, then dip glass into brown sugar & cinnamon mixture. Fill glass with ice. Pour ingredients together and garnish top with cinnamon stick.
Ingredients (Without Alcohol)
6 oz

Milk

2 oz

Maple Syrup + small drizzle on rim of glass
Garnish

1 Tbsp each

Brown Sugar & Cinnamon Mix

Cinnamon Stick
Instructions:
Rim glass with maple syrup, then dip glass into brown sugar & cinnamon mixture. Pour ingredients together and use cinnamon stick to mix.
Jazz it up!
Enjoy it hot or cold (especially the mocktail way—steam the milk!) If you're looking to partake in spirits, add vanilla or coffee liqueur to add more flavor. If you don't like dairy, substitute with coconut milk. This is your chance to treat yourself this holiday season!