Kelli Caffey's home looks like it stepped off the cover of a magazine—because it has.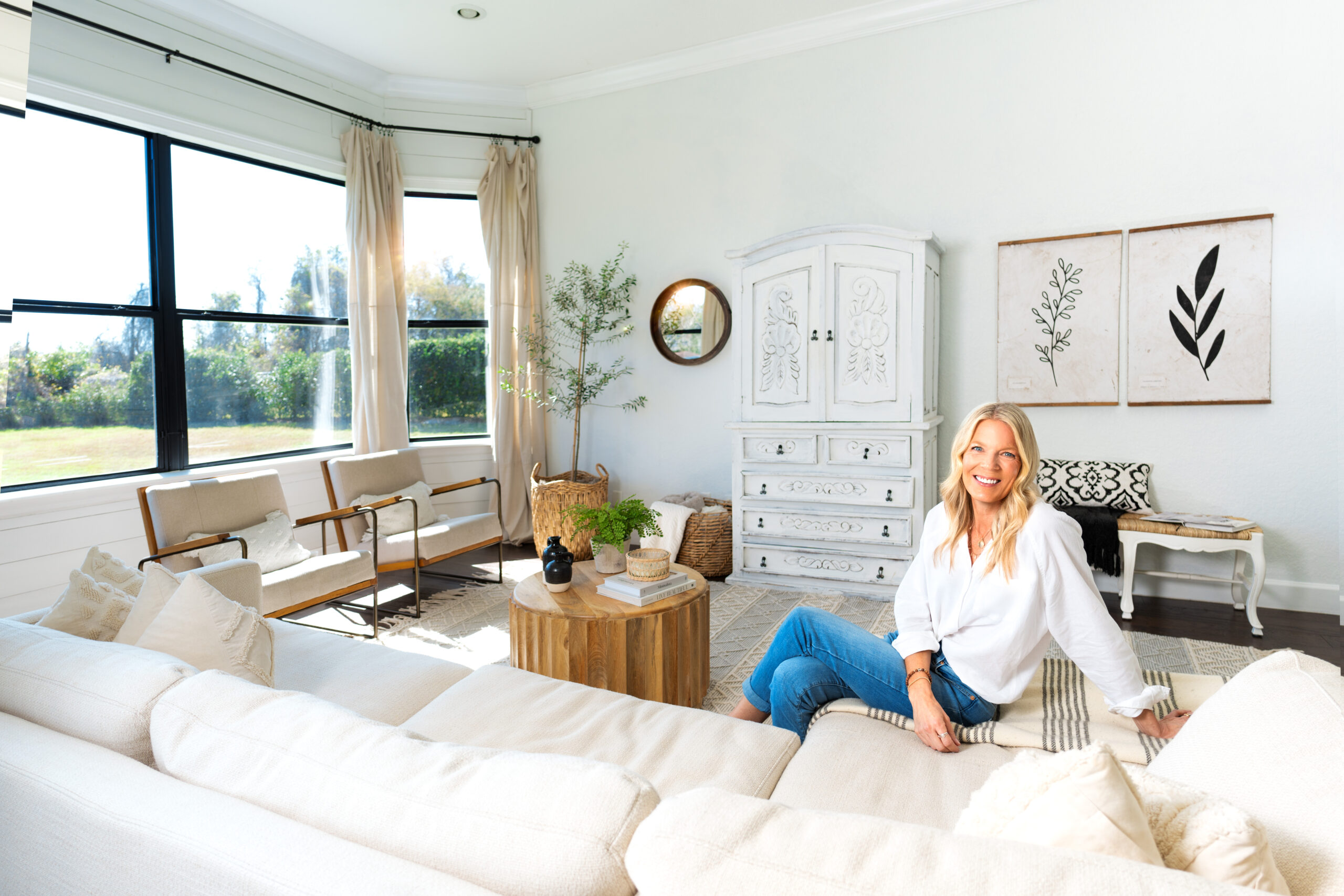 Kelli Caffey didn't mean to fall into interior design; it just happened. She'll tell you it has been one of the best journeys in her life—aside from raising her kids, of course. And they're the very reason for this.
When Kelli became a stay-at-home mother, and home became her full-time job, her interest in interior design was piqued. "It wasn't just about taking care of the kids, it was about creating a space where they could feel loved, safe, welcome, warm. That's really when I started developing my interest."
With zero knowledge about design of any kind, let alone how to create a space, Kelli fervently dove into the ins and outs of interior design. Turning to magazines, YouTube, and Pinterest, Kelli gathered the knowledge and inspiration that would eventually hone her taste and guide the ultimate vision for her house.
"I had to teach myself how to build things for different projects. When I began, I didn't even know how to use a drill, but now I can use every power tool." From refurbished dressers to built-in bunk beds, Kelli's innovative projects can be found in every room. Aspiring to include both functionality and form into her designs (though she prefers the latter), the truth is that Kelli most often creates to solve a particular problem. Consider, for example, the music room. "We're all musicians, so I built a stage in my son's old bedroom. Then, when my son came home from college and found that he had lost his bedroom, we decided we had to make the room work as a game room, a guest room, a room to play music, and a room for my oldest son when he was home—all in one space."
And like most families, she's doing it all on a budget."I'm a big bargain hunter, but I think that just forces me to be more creative," she says. "That's one of the main things I love about decoration. I'm forced to think outside the box, and say, 'How can I make this in a way that's functional, but still unique?' This way, it doesn't look like any cookie-cutter home, where everybody just goes to Rooms To Go and picks the same bedroom set. It becomes my own, and this feels like me."
That feeling is one of warmth and welcome. An extension of her personality, Kelli's home only emphasizes her amiable demeanor, with warm neutrals and comforting elements deliberately arranged to invite lingering. "I noticed that there were certain styles and colors that I was drawn to, and things that gave me that feeling of home. I want my home to be a peaceful place, away from the stress of the outside world. Your house is your sanctuary, and so because of that, I started to take notice to which styles gave me this feeling." A mixture of boho, modern traditional, and California casual, Kelli's home delivers magazine-worthy inspiration wrapped in a welcoming hug.
"My style is very much a mix of different things I love. I used to love the rustic, farmhouse look, but now I am drawn to California casual, modern traditional, boho and so much more. I think it is important to use what you love, and it will all come together."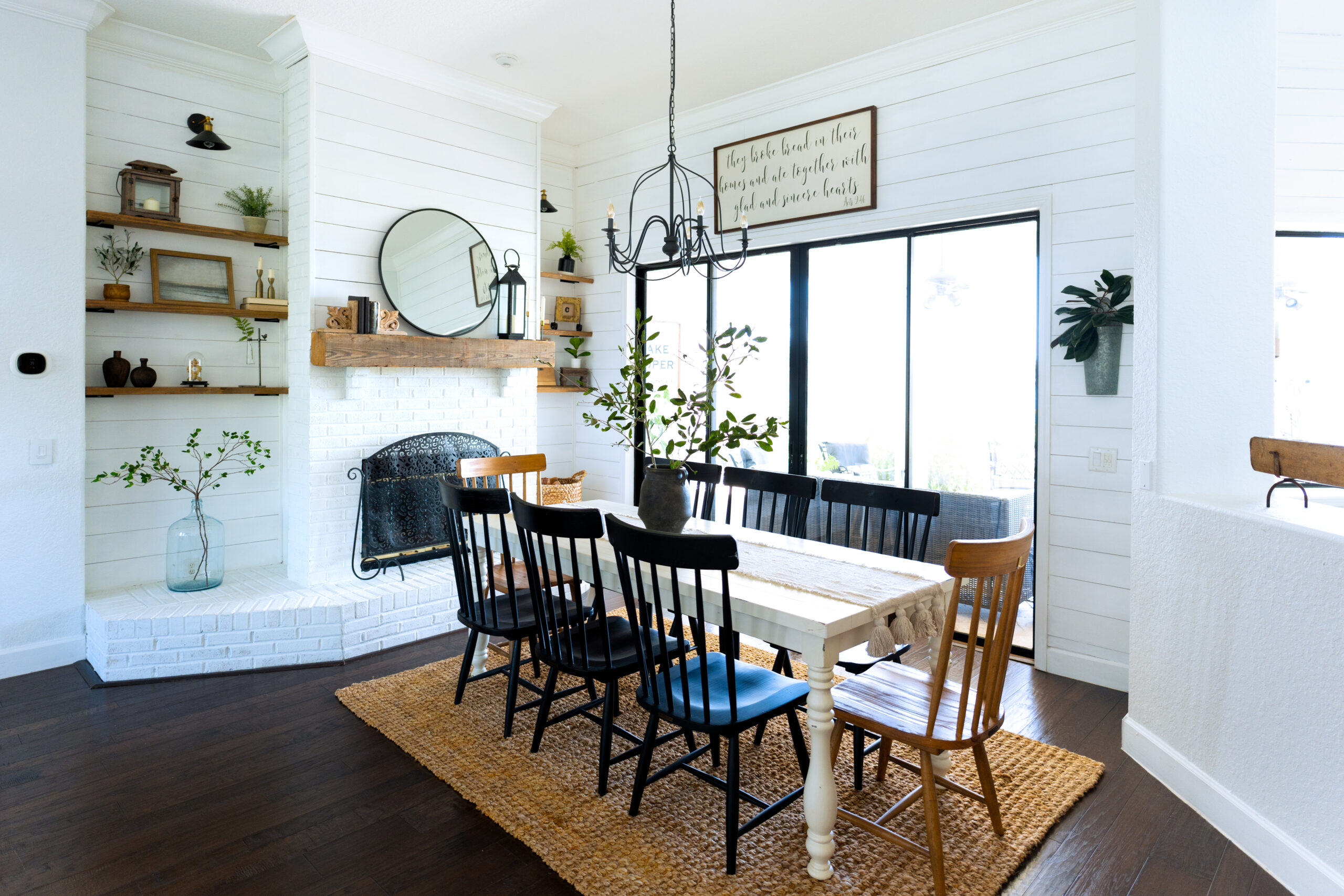 Kelli knows better than anyone that inspiration can be found anywhere, if you know where to look, and she finds hers in a specialplace. "Faith is such a big part of my life, and just looking at the details of the world and its beauty—I just want my life, my home, to be a reflection of God's grace and beauty."
Known for foraging the side of the road for branches and flowers to fill vases, Kelli's graceful gaze allows her to notice every opportunity to incorporate elements of creation and faith into her home. It takes a special eye to appreciate the beauty in the world around us, and this is something that makes Kelli's vision stand out.
"Nature is a huge inspiration to my design. Once I found an entire fallen tree, and I dragged it home; it was hanging entirely out of the back of my car. We used it as a display, removing the branches and leaves from it, replacing them with autumn leaves and candles to create a more cozy look."
While cozy neutrals and natural elements certainly define Kelli's aesthetic, she also fervently believes there is nothing wrong with mixing a bunch of different styles—even if they don't seem like they'll work. "I don't believe in being locked into one single style; I think it's important to just use what you love, and it will all come together."
If you asked Kelli to describe her style in one word, she'd say she couldn't, and she prefers it that way. "Cozy, comfortable, peaceful, neutral. Which some may say is boring, but I love it. Any time I try to bring in pops of color, it normally doesn't work out. But that doesn't mean I don't like it in somebody else's space. I appreciate every kind of design out there. Design is personal. You have to pick something that is 'you' and will make you smile."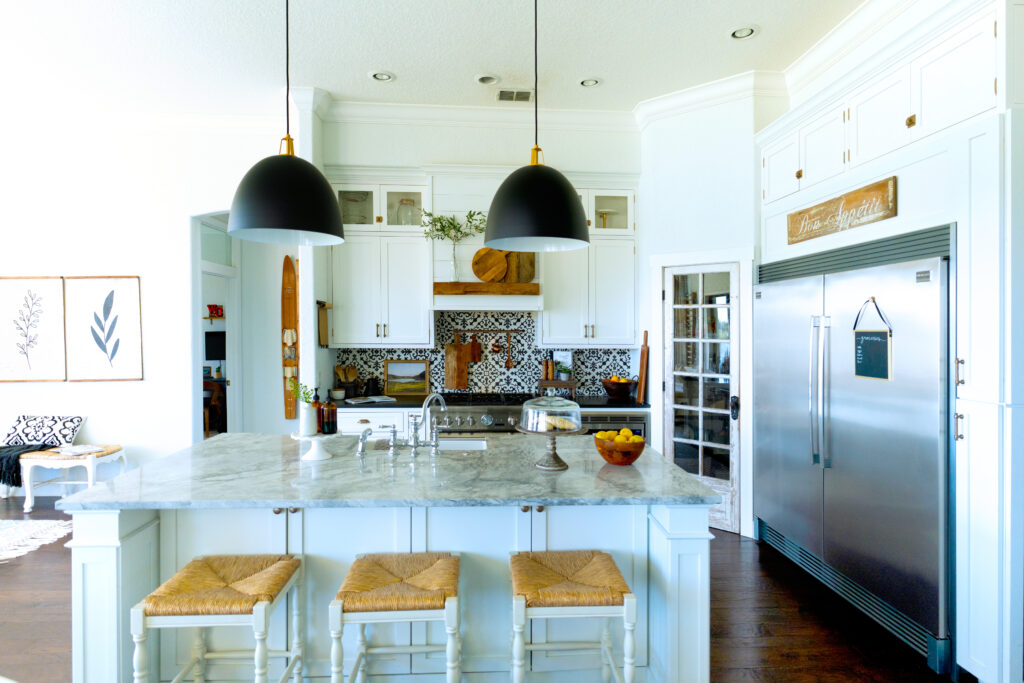 A cultivated blend of individuality, originality, and the inherent beauty of nature, Kelli's home has evolved to become so much more than a living space; it's experiential. Her secret? It's all in the ambiance. "I think it's important to bring all five senses into the elements of design; this can take any atmosphere and make it welcoming." Having scents like candles or fresh-baked goods is essential, as is the lighting. "Sense of touch is important too, like having blankets and other cozy elements. And don't forget to have music playing; it'll lift your spirits."
Certainly, Kelli's space has become a showpiece of sorts. Friends and neighbors often stop by to see what she's working on or to ask for her help solving their own design woes. Always happy to help, it wasn't long before Kelli's reputation spilled beyond her own four walls and transitioned into a creative side hustle. Some days, Kelli can be found transforming her family home into a showcase for design, which she allows people to rent for whatever they need. "I've been blown away—we've had pharmaceutical companies, a sugar commercial, a lot of realtors, content creators, even some TV producers. There is just a wide range of uses that people need a home space for. Ours has really good lighting, that's the main thing."
With nearly 25 years of interior design to look back on, innumerable DIY projects, and a small business on the side, Kelli is already looking forward to her next project—and this one is slightly different than the rest. "I'd love to find a piece of property somewhere that I can design and build multiple structures, whether it may be modern cabins or little cottages. Several of those on a property that I could use as AirBnb short-term rentals, but then also use this as a ministry retreat space for people to use."
It certainly seems as though Kelli has found her niche, layering both her values and aesthetic for the perfect blend of serenity in her home. "Design sometimes feels shallow, but I don't think it has to be. People are drawn to the love that you put into it, and there are many different motivations behind design. Sometimes it is just to impress, and that's not me. I like the creation process and the design process, but I say the motivation behind this is my desire for hospitality. It's all about loving people; it's not just about design. I never want anything I do to be about me. I want it to be about creating my home to share with others. I always want people to leave feeling better about themselves, because they felt loved and welcome and were in a space that made them feel at home."
Try to discover your personal style. It's okay to be inspired by everyone else, but try to zero in on what makes your style unique to you.