In the Middle of Everything with Michelle Meachem
The "unofficial mayor" of Winter Garden, Michelle truly feels at home in her community, her body, and her life.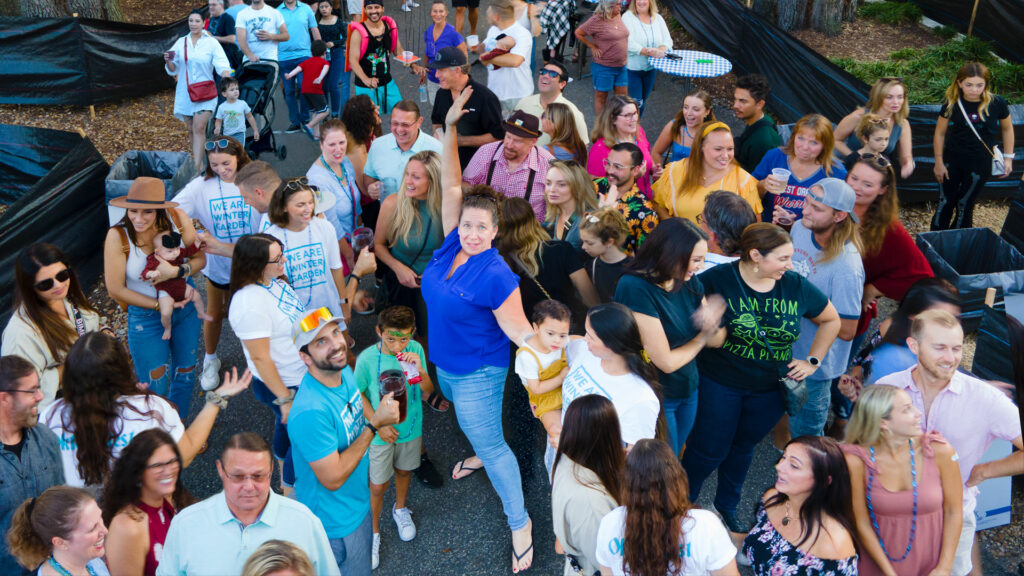 It's four o'clock on a calm Monday, and for once, there isn't an event to attend later in the evening. Not that there isn't anything to do; in Michelle Meachem's world, there's always fun on the horizon.
After this interview, she's off to check in with her dad who's currently displaced from the hurricane. Then she's going to swing by the Cannons' to hold baby Evelyn and give new parents, Kara and Jason, a brief respite. Her best friend, Tracy Lewis, will be there, and then who knows where the evening will take them. Pilars? Impromptu dance party?
Anything goes—but first, she stops for a selfie.
That's Michelle in a nutshell: She refuses any invitation to take herself seriously."People are way more critical of themselves than anybody else ever is going to be. I never used to smile in photos with my mouth open because I have the worst teeth, but you know what? This is the mouth I was given, these are the teeth I have, this is how I was designed. I won't miss out on my own life because I'm too afraid of what people think of me. No one is perfect, and that's the point. Life is just too short to let that hold me back."
At 50 years young, Michelle is the kind of woman whose effervescence makes trying on bathing suits, getting a haircut, or even folding laundry into an adventure of epic proportions. The kind of woman who's never met a stranger, and has yet to make an enemy.
"My story isn't that special," she says, deflecting the attention. "I'm probably the least interesting person I know."
To which we disagree.
Michelle is a Presence—capital P—in the community. If there's an event within a 20-mile radius, she's there, charming friends and strangers alike into unlikely conversations and photo ops. Sure, it is part of her job as Community Relations with We Are Winter Garden. But as anyone who follows her on social media knows, that role may as well have been crafted especially for her.
"I just love meeting people," she says. A statement you simply know to be true. There is no carefully crafted persona. Michelle is very much a what-you-see-is-what-you-get kind of girl.
In fact, she outright refuses to be anything else. "I am a member of this community first," she says. "I've lived here a long time. I deeply, deeply love the people. If you ever ask me to be somebody I'm not or something that I don't stand with or agree with, I'll just leave."
Boundless confidence. Unshakable conviction. And yet, like so many public personalities, she fights unexpected battles behind closed doors. "I've suffered with anxiety and depression since my daughter was 2. So, more than 25 years, on and off. I've lost jobs because of it—or, rather, gave up jobs because I couldn't cope."
It seems incomprehensible to an outsider that a woman who thrives on connection could carry such a burden, and yet it has colored her life in a myriad of ways. Take, for example, the time she was a photographer at Walt Disney World Resorts.
"I deeply, deeply love the people of Winter Garden… I just feel so lucky to live and work in a space where I can be everything to everybody that I would love to be."
"I wasn't a great photographer, and I had no formal experience, but I loved meeting people and making them smile. I did that job just shy of 10 years. Then my depression and anxiety started setting in. The pressure of getting up at a certain time became overwhelming. I was giving up my shifts almost every day. Finally, my boss calls me in and he's like, 'Technically you haven't done anything wrong, but do you even want to work here anymore?' The truth is, I did, but I wasn't mentally up to the task."
At its core, her anxiety stems not from work, but from schedule-keeping. "I prefer to wing it, which I know is not realistic for most people who have jobs and families and whatnot. I was even anxious about coming to this interview, and that's crazy. I know you, I enjoy you, I'm comfortable in this space, but the anxiety … it's palpable."
Michelle is many things, but a quitter is not one of them. She has learned to take life as it comes, and is grateful that her job allows for that. "I don't punch a clock. I have one morning a week where I have to attend a team meeting, and sometimes even that is a stretch. Thankfully, I get to work with my best friends, literally, and that helps so much."
Indeed, it was her friend Tracy who recruited her to We Are Winter Garden as part of an expansion of their business team. "Tracy was like, 'I have the perfect person,'" Michelle says. "I actually said no for a long time, but she persisted, and it's been a very good fit for me."
If there's one thing Michelle wants you to know, it's that loving your life—your whole life—takes work, but it's one of the worthiest challenges you will face. "Anxiety is part of my life, just like bad teeth and big thighs. But I've accepted it. In fact, I love it now. It's who I am. It's how God made me. Why wouldn't you celebrate everything you have?"
Fostering a loving relationship with all the quirks and deviations that make Michelle, Michelle, may very well be the reason we are so drawn to her. "Every day, I get to be me. I get up excited to see who I'm going to meet today. I love that people come up to me and say, 'I know you from Facebook. Thank you for doing what you do!' I just feel so lucky to live and work in a space where I can be everything to everybody that I would love to be."
Still, there are days when she struggles, the anxiety making her question her worth.
"I have no tangible results here. I'm not creating anything. I'm just being nice to people and having fun. But my boss, Mark, always says, 'Without the relationships, we don't have a business, so don't ever discount what you bring to the table.' And that has been such a powerful motivator to me."
That attitude of gratitude infuses every moment of Michelle's life, inspiring everyone she meets to do the same. "It's OK to think that you're great. There's nothing wrong with loving yourself. You're embracing where you are. Own it, and just have fun with it."
So whether you're taking a bomb selfie, meeting new friends at a community event, or having a laugh with friends at happy hour, make the most of it.
And take a moment to say hi to Michelle. She's sure to be there.