Charlie Mae Wilder believes in lifting others up, the golden rule, and growing older with grace.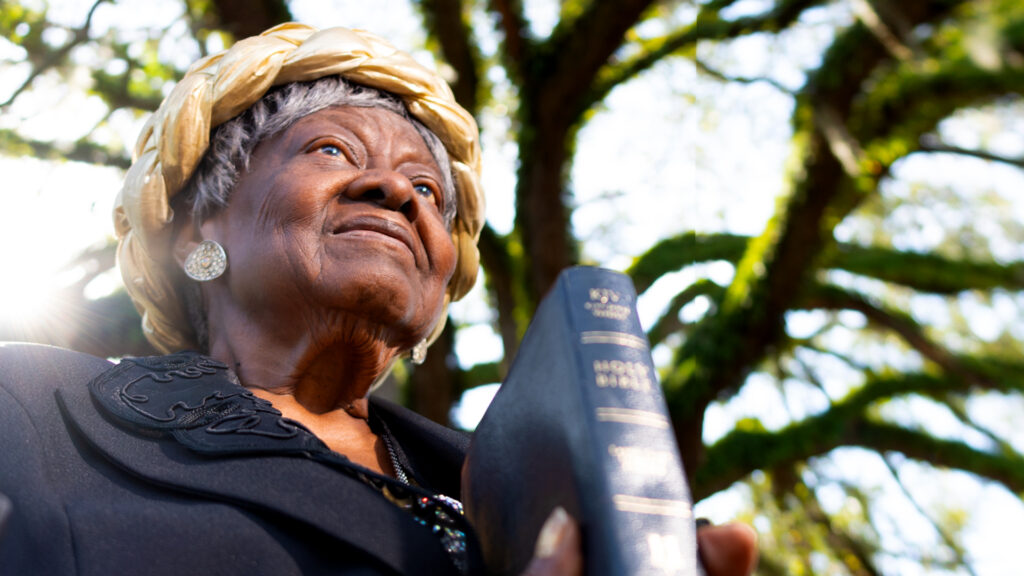 Meeting with community treasure Charlie Mae Wilder on a Wednesday morning requires your A-game. 
She arrives early, of course, maneuvering her red sedan into the tight parking lot at The Maxey Community Center. Her bright smile beams above the dashboard. She's quick with a wave to neighbors passing by, but she shrugs off every offer of assistance with her belongings. Independence is a virtue she wears as confidently as the beautiful, dome-sleeve raspberry dress—reminiscent of a tulip—that she chose just for this occasion.
She makes her way into the community center, taking time to greet everyone who says hello, before making her way to the conference room. She pulls neatly packed folders from her bag, and lays them purposefully on the table. Tastefully polished fingernails swipe her cell phone into silent mode, indicating that she's ready to begin.
Sounds like any power meeting, right? Except Charlie Mae is 89 years young and already eyeing the calendar in anticipation of reaching the ripe young-at-heart age of 90 next month. She has spent a lifetime accomplishing incredible personal milestones, but more importantly to her, helping residents of West Orange County, and specifically Winter Garden, to be their personal best. Talk to Charlie Mae about growing older gracefully, and she will discuss helping others, a learned quality she attributes to her mother; education; exercise; kindness to others; and, certainly, her faith.
Her bright eyes sparkle with enthusiasm from the engaging conversation as she details exact dates and awe-inspiring levels of community engagement and devotion to her hometown of Winter Garden. As a bonus, her melodious laughter fills the room as she teaches the virtues of growing older and activism.
"My mother said 'when you see someone down, pick them up,'" says Charlie Mae, who gained her first name from her dad, Charlie, and her middle name from her mother, Dollie Mae. "I've picked up so many people. Some come back and say thank you; some don't. It doesn't bother me. The pleasure is in the doing, not the reward."
An attitude she has cultivated for eight decades, beginning of course, as a young girl.
Born and raised in Bainbridge, GA, Charlie Mae grew up in the vibrant fold of 11 siblings. As the youngest, she says her siblings were always pushing her up to do something or another. So, when the family needs a reunion, guess who is posted as the host chair of the Hayden-Henderson-Price & Wright Reunion Federation? You guessed it: Charlie Mae. Taking nudges like these and more, she created a life full of accomplishments and service.
As a young woman, she left her birth home for Orlando, where her sisters were beauticians. "Like a spider, I got caught in the web," she describes her draw to shampooing hair for her siblings and deciding to stay in the area to work. By age 27, she had registered to vote, no small feat, given that African Americans were denied the right to vote at the time of her birth. By 1965, she was a member of the NAACP, where she was instrumental in registering more than 1,000 voters in the Parramore area of Orange County.
"I had to convince people to register to vote, to become first-class citizens," Charlie Mae says of the countless hours she poured into the effort. Her passion for community drove her to work tirelessly in Parramore, but ultimately it was love that brought her to Winter Garden in 1976, when she married the late Rev. Frank E. Wilder, former pastor of Bethlehem Missionary Baptist Church for 32 years.
As a newcomer to Winter Garden, and a new bride, Charlie Mae's commitment to community outreach continued to grow. Over the next four decades, she initiated, served, or worked on an impressive list of community organizations and programs designed to uplift and improve the quality of life in Winter Garden, especially for African Americans. Among them, she served as District 3 Commissioner from 2006-2007, to complete the term of the deceased Commissioner Mildred Dixon. She committed more than 30 years to the Orange County Community Action/Head Start program. And as if that were not enough, she dedicated six decades to Christian education and programming at Bethel MBC.
While she did not initially set out to be a politician, and possibly none of the other titles Charlie Mae attained, she held firmly to what she was taught as a child.
"I believe in helping people," Charlie Mae says, "and helping them to help themselves."
While Charlie Mae has spent her life doing the best she could for others, she recognized it was also important to do for herself. This was especially expressed in her commitment to education. After graduating from high school in 1950 and caring for her ailing mother, this motivated woman decided to pursue higher education.
"I need to get out of here, and do something for me," she said of the time. "I went to college."
In 1953, Charlie Mae enrolled in Orlando College, formerly located north of Orlando's Lee Road. She took a class or two annually as she worked and volunteered in her community. As a result,  it wasn't until 2010, at the age of 77, that Charlie Mae was conferred a bachelor's degree in business administration from Florida Metropolitan University.
Her advice for youth today is consistent with her experience, "Don't be so cool, stay in school in order to help yourself and to help others," she says.
Charlie Mae's mother also gave wise words of wisdom that encouraged her to continue her education, and are equally effective for today's generation.
"'Make sure your brain is in the right gear before your mouth goes into motion,'" Charlie Mae reflects on her mom's words with fond memories.
My mother said 'when you see someone down, pick them up.
lie Mae are speckled with hilarious euphemisms, deep-rooted Bible references, and plain ol' fun. She weaves effortlessly on topics as diverse as voting to vocation. And her conversation is just as versatile and active as her lifestyle. She believes in regular exercise and keeping it moving. Her Wednesday mornings include an hour of exercise at Winter Garden's Maxey Community Center: yoga followed by what she describes as "fancy stuff," which includes full body movement. On Thursdays, she and her nephew host the Community of Love Outreach Ministry in her front yard, where they spread the Good News, and prepare meals often accented with vegetables from the Community Garden at Ninth Street that she started in 2008. "Celery, peppers, collards, mustards, and sweet potatoes," top the list of vegetables that Charlie Mae proudly says she helps to grow and cultivate at the garden some 14 years after its beginning. She does all of this while using assistance for walking.
An upright walker helps her to effectively move around, and she has no intentions of slowing her roll any time soon. Her current routine includes walks to Bethlehem MBC, her church home for more than 50 years, and to Mildred Dixon Community Center, both located nearby her home. She also plans to start a neighborhood walking group to get others active, too.
"While the blood is warm in my veins, I'm going to keep moving," she says, slyly, with a smile.
Charlie Mae's neighbors have suggested a rocking chair and taking it easy for the near nonagenarian—the fancy word for the 90-somethings among us—but she continues to drive and touts that she's never had a speeding ticket or accident. In fact, she drove six hours to Georgia in 2022, where she admits, "My companion kept me company … when they weren't asleep." Truth be told, we'd all be hard pressed to keep up with Charlie Mae in any word, action, or deed
While the blood is warm in my veins, I'm going to keep moving.
Unequivocally, it's Charlie Mae's unyielding faith in God that colors her entire life's experience, as highlighted in her advice for growing older with joy.
The former preacher's wife is an ordained minister herself, and with more than 54 years as Bethlehem MBC's Sunday School Teacher, Charlie Mae knows a thing or two about the Bible, the Golden Rule, and how to treat others. She quotes line and verse of the Good Book to make her points about living well and interacting with others. Her own words paraphrase it quite well, too.
"Love is the key to the kingdom," she says regarding positive interaction with others. "You're not just loving you, but other people. Be honest, fair, and kind. Be good to people. [You can do so], with a kind word, an article of clothing, or a meal. We pass this way one time, and we do the best we can by treating people right. To do so, you have to consult God."
Dollie Mae also left her daughter with heady words to live by regarding decision making:"'It's your red wagon,' she would always say. 'You can pull it or push it—on the road or through the woods.'"
Well, if that euphemism leaves you slightly perplexed, Charlie Mae explains it this way: The red wagon represents the decisions in life that you must make—especially the ones you've received knowing advice about. Pulling  or pushing the red wagon on a paved road—the way when you follow the good advice—is much easier than when doing so through the woods—uncharted territory where any adversary can jump out and attack you, also known as ignoring good advice.
"The choice is always yours," Charlie Mae says. "But it's how you live with that decision that really makes or breaks you."
As for growing older with grace, Charlie Mae's advice is pretty simple, "Study God's word. Pray for understanding. Pray for everything."