From foam to flapjacks, rage rooms to renegades, summer fun is all around if you know where to look.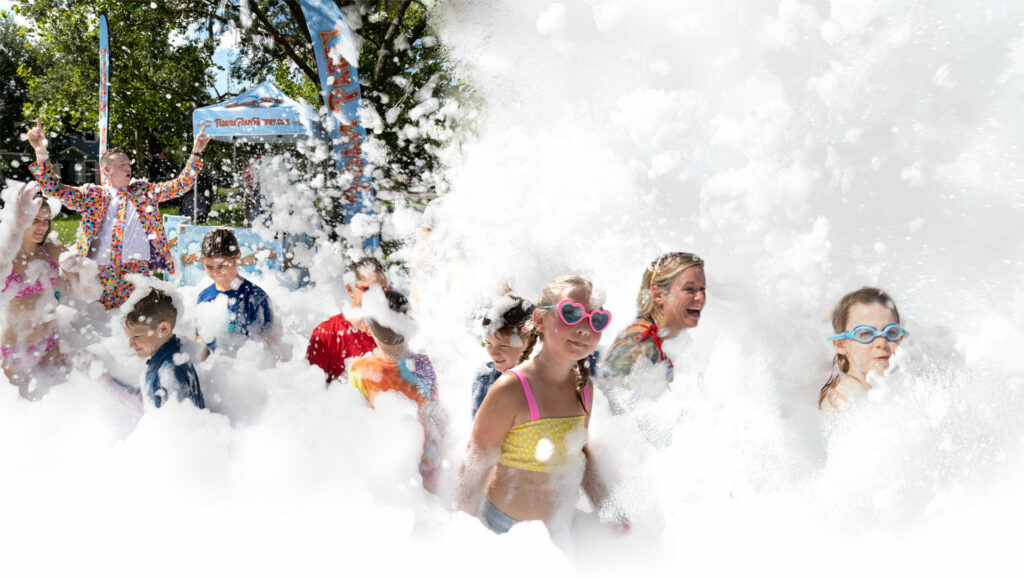 Stephen Herron is a magician: He turns ordinary soap into extraordinary fun every single day of the week.
The former Walt Disney World cast member (and actual magician!) is a foam evangelist. With his flashy outfits, splashy personality, custom playlists, and portable foam cannon, he's always the life of the party. And he's damn happy about it.
"I know I was put on this Earth to make people laugh, have a good time, and enjoy themselves," Stephen says. "And I found how to do that with a foam cannon and a speaker and a DJ'd playlist and colorful outfits. And everywhere I go, I get to see people screaming and laughing with joy. It's literally the best job in the world."
And one that started just over a year ago thanks to a conversation with Stephen's dad. "He started a similar business in Kentucky, and it was such a huge hit that he thought it might work here." Thanks to the encouragement and investment of Stephen's now business partner, Shane Stults, a retired U.S. Air Force veteran, Florida Foam Factory was born in May 2021. One year later, the Central Florida business has grown to include husband-and-wife team of Brian and Brenda Porter, who are foaming up Tampa Bay.
"People were just ready to have fun again," Stephen says. "They wanted to laugh, to be with their friends, to have parties, but to also be safe. And what's safer than foam? Our foam will not harm skin, clothes, pets, or grass; it's biodegradable, non-toxic, and hypo-allergenic. Plus, it's also really refreshing. You can have fun and cool down, day or night!"
While it seems a natural event for kids and daycares, Stephen's on a mission to spread the gospel of foam to a larger audience. "It's so much more than kids' parties or Ibiza-style nightclub events for those of us that remember those days. We just helped a woman celebrate her 101st birthday!
We're doing commercial events at water parks. We can add foam to your neighborhood barbecue or block party or Business After Hours. We can add foam to your charity event. We do gender reveal parties with pink or blue foam. We can add GlowFoam to your Trunk or Treat in October. That's the beauty of foam parties. It's limited only by your imagination!"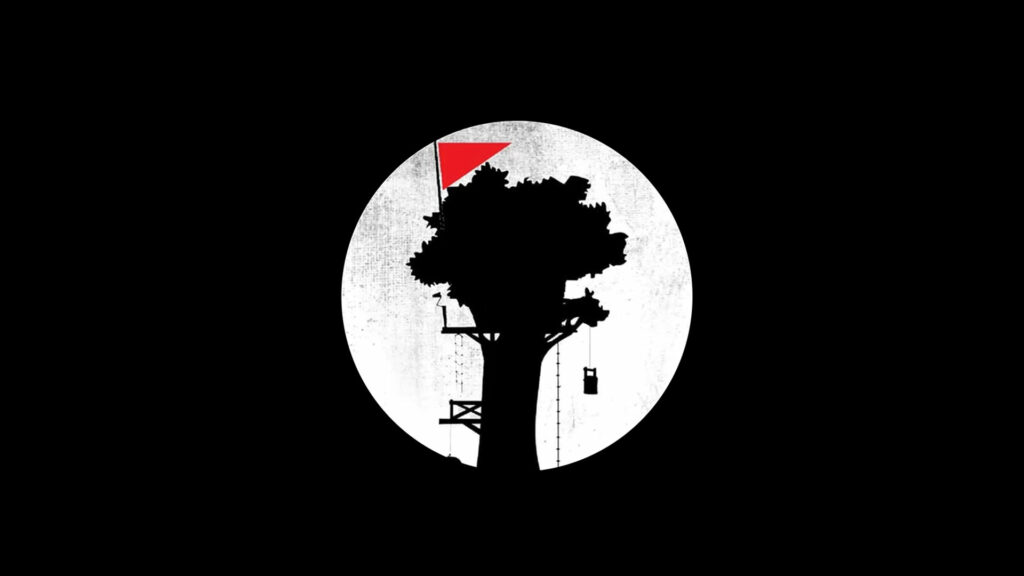 Solving a puzzle. Discovering a clue. Crying out to your teammates to hurry as you race against the clock. This is all a part of the thrill and excitement of an escape room. But if you're struggling to find a clue on where to go for a great escape room, look no further.
Located right in Winter Garden, The Escape Goat offers four adventurous rooms that will completely immerse you into a new world and create a memorable experience. But there is one that takes the cake, Operation Treehouse!
In this room, you play as the Blue Goats, a team competing in an intense game of capture the flag against the undefeated champions, the Red Squirrels. After invading their unguarded treehouse, you have an hour to find hidden clues to where their flag is concealed. Find all the clues to capture the flag or have the Red Squirrels remain the undefeated champs.
Escape Goat also offers three other rooms you should try: A Fisherman's Tale, an adventure to find treasure in a captain's beachside hut; Area 51, surviving training as a new recruit in the top-secret location; and last but not least, The Quest, which takes you on a journey for survival against the threat of a powerful dragon. Escape Goat offers a great opportunity for team-building and spending time with friends and family. So stop by and give it a try!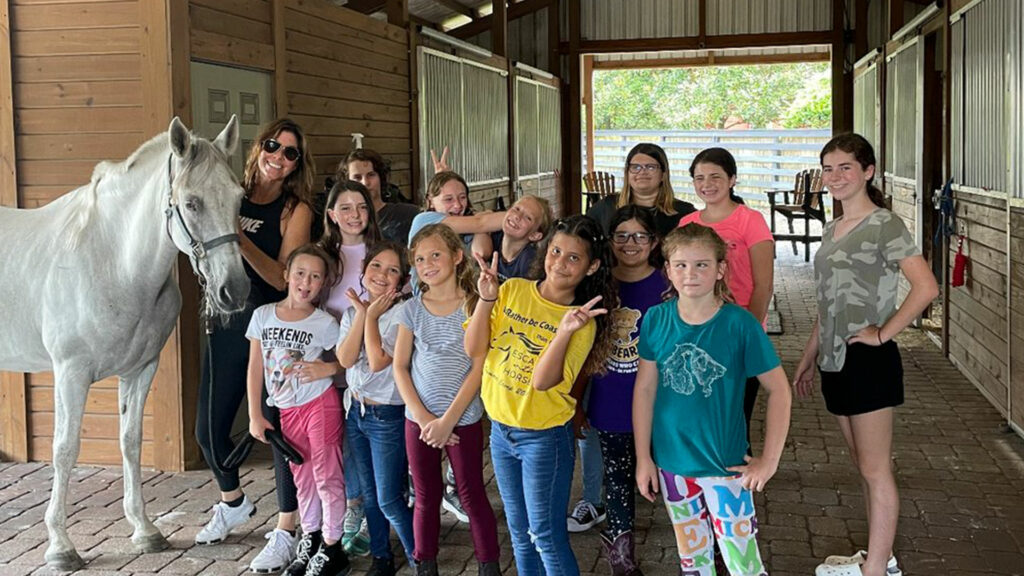 If your lifelong dream is to canter or jump, trail ride or race, Escape With Horses has you covered.
Located right off Avalon Road, owner Jessica Emard works with kids or adults to make all their equestrian dreams come true. You don't need any prior experience, just come prepared to learn and connect with the beautiful horses they have at their stables.
Whether you're doing team-building events, birthday parties, or private lessons, don't be afraid to grab the reins and enjoy all the wonders Escape With Horses has to offer.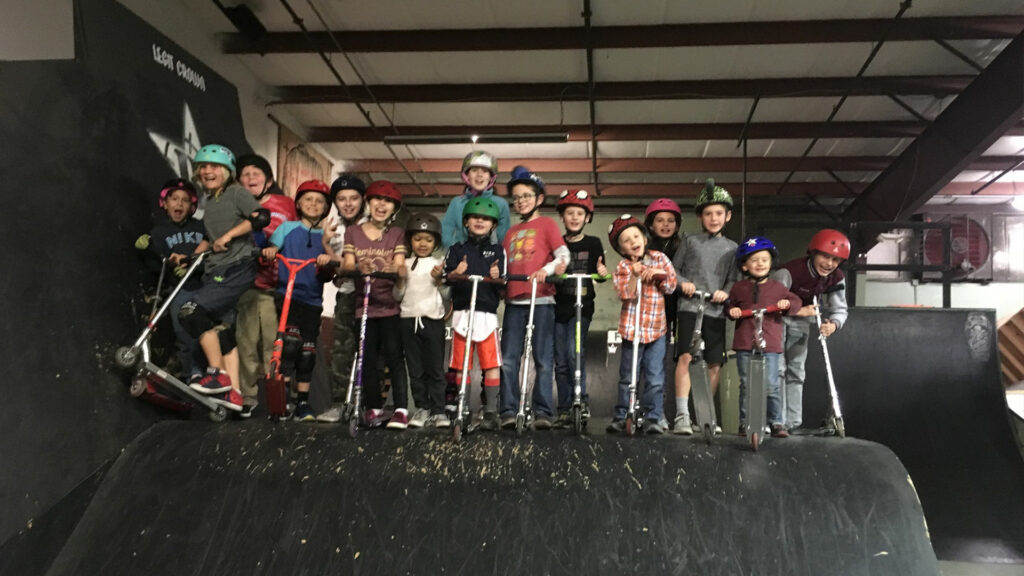 Looking for a place to drop in for alley-oops, ollies, and fakies? Then make your way to Fort Barachel on West Crown Point Road. Welcoming all riders, this indoor skate park is a sanctuary for groms and teens alike. The non-profit organization has worked hard to create a recreational space for the action sports community, including scooters, skateboards, BMX bikes, and rock climbing.
While they offer a great opportunity for riders and climbers to practice their skills, The Fort Barachel Foundation also works with families to help support student athletes by offering life coaching, mentorship, and opportunities to serve the community.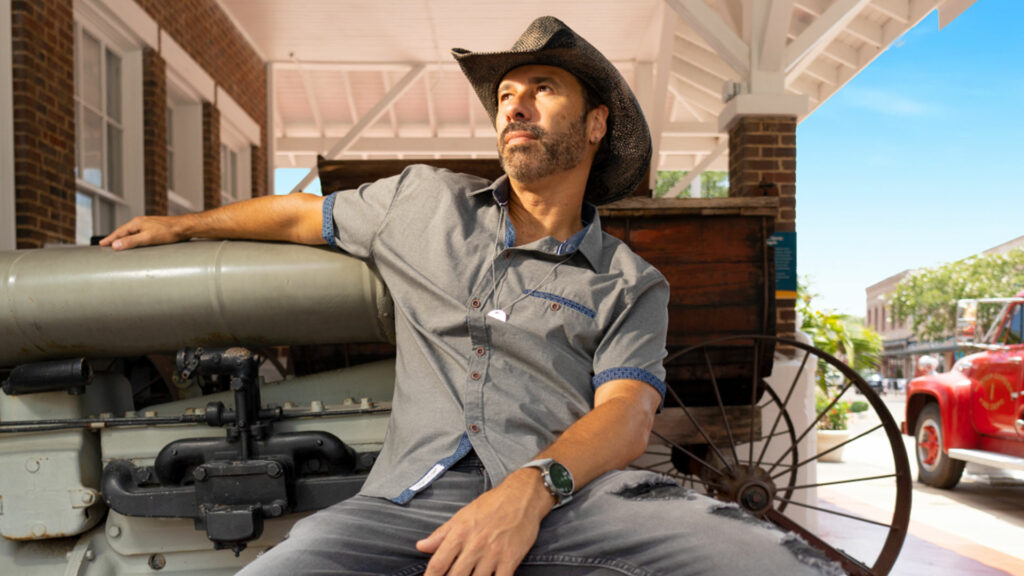 If Mark Houghton had an anthem, it may just be this: "It's fun having fun/There's only so many trips 'round the sun."
Lyrical credit, of course, goes to Zac Brown Band, but for the 48-year-old local resident and country cover artist, that's just part of the charm. 
See, Mark didn't sing a day in his life until he was 26 years old; and it was karaoke country that first got him to the mic. "It was just a way to have fun, pass the time," he remembers. "But then people kept saying, 'Dude you're really good,' I never took it seriously. I mean, who makes it in the music business, right? But it was always fun."
For 20 years, Mark just kept having fun. Sometimes it was behind the mic. Other times it was DJing and hosting karaoke events, in addition to his other jobs. "I'm a serial entrepreneur," he jokes.
And then, on May 8, 2021—just over one year ago—Mark stepped on stage for his first solo show at Front Row Sports Bar and Grill in Ocoee, and he never looked back.
Part of his success is his authentic country timbre—a little Johnny Cash, a little Josh Turner. But it's the genuine, mega-kilowatt Luke Bryan smile and hype he shares with the crowd that accounts for his success. Whether it's five people or 500, Mark is always engaging and interacting with the people while his covers of old country, new country, and everything in between keep the crowd entertained and singing along. 
"Music just makes people happy, you know? And what's more fun than making people happy," says Mark.
Catch Mark Houghton, a.k.a. Renegade Fusion, playing at venues all around Central Florida, including Graffiti Junktion and Cypress Cove Marina in Clermont, and September 9 in Winter Garden at Live Music Fridays on the Plaza.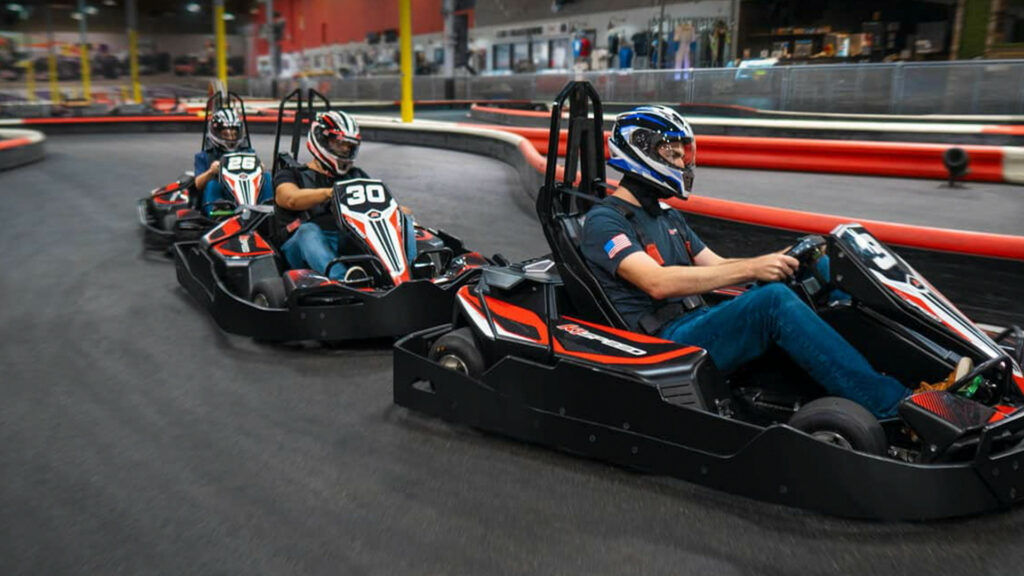 Two words: Floor it! No red lights, no speed limits, and no traffic… what's more fun than channeling your inner NASCAR driver at K1 Speed.
OK, it's not really NASCAR. But K1's all-electric fleet of Go-Karts promises top speeds of 45 mph along a professionally designed indoor track, all year long, rain or shine… mostly rain, in central Florida.A little competition, especially against a co-worker, best friend, or little brother, never hurt anyone!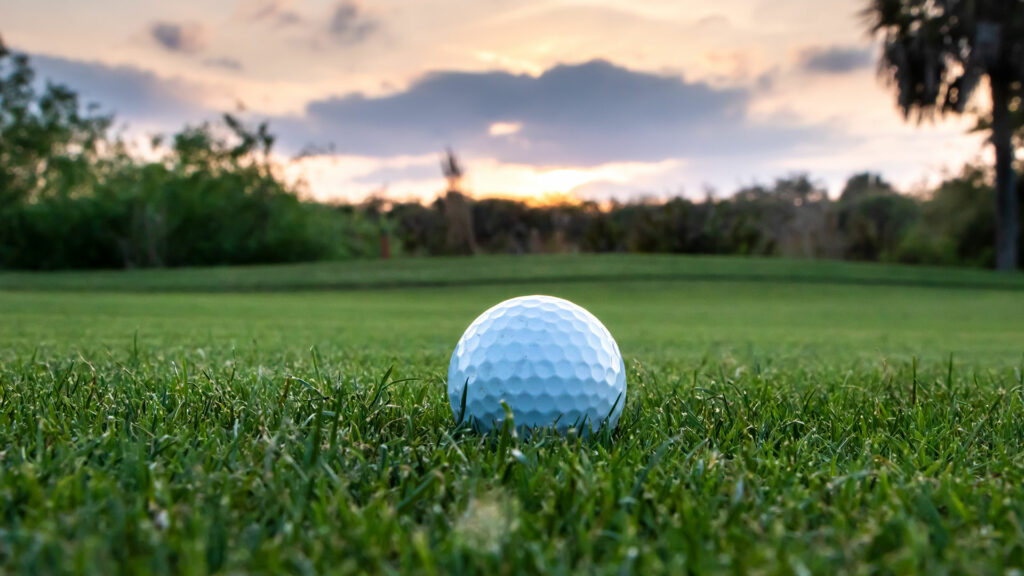 Since 2018, many Winter Garden golfers have been left to wonder when the Stoneybrook West Golf Course would reopen.With no other option, many would travel miles away to get their next putt. But the Stoneybrook West Golf course is coming back in full swing!
After five long years, this course is preparing to reopen its greens in 2023. But before golfers can make any holes-in-one, the clubhouse, restaurants, and driving range will reopen sometime in the Fall of 2022, giving golfers and their families a chance to refamiliarize themselves with the updated scenery. In the meantime, golfers can go to the West Orange Country Club, the Golden Bear Club, and even the Forest Lake Golf Club.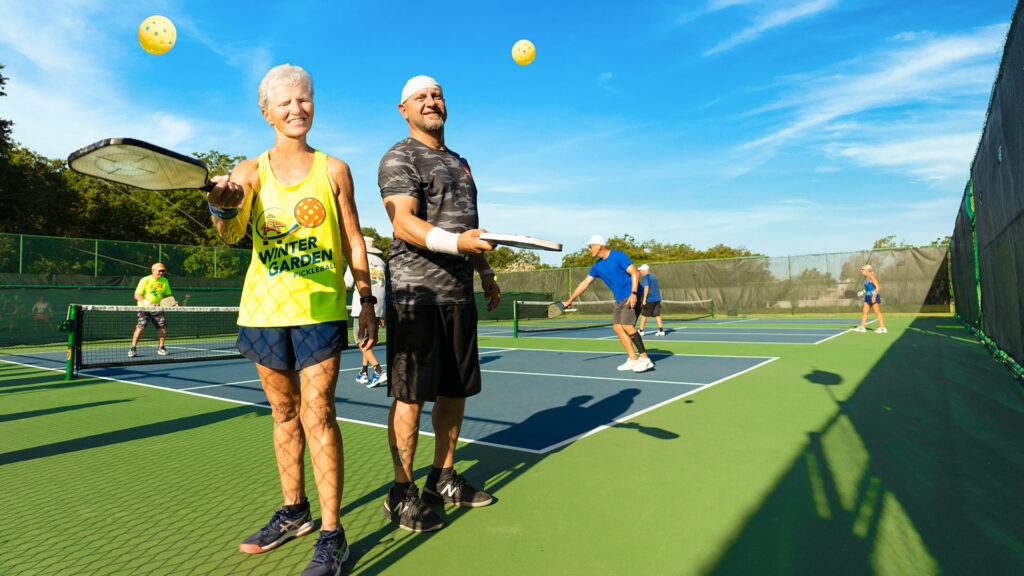 It's only 8 a.m. and these people seem to be having an absurd amount of fun. Even at this hour, there are easily 50 people, with more cars pulling into Veterans Park by the minute. There is laughter and smack talk everywhere, as players lucky enough to grab a court already send an assortment of whiffle-ball-ish things sailing across the net.  That was the first hook. Who wouldn't want to be one of these cool people?
The second and most deceptive lure is how easy the game appears. Most of the players are at least middle-aged, and some are obviously older. How hard could it be?
By the time you realize that the game involves actual skill and coordination, it's usually too late, because by now your ego is involved. The addiction is fueled by the personal challenge of continuous improvement. Get ready to sign up for lessons, workshops, and drills.
This is the world of pickleball, and it's everywhere. This sneaky-fast amalgam of tennis, badminton, racquetball, and Ping-Pong has been embraced by Leonardo DiCaprio, the Kardashians, Russell Wilson and Annika Sörenstam have mastered the dink and drive.Survivor winner Tyson Apostol has parlayed his reality-TV fame into a career as a pickleball influencer.
Its origins remain murky, but most diehards agree the sport was invented by three dads on Bainbridge Island, Washington, in 1965. The rest is pure conjecture.
Does it matter? No. All you need to know is that this quirky hybrid is the fastest-growing sport in the country, and nowhere is that more evident than Winter Garden's Veteran Park, where more than half of the tennis courts have been converted to pickleball courts. And more are on the way. It's accessible, affordable, and allows an almost unparalleled competitive balance across generations and genders.
What does matter? The three "secret" numbers called before each serve is actually the scoring system. Second shots must bounce, "bangers" are players who drive hard shots, and the area on either side of the net is known as "the kitchen." You don't want to be in the kitchen until the ball has bounced in it. After that, you dink.
And whatever you do, get up early so you can beat the paddle queue—an organization system through which players place their paddles on a rack in the order they arrived at the courts. At the end of a match, the next players on queue claim their paddles and proceed to the next available court. On this day, upon my arrival, 30 paddles were already in queue.
Managing the chaos is local ambassador Kim Drury. She and fellow ambassador Martin Kratish are on the courts every day of the week, and if you are a newbie, it's worth searching them out. It's also worth joining the local pickleball Facebook Group page and going on a "beginner" designated day. Locals are friendly, but they are uber-competitive.
There's even several 5.0 players, including Pickleball Pirate Keith Valentine whose YouTube Channel is both informative and inspiring. Don't expect him or anyone to go easy on you, unless you're paying for a private lesson. Consider yourself warned.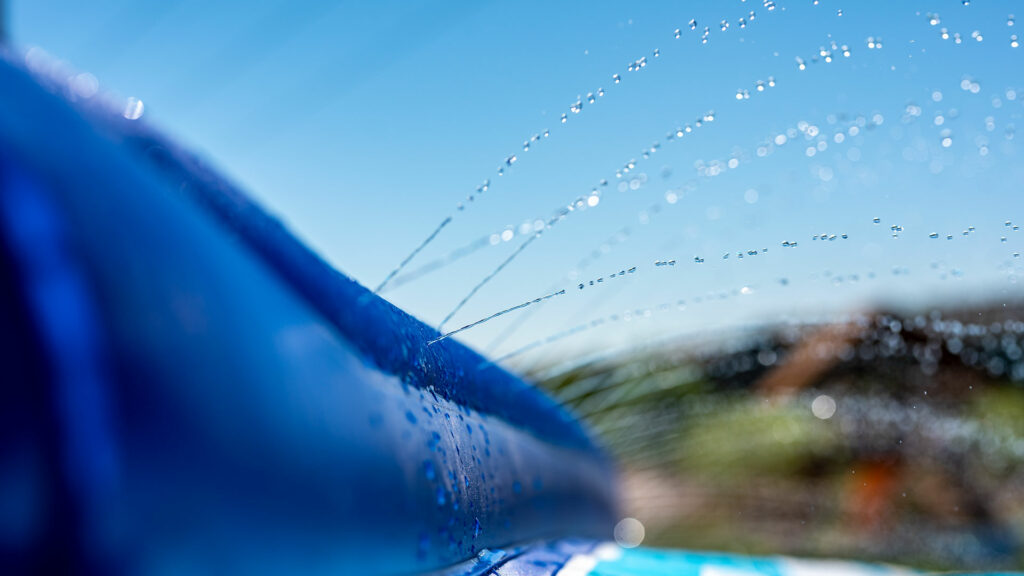 Who doesn't want to end the summer with a bang? Skip the boring backyard barbecue and slide into something much more thrilling … a slip-n' slide party! That's the plan for Erin Herring, a senior at West Orange High School: "I saw the idea on TikTok and immediately put it on my bucket list," she says. "My friends and I are planning it right now before we go back to school!" According to Erin, the sky's the limit. "We're adding a bubble-foam pit, boogie boards, and tube floats for extra speed, and even adding washable paint so the water can create a giant rainbow slide!"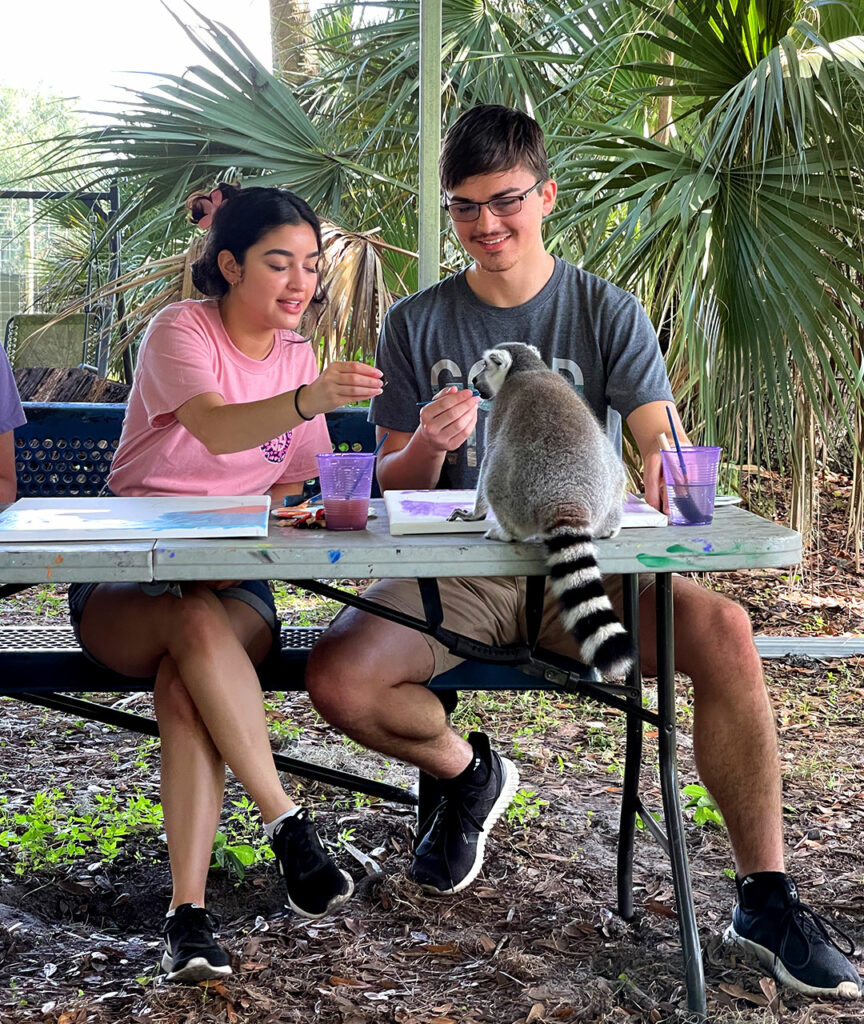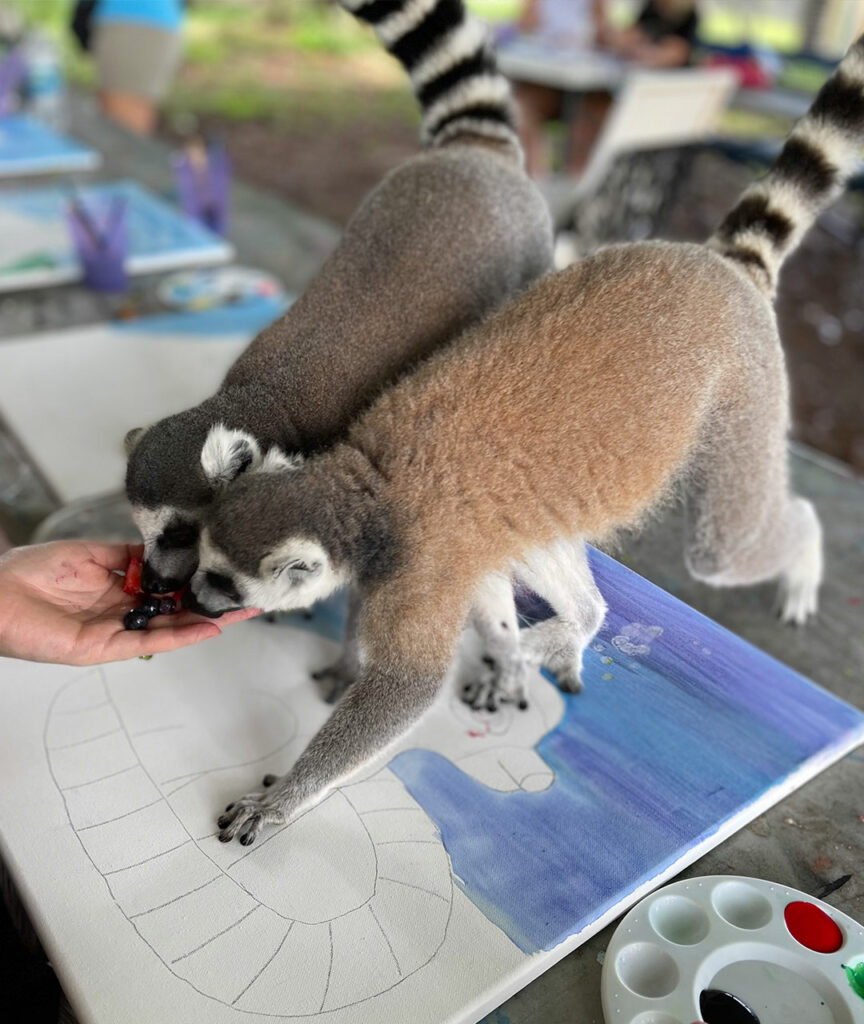 Normally, if you spilled water and food all over your paint-and-sip canvas, there'd be curse words and catfights. Here, under a treetop canopy in Webster, there are squeals of delight. Mostly because the party at fault isn't your slightly inebriated friend; it's a troop of ringtail lemurs wreaking havoc instead. Bushy tails with 13 alternating black and white stripes swoosh over paint palettes and topple rinse cups, streaking color on canvas and clothing alike. The more active lemurs leap from canopy to shoulder, down the arm onto the canvas, leaving a trail of footprints. The smarter ones simply totter on hind legs, station to station, reaching into a plethora of open palms holding a wet assortment of bananas, blueberries, and strawberries.
Chase Animal Sanctuary may be 30 miles from downtown Winter Garden, but the drive down State Road 50 to a dirt road is certainly a scenic adventure. Far from the usual fun of wizarding worlds, Painting with Primates is quite possibly the most fun you can have on a summer Sunday.
The cost is a $75 "donation," which allows you to paint a pre-sketched canvas as Chase's lemur troop weaves and scampers around the yard and uses your body as a jungle gym.  The facility is a rescue mostly for these adorable primates, but there are other exotic animals that have been rescued from neglect, abuse, or exploitation.
Owners Nina and Donna Vassallo, who started Chase 14 years ago, operate the facility solely on donations, which can be challenging in any economy. Offering private tours and various types of classes involving unique animal encounters, including Painting with Primates and the equally popular Lemur Yoga, is both a fun and philanthropic way to keep the sanctuary running. But they also accept financial donations in addition to food and potted plants, like ferns, purslane, and spider plants, both great sources of edible enrichment.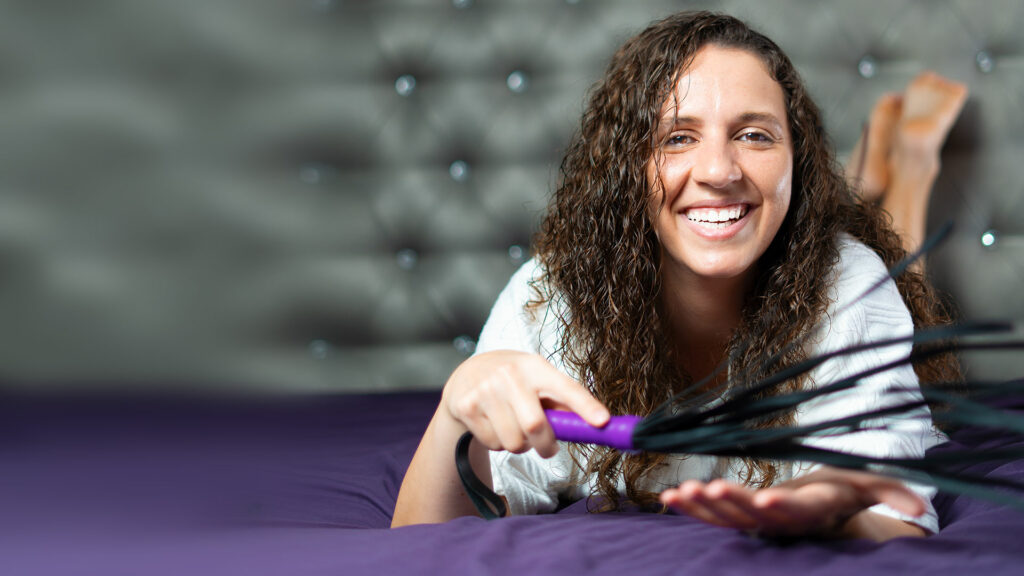 The housewife next door has a spicy secret! You wouldn't imagine by looking at her, of course. Kat O'Brian is just your average wife, mom of two, and an Information Resources Manager at a local law firm.  And yet, she also happens to be the scribe behind Chains and Pearls — a sizzling hot novel about love, sex, power, and control. She loves life, she loves her family, and yes, she loves to play.
The past decade has seen a boom in women turning to the page to detail sexy stories that would very likely make your mom turn 50 shades of blush. But for anyone who knocks erotica as anything less than an art form, it's worth noting that nearly 30% of the top 130 erotic authors have formally studied literature. For some authors, it's a business opportunity; for others, it's a way to safely explore sexual fantasies. For Kat, it's both.
"While I'm firm of the mindset that fiction is just that, fiction, I do think it's a positive for women that erotic fiction has become more mainstream. Erotica gives us permission, in case we didn't have it already, to acknowledge ourselves as sexual, and sexy beings, whose desires may be far more complicated than we're often led to believe."
Of course, like other playful endeavors, this foray happened by accident, actually. "I was, and still am, a huge reader. I usually have two or three books going at any one time. For a long time, romance novels were my favorite. I'd devour a romance book every two days, and it got to a point where they became the same. Different character names, but a similar formula. Then, 50 Shades of Gray came out, and my entire world turned upside down. Not only was I intrigued by the lifestyle, but I found myself wanting to read —and write!— erotic fiction. Now, I can't get enough. It's changed my life, and has given me new perspectives on my own sexuality as well as those of my friends, family, neighbors, and even strangers."
Kat's first book, Chains and Pearls, coming this fall, is a dark romance regarding overcoming tragedy and relearning desires. Releasing soon after is Pearls and Cuffs, which brings forth the heart of what makes this form of "play" a delight by capturing the lusty, down-and-dirty moments right alongside the emotional nuances that make these stories worth reading — and re-reading. Download with an open mind on Amazon.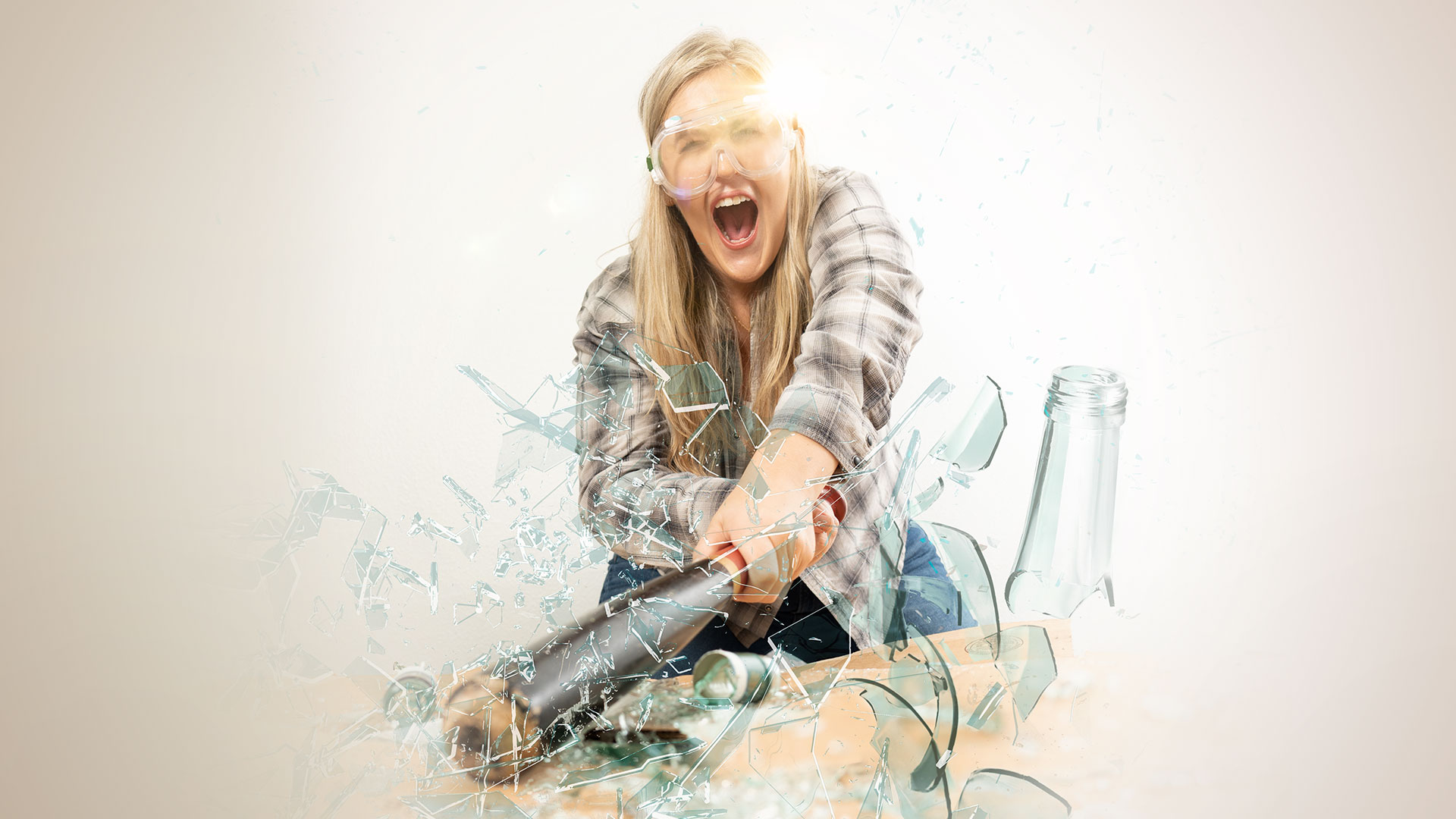 Needing a way to let out pent-up frustration and a glass of wine (or two) is no longer cutting it? I can relate! That's where I found myself during the pandemic, and by the power of the internet, as soon as I thought about it, up popped an Instagram for a place called "Rage Room Orlando." To be fair, I'm not the type to even punch a pillow, so I scrolled past at first. But since Instagram is persistent, the next time the ad popped up, I clicked. Intrigued, or bored, you decide, but I caved to marketing peer pressure and convinced my best friend, Kim, to go with me. And boy, did we have a smashing good time.
Located about 25 minutes away, Rage Room Orlando has a variety of packages for your stress relief. From fax machines to vehicles, you can pick anything you desire to break and bludgeon.
We even got to play our own music! We chose wine bottles (naturally) and were more than disappointed when we had none left to shatter. I had no idea that breaking something would bring so much joy. It felt incredible being in control of the destruction, and I've never laughed so hard while doing something that felt wrong. With our adrenaline pumping, we were already planning our next visit. If you've ever felt joy breaking something, then this might be your broken cup of tea.