Michael Norman blends passion, experimentation, and unparalleled attention to detail to create the perfect cocktail for every palate.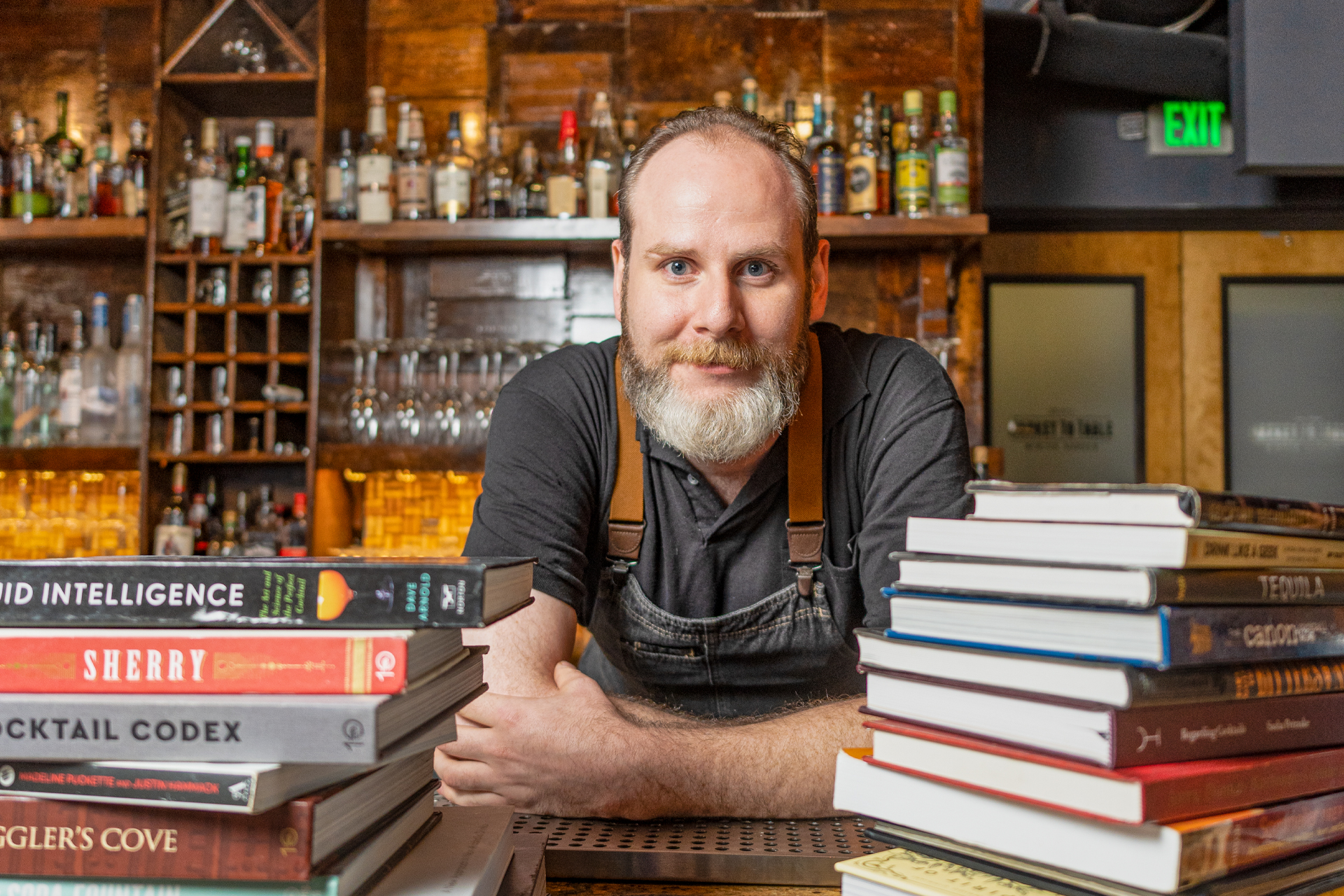 His 6-foot-3-inch frame leans over me from across the bar, his gaze serious and thoughtful. "Would you prefer something refreshing and light," he asks, as my eyes peruse the bottles lining the shelves behind him, "or more robust and spirit-forward?"
I know what I want to say. But it's only lunchtime, and I technically need to go back to work. "Refreshing," I answer.
"What's your favorite spirit?"
"Aperol."
"Interesting. Least favorite?"
"Whiskey."
"What about it don't you like?"
"I can appreciate the complexity, but it's too much like gasoline on the finish."
"Any allergies or sensitivities?"
"Nope."
He leans back and pulls the bottle of Aperol off the top left shelf. And then quickly snags another bottle from the right—a square bottle of Wilderness Trail Rye Whiskey. I cock an eyebrow. He smiles.
He measures the two liquors into a cocktail shaker, along with lemon juice, honey, and egg white from the cooler. A little ice and a vigorous shake later, he produces a coupe glass and pours a thick, peachy nectar with egg white foam settling neatly on the top. But he doesn't serve it yet; first, he adds three drops of homemade angostura bitters and sets the foam with a fiery blast from the Cadrim. He then slides the glass over the marble slab and into my hand. I take a sip—and almost drop the glass in shock.
A brief conversation and two minutes of mixing was all it took for Michael Norman to concoct my new favorite cocktail, with one liquor I love, and another I loathe.
"I collect ideas, thoughts, menus, scribbles in notebooks at home next to my couch, for when inspiration happens."
Liquid Charisma
This isn't my first encounter with Magic Mike. That was actually during an epic birthday celebration when he crafted the single best espresso martini I've ever tasted. The second time, it was a spicy mezcal margarita that burned into my memories. And don't get me started on what the man can do with Amaro. [swoon]
Michael is relatively new to Winter Garden, having followed his aging parents from Washington, DC, just two years ago. The 34-year-old is the beverage director at Market to Table and crafts mind-blowing cocktails like a wizard crafts love potions. But his magic is not really "magical"—it's the product of creativity and experimentation from a man who could be called an artist or a mad scientist in equal measure.
Just don't call him a mixologist. "A mixologist is someone who makes an 18-minute cocktail and can't have a conversation," he says. "A bartender makes your drinks, has the conversations, is face-to-face as a community member, and is someone you come to see on your bad days as well as your great days. Regardless of what drink we're making, we always have hospitality at the forefront."
Michael's easygoing demeanor and charm behind the bar are no work of magic either. In fact, Michael considers himself to be naturally the opposite. "I'm definitely a nerd at heart," he laughs. "I built my first computer when I was in 7th grade, and I majored in IT when I went to college. And just like you would imagine, I was also super awkward. A mildly autistic introvert—not a good combination, at least not socially."
Those sharp social skills were instead honed the old-fashioned way: hard work and pure intention. "I really wanted to focus on how to talk to people, to actually be more charismatic and outgoing. You aren't doing that staring at a computer screen," he says wryly. "So restaurants seemed ideal. No hiding from people there."
He began a sort of self-guided food service apprenticeship at various establishments, working in every single position from the front of the house to the back, before landing behind the bar at DC's famed Founding Farmers.
But nothing garnered his attention and geekish curiosity like bartending—the most demanding think-fast position available. "No one had time to make a 15-minute cocktail," he recalls. "We had 52 cocktails on the menu, and we would serve, like, 1,200 guests on a Saturday night. We were a team of five people that were just cranking out extremely high-quality, innovative drinks every three minutes."
That effortless craftsmanship and customer-focused experience set the standard for Michael's bar program today. "It's like, 'take something that's so complex and deliver it in a fast and efficient manner,' and make it delightful."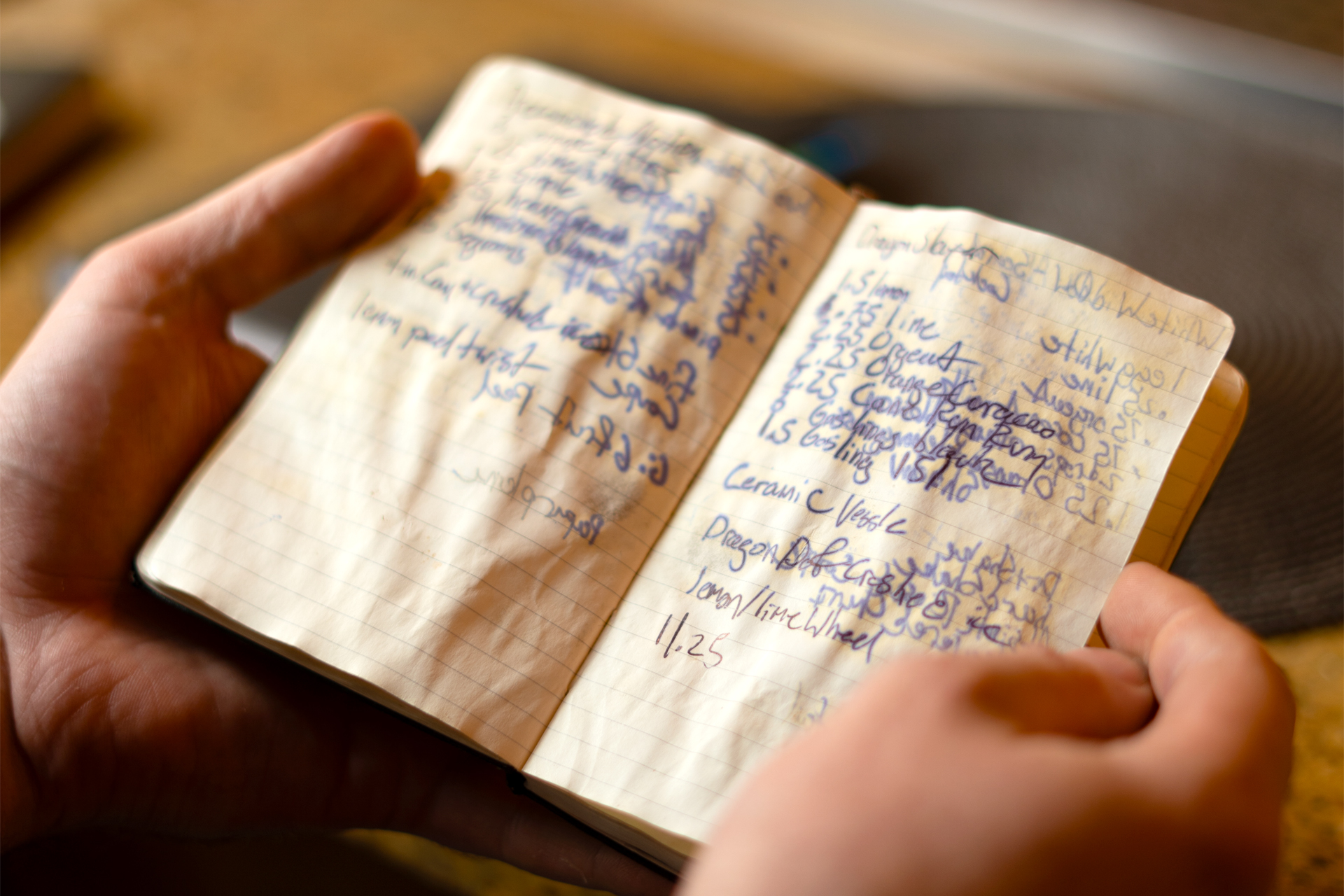 Matters of Taste
If there's one thing a good bartender knows, it's that cocktails aren't one-size-fits-all. Art is highly subjective, after all. Which is why Michael prefers to craft on the fly and follow his patrons' lead.
"Usually, I'll start my guests off with a taste; most people are afraid to ask for a taste, but that one taste can lead to a good conversation," Michael says. "I really focus on seeing that split-second reaction when they take that first sip. You read their lips—too tart, too sweet, they're loving it—and it gives you a little hint where to move to next or next time you make them a drink."
And if there's another thing a bartender knows, it's that you can't serve the perfect drink unless you know how it's supposed to taste. "Here's the thing about bartenders: We'll probably put anything in our mouth once. We're weirdoes like that," Michael says. "I had a lot of regulars at Farmers who did a lot of traveling, and one person brought me back fermented horse milk from Mongolia. Apparently, you mix it with vodka and it's something high school kids would have as their go-to drink. Let me tell you … it tasted like milk spilled on the floor of a stable during the Texas summer picked up with the straw strung out, mixed with lemonade. Once you taste it, you can't untaste it."
Needless to say, fermented horse milk won't be making an appearance on the cocktail menu at Market to Table.
But for every bad flavor, there are a hundred other good ones, and a coveted few spectacular ones. "One of the more unique things that I've tasted was from Booker & Dax in New York City. Dave Arnold—he's kind of my bartender idol—made me a celery gimlet," says Michael. "Normally, that would be just muddled celery, lime juice, a little bit of simple syrup, and gin. But not with Dave. First, he took liquid nitrogen to all the celery and crushed it into a very fine powder. Then he took lime juice that had been both clarified and acid balanced to deliver the purest lime flavor without any color or solids. It was the perfect cocktail, probably one of the best cocktails I've ever had to this day. Thinking about it still gives me goosebumps."
That flavor. The mythical "perfect cocktail." That's what feeds Michael's soul, his passion, his obsession. His search for perfection drives him to spend hours on YouTube seeking out new techniques. To fill dozens of journals and notebooks with ideas and science and notes and menus.
"I've been collecting recipes for 15 years. My binders are filled with menus and research. Last time I checked, I've got about 7,093 recipes … probably more now," he says. "I collect ideas, thoughts, menus, scribbles in notebooks at home next to my couch, for when inspiration happens."
Michael's cocktail compendium is nothing short of historic—literally, since some of his menus date back more than a century. "I'm drawn to pre-Prohibition cocktails, much the same way I lean toward old-school scratch sodas, pharmacy sodas. It's so interesting to see how the industry has changed over the years. I have friends who would go down to the Library of Congress just to look through the national archives for cocktail books and cocktail menus."
With that many drinks from that many decades swirling in his head, Michael has no shortage of innovative cocktail concepts he's exploring. Take, for instance, the clarified Piña Colada. "We are going to be taking white rum, dark rum, a little bit of lemon juice, lime juice, some all spiced jam, a bunch of coconut milk, pineapple juice and clarifying that using Pectinex, which is this enzyme that removes all the solids from the actual beverage when it sets, which I can strain off. What you're left with is a drink that doesn't smell like anything or look like anything. It looks like water. But the moment you taste it, it is every last bit a piña colada."
He's also riffing on a boozy bubble tea, but that hasn't quite burst into being … yet. "Making the bubbles boozy is kind of tricky. I'm still working out the chemistry of that. Again, it's about how to make it in a way that's unique, but also fast for service. But in my head, every sip you take, you burst one bubble and you immediately have a mojito."
Is it really necessary to go to such extremes for an otherwise ordinary cocktail? Maybe not. But if you ask Michael, mixing it up is part of the magic, both for himself and his guests. "I can make 17 different cocktails that are completely different, but all hit the same flavor points. It makes the experience unique. It makes our bar unique," Michael says. "There's no better feeling for me than when someone comes to the bar and just says, 'Mike, you know what I like.'"
This is exactly why he takes delight in pouring his heart out into glasses, like mine, every day—and why spellbound patrons, like me, can't stop coming back for more.
"There's no better feeling for me than when someone comes to the bar and just says, 'Mike, you know what I like.'"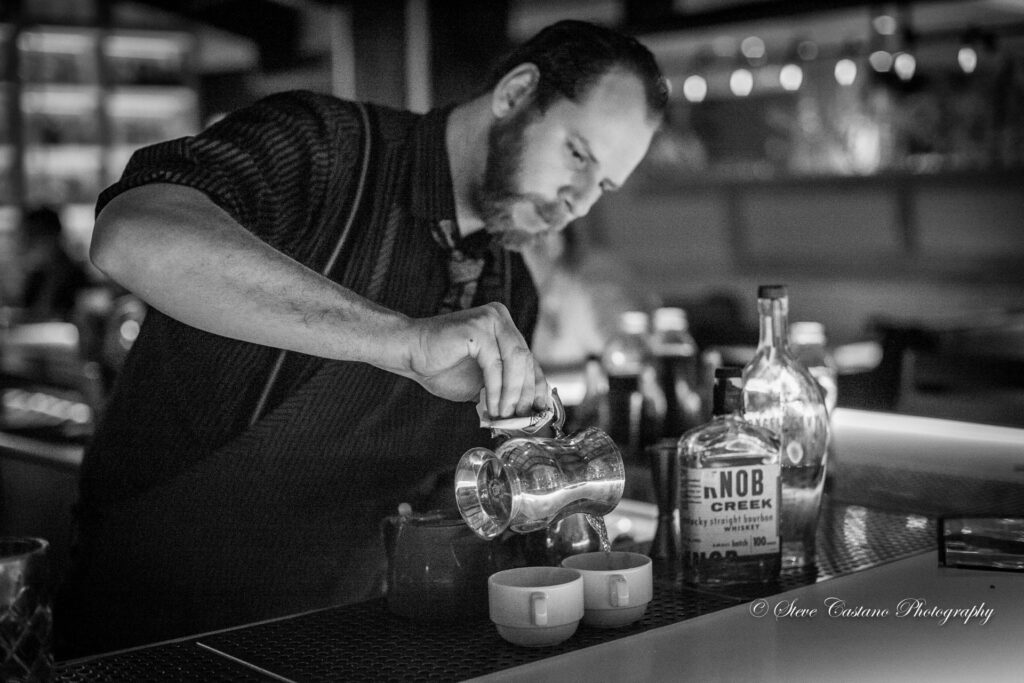 Rapid-fire Q&A with Michael Norman
Favorite Spirit: Right now? Probably Bar Hill Gin. I've talked about it so much, it's embarrassing. It's a gin from Vermont that is made with honey. Very, very smooth.
Favorite Post-Work Sip: Vodka soda. 100%. Lime. Double tall.
Bars We Should Know About: I love Guesthouse and Hansel Shoe Repair downtown. Then there's Kaya's, a new Filipino bar—they've got this coconut negroni which is phenomenally well balanced and savory. I'm also at Will's Pub and Lil Indies pretty often.
Life After Work: A lot of video games, a lot of planting. I've got two cats at home that I absolutely adore. They're both rescued Sphinx cats, named Cinnamon and Whiskey.
Favorite Video Game: God of War (2018) right now, but I like anything that's got a deep backstory. There's this weird game called RimWorld which is this online colony simulator, it's almost like a top-down RPG game. Oh! And I just got a Nintendo Switch, so I've been plowing through Super Smash Bros.
Star Wars or Star Trek? Star Trek, hands-down. I still enjoy Star Wars and The Mandalorian, but my heart belongs to Star Trek.
Favorite Music? The more random the better. I'm always listening to something like weird Japanese, Asian jazz. A little bit of EDM. If it's got a good baseline and some weird lyrics, I'm in for it.