The Modern Host's owner, Karem Rodriguez, reflects on lessons learned when
one door closes.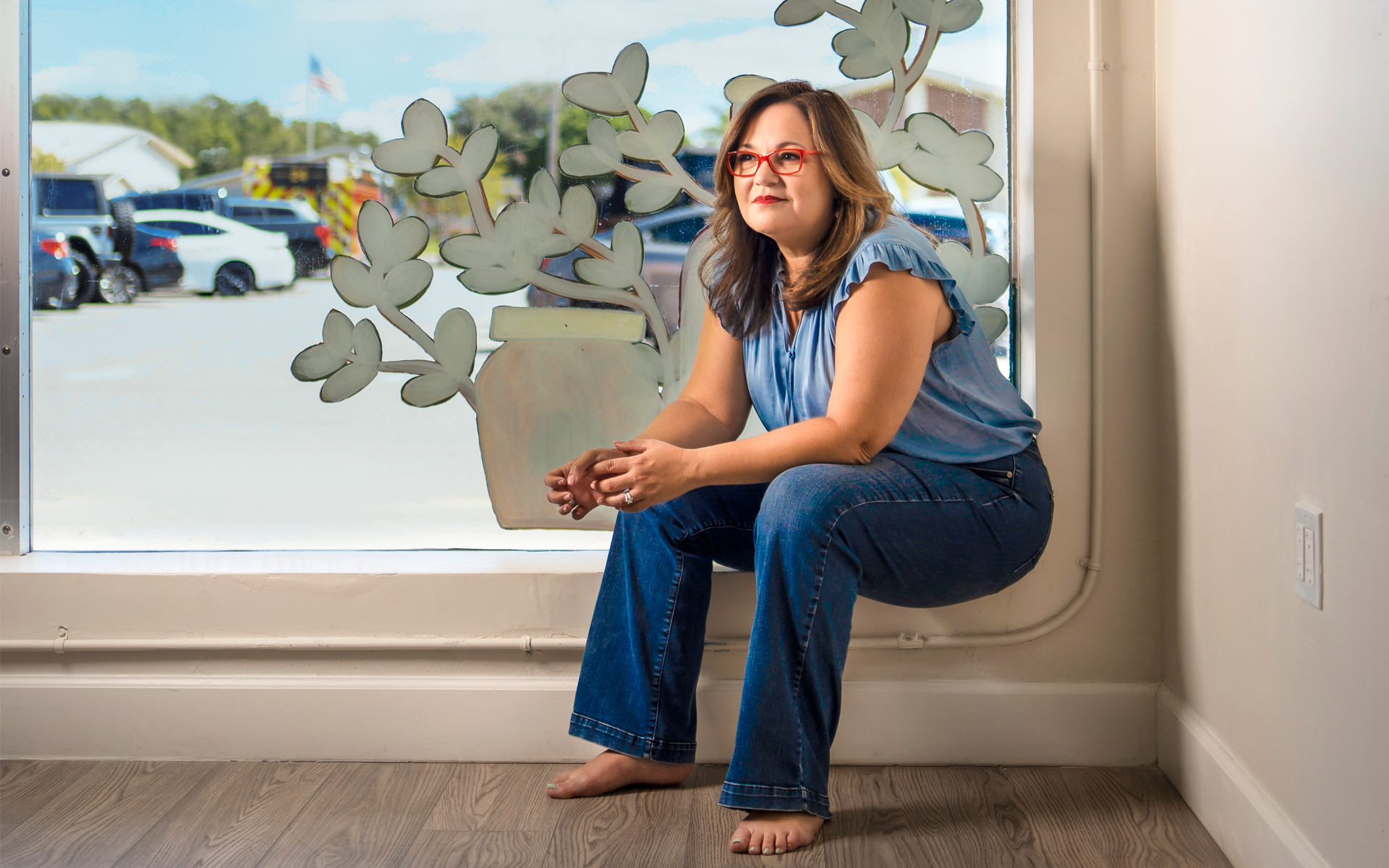 When life is sweet, say thank you and celebrate. And when life is bitter, say thank you and grow. Karem Rodriguez knows the taste of both.
"Food, family, and entertaining give me so much joy. And after years working in a job I didn't love, then living through Hurricane Harvey in Texas, being evacuated by flooding, and watching Hurricanes Irma and Maria devastate my family home in Puerto Rico, I needed to feel grounded. To rediscover joy."
That's how Karem Rodriguez, a Labor and Employment attorney by trade, found herself opening a specialty food shop in the Key Foods Plaza on Dillard Street in February 2022.
Fast forward to September 2023, 18 months later, and Karem is sitting at a table at Loop Cafe, nibbling on an acai bowl, when she shares this: "I forgot what fun is."
While delight and pleasure were the impetus behind The Modern Host, the brick-and-mortar version of Karem's wildly successful blog and pop-up market, they also are the very reason she chose to shutter those doors for good.
"At the end of the day, the opportunity cost of running a small business was too high," she says with a sigh. "I underestimated the amount of work and the amount of sacrifice that it required, and it took a toll on me. Physically, mentally, emotionally. It was just too much."
The reality of running a food-related small business looks something like this: Missing your daughter's entire senior year activities because you had to be at the shop. Saying no to weekend invitations from friends and Bunco nights because purchasing and quotes needed to be handled and your marketing inbox is a thousand messages deep. Losing more than $10,000 in a single month to replace a dying AC unit and lost products because the coolers couldn't keep up with the summer heat. Staring at a Christmas tree, in September, because you never had the time or energy to take it down. No weekend getaways with your husband. No holidays off.
"I felt alive again. I tasted, I experienced, I reveled in the beauty. And the sleep! Oh my goodness… the sleep.."
Karem says, "I did everything from my social media to my marketing, sourcing products, making purchasing, scheduling, managing employees, invoicing, building a website… I was working 70-80 hour weeks, without a break. From the moment you wake up to the moment you go to bed, you're connected, responding to quotes, emails, messages, whatever. And that's not even doing the rest of the work the shop required:interacting with customers, prepping food. The amount of effort I was giving was just not worth my sanity and physical wellbeing."
And the hostess with the mostest, doesn't even cook anymore. "I've lost all the joy of it," she says. "I see all the Facebook memories of the home-made meals I cooked for my family and the parties and events I used to host at home. I don't even remember that person."
Karem's husband, JP, a local lawyer and CPA, finally intervened and demanded that they take a vacation to celebrate their daughter's high school graduation. In June 2023, nearly 16 months into the business, they took off and visited Spain, Turkey and Greece. Those two weeks away from the business changed her entire perspective.
"I felt alive again," she says. "I tasted, I experienced, I reveled in the beauty. And the sleep! Oh my goodness … the sleep. When we got home, I didn't want to go back to work.  My body, my mind, I was just done." So she and JP hatched an exit strategy, and Karem began looking for a job a few weeks later.
When she broke the news on social media, there was a collective gasp among fans, followers, and friends: "After much consideration and reflection, we have made the decision to close our doors permanently. This decision has not been taken lightly, but it is deeply personal, and we strongly believe it's the right course of action at this time."
On September 30, she locked the doors for the very last time. And on October 9, Karem returned to her legal roots, starting a new career as the head of the Employee Relations team for a global company with operations in Florida.
"Today isn't tomorrow, and tomorrow isn't forever. Change happens, and circumstances can shift overnight."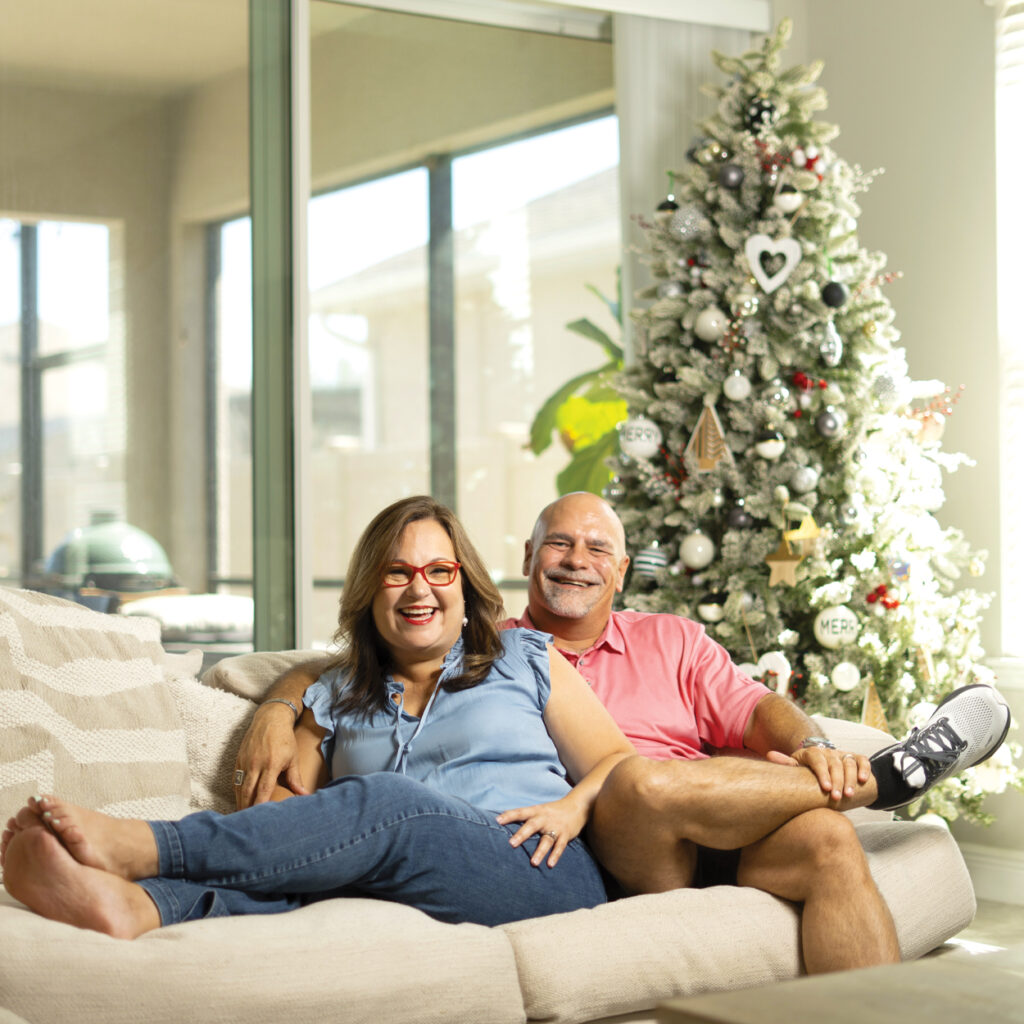 Karem and JP Rodriguez sit in front of their Christmas tree, a remnant of last year's
holiday season. "It's been up for an entire year. I never had the time or energy to take
it down." Just one of the many reasons Karem chose to close The Modern Host.
"I'm using my labor and employment law background to help an organization deal with their employee relations issues, conduct related investigations and such.And I'm excited about it. Working for a company that has so far shown that they value what I bring to the table and trust that I can successfully lead a team—that isn't a small thing."
Her smile is relaxed and open, and her enthusiasm is palpable. "I have no regrets," she says. "No one did what we did at the shop, the way we did it. It was unique and wonderful in its own way." Her journey was indeed unparalleled, but it was also a profound learning experience. While some moments were painful and challenging, every experience, positive or negative, taught her something she holds dear.
Reflecting on her entrepreneurial journey, Karem shares that she learned more than she ever expected. "Looking back, I might have done things differently, but I've learned a lot. To fail is difficult, even heartbreaking, but it's a gift. My failures have shaped my successes. Now, I'm grateful for a new chapter. We're already planning our next vacation, and this year, I get to enjoy my Christmas tree. And, hopefully enjoy the process of taking it down," she says with a laugh.
One invaluable lesson Karem has learned is that life doesn't follow a predictable, linear path. Throughout her journey, she's come to appreciate that today's trials can lead to tomorrow's triumphs, and unexpected twists can bring surprising delight. As she contemplates her experience, she notes, "Today isn't tomorrow, and tomorrow isn't forever. Change happens, and circumstances can shift overnight."
Karem's story serves as a poignant reminder that sometimes, a fresh start and a grateful heart are exactly what we need to rediscover our joy.