For years many saw East Winter Garden as a wholly separate community from the rest of Winter Garden. One Winter Garden is on a mission to change that.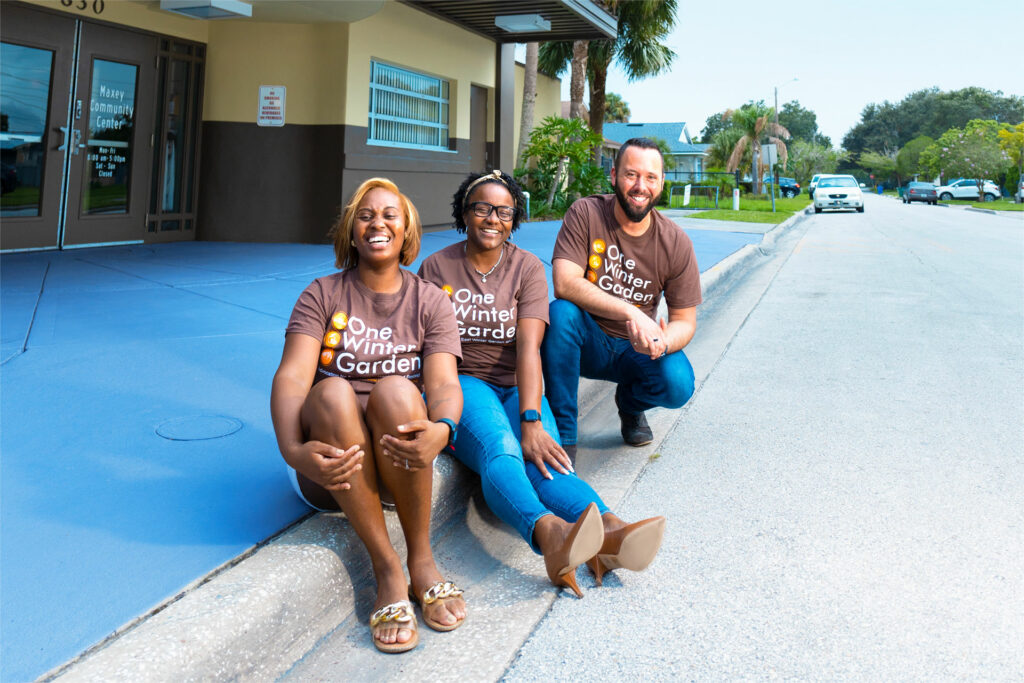 Thirty years ago, driving down Plant Street was a much different experience. Often referred to locally as "Winter Garbage," the blighted downtown was rife with crime, deteriorating industrial structures, boarded-up storefronts, and dilapidated housing. Lake Apopka, once an internationally renowned destination, had been reduced to murky sludge, and even The Edgewater Hotel, a thriving tourist hub in the early 1900s, was on the brink of demolition.
So what helped revive this languishing downtown? A few passionate citizens and the formation of The Winter Garden Community Redevelopment Agency (CRA) in June 1992.
Today, Downtown Winter Garden is a shining success story of redevelopment. However, one mile to the east, historic East Winter Garden finds itself largely neglected. But just as it had three decades before, a new team of impassioned community leaders has risen up to change that.
"We must take responsibility for our own community," says Jamie Holley, president of the advocacy group One Winter Garden.
Born and raised in East Winter Garden, Jamie speaks with both bold confidence and heartfelt supplication—she's watched the neighborhood and community she loves battle a steady influx of crime, poverty, and overall deterioration. "We cannot sit around and expect someone to come along and save us. Only we can do that. The first step toward change is organizing and that is what One Winter Garden is doing."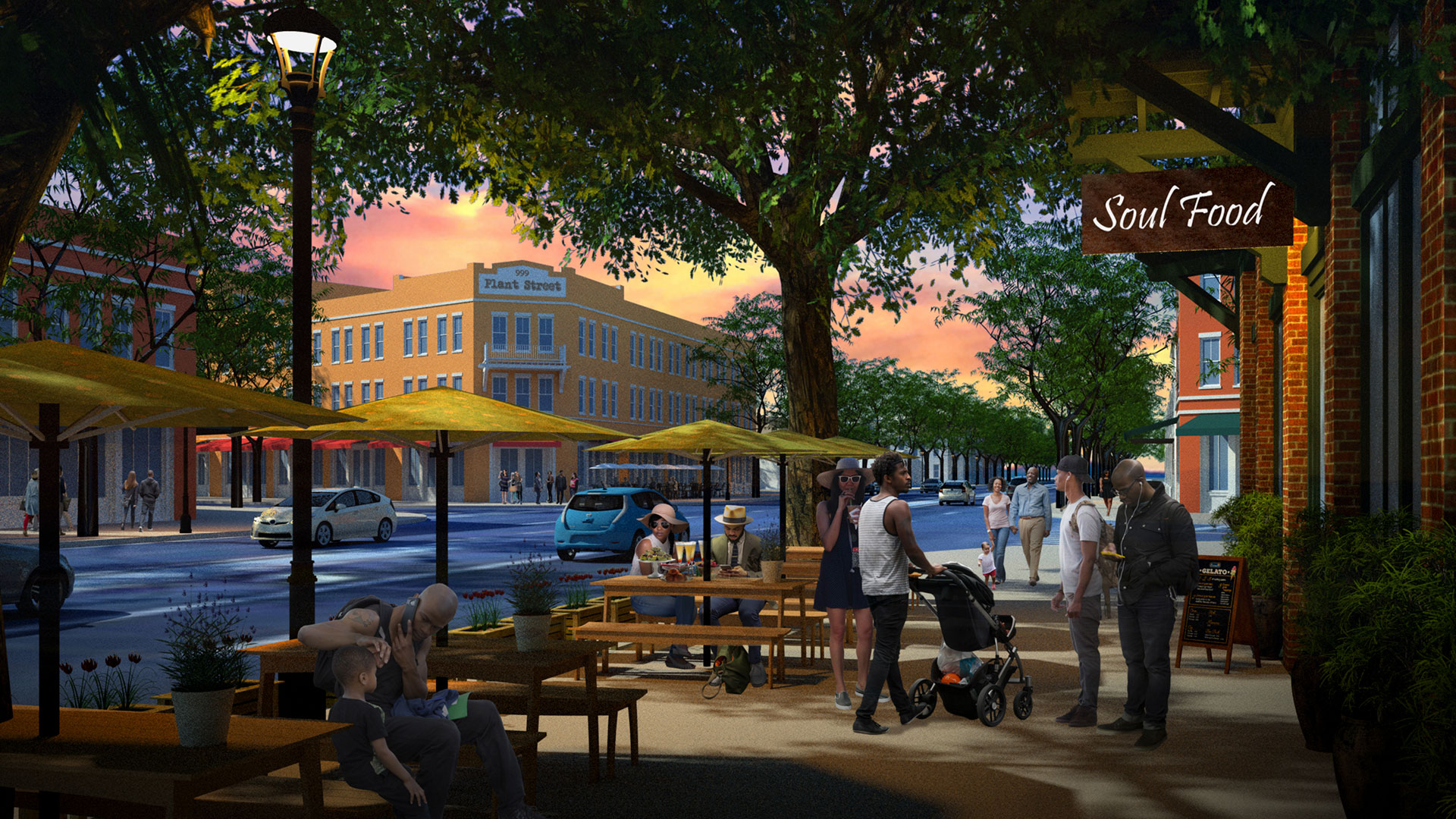 Chloe Johnson-Brunson, vice president of One Winter Garden, echoes Jamie's statement: "The time has come for us to build up our community, to invest in the people who have made this their home. There are so many positive things about living in East Winter Garden—it's why I chose to come back here, to raise my family here. But for us to truly thrive, we need to bring peace, love, and unity to our community. To be united in our efforts to build up this place we love, and I believe One Winter Garden can help do that."
Indeed, the momentum behind One Winter Garden is palpable. This year alone, the highly-active East Winter Garden Neighborhood Alliance officially rebranded as One Winter Garden and received its 501(c)3 status. Furthermore, the Board of County Commissioners and the City of Winter Garden approved a 10-year extension that allows the Winter Garden CRA to leverage the redevelopment success in Downtown Winter Garden to benefit East Winter Garden. It is estimated that more than $20 million will be generated during this timeframe and at least 75 percent of these funds will be spent in East Winter Garden to revitalize the community.
But that's not all: The Community Resource Center is now open. Community charrettes were held to help develop a block-by-block plan for 10th and Center Streets and a conceptual plan for West Orange Technical College Campus. A neighborhood revitalization grant through West Orange Habitat for Humanity has been funded, and The West Orange Boys and Girls Club is currently under review for approval on City property to be located on 9th Street.
"It has been a very busy and exciting time, as a community we have been empowered to speak our minds on issues that concern us and we are only getting started!" says Jamie.
Chloe agrees, "We are grateful the City has been a great partner and listened to our concerns. In the immediate future, we will continue to address issues as they come before the community and work hard to ensure that the new growth coming into this side of town helps to promote and enforce our history and longstanding culture. We want to change but we do not want to change who we are."
Recently, The Local met with three One Winter Garden team members—Jamie, Chloe,and the group's secretary, Austin Arthur —and City of Winter Garden Economic Development Director Tanja Gerhartz, to learn more about the initiative.
We must take responsibility for our own community. We cannot sit around and expect someone to come along and save us. Only we can do that. The first step toward change is organizing and that is what One Winter Garden is doing.
Historical preservation was important to Downtown redevelopment, and it's equally important to the people of East Winter Garden. How will these preservation efforts compare?
Tanja: The City of Winter Garden will work with the Winter Garden Heritage Foundation, our consultant Dover Kohl & Partners, and residents to create an overlay that respects the historic character and architecture of the community.
The core development seems to be focused around 10th and Center Street. How deep into the community will the redevelopment stretch?
Tanja: In redevelopment, the core is where you start, and revitalization typically radiates out from there. The historic business district that was located at the corner of 10th and Center Streets is the core, so that is where the City will begin, focusing on infill affordable housing. Most of the commercial development will be located along East Plant Street, but there will be a small neighborhood-friendly business district located at the corner of 10th and Center Street. When the revitalization is complete, the cumulative impact will elevate the economic well-being of everyone.
The original plan developed by Dover Kohl & Partners was unveiled in 2018. In the five years since, what, if anything, has changed?
Austin: Dover & Kohl has done a great job so far, especially when it comes to keeping the integrity of the community at the forefront. However, one thing the original plan failed to address was the community's crime rate. This is a very important step that must occur for the positive change we all want to see happen. It is not easy though. A lot of the crime comes from nonresidents that come into the community. The City has been tackling it and we know there have been some tensions created at times when occasionally people get inadvertently pulled into controversy while officers try to enforce new implementations.
However, with communication, the residents are working well with the City to understand each other's positions, needs, and actions better. The City and community are doing a great job together working on a difficult item.
What are the most exciting milestones One Winter Garden has already achieved?
Jamie: The newly annexed areas have finally received, after decades, proper street lighting. This is a tremendous blessing! Many do not realize the difficulty of raising young children and not having the common benefit of safe lighting. Once the City took over these areas from the County, it happened quickly. The City is also in the early stages of new streetscaping to begin the process of beautifying our public road areas as was done years ago for Downtown. The most exciting portions are yet to come, but we understand it takes time! The early stages are not the most visible portions of the process in terms of results seen and felt.
What can residents look forward to in the next 24 to 36 months?
Austin: Affordable housing! While the City works on the completion of an Architectural and Historic Preservation Overlay that will protect the historical integrity of the area, things are able to move forward with affordable housing and community improvement through home preservation initiatives thanks, in part, to an initial $40,000 grant from the City. That grant allows for West Orange Habitat for Humanity to improve some 16 homes beginning this year. Plus, five local businesses— Empire Finish Systems, Miller's Ale House, Pilars Martini & Loft, Publix Supermarket Charities, and the Wells Fargo Builds program—have stepped up to sponsor full houses being built by West Orange Habitat for Humanity on Center Street in Criswell Court.
Which businesses or community partners are you hoping to attract?
Tanja: So many already have. Healthy West Orange, Shepherd's Hope, Winter Garden Police Athletic League, Polis Institute, Eight Waves, West Orange Boys and Girls Club, West Orange Habitat for Humanity, and the Black Business Investment Fund.
Chloe: Our local churches have always been community advocates, in good times and bad. They are the real anchor in East Winter Garden, and we're blessed that they are still committed to seeing this community grow in a positive way.
Austin: Locally owned and operated! There are many powerful organizations involved already, but when it comes to businesses coming in to set up shop within the new development areas, it is critical that people from the community are encouraged and supported for the purpose. It is best when an economy is built from within, supporting neighbors, friends, and family.
What is the best way for residents of Winter Garden to get involved in these efforts?
Jamie: Attending One Winter Garden meetings is critical. This is where we get organized and inform each other of things that are coming and initiatives we need to align out. Next, I would encourage more people from East Winter Garden to attend City meetings, and let them know we are ready and involved. The more presence we have within the government, the more the government will know and hear our concerns. If nothing else, follow us on social media and share posts. If everyone tells just one new person about the good things happening in East Winter Garden, the message will spread.
Chloe: Get out into the community and be the good! Volunteer with the organizations that are investing their time here. Challenge yourself to meet one new neighbor every month. Visit a new local business. I love what the plan outlines for the future, but real change is about getting involved.
Tanja: When we work together, we can accomplish just about anything.