A partnership between AdventHealth and the legendary Rothman Orthopaedic Institute brings a new standard of care to Winter Garden.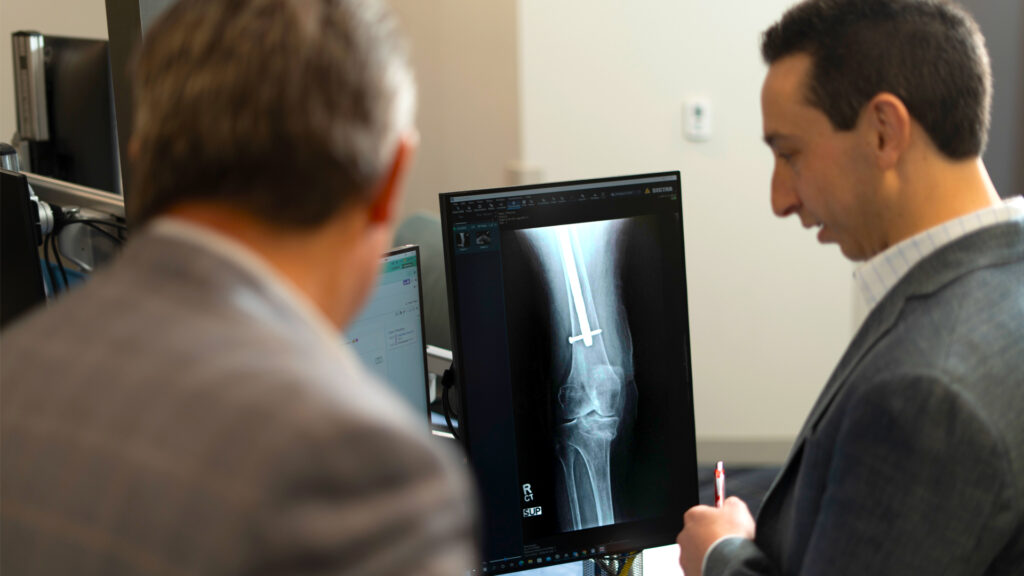 Richard Rothman, MD, was a true visionary and an orthopedic legend who transformed what used to be a minor medical specialty into the practice of orthopedic medicine as we know it today. The original home of the Rothman Orthopaedic Institute is in Philadelphia, PA, and in those environs, expanded to include New Jersey and New York later. The Rothman name is a well-established center of orthopedic excellence.
Today, Central Floridians also have access to that Rothman Orthopaedics excellence. Its newest addition is the Winter Garden location on Fowler Grove Blvd. The facility occupies the entire third floor of the medical building there which include x-ray facilities and a 2,500 sq. ft. area devoted to solely physical therapy, and with a capacity for 140 to 150 patients per day. Additionally, specialists in hand and wrist, hip and knee, spine and sports medicine all see patients at this location. The opening of this location is a part of Rothman Orthopaedics, along with AdventHealth, commitment to patients not having to travel far for high-quality orthopedic care.
Rothman Orthopaedics goal here is simply stated: to completely transform orthopedic landscape in Central Florida to reflect the groundbreaking vision of its legendary namesake.
A lofty goal to be sure, but how do they propose to do that? Central Florida already has a number of orthopedic practices. How "transformative" could Rothman Orthopaedics really be?
What's the difference? We posed that question to Dr. Daryl Osbahr, Chief of Orthopedic Surgery and Managing Partner for Rothman Orthopaedics—Florida. Apparently, we had a lot to learn.
According to Dr. Osbahr, "Practices have been traditionally structured on a fee for service model. That has been the norm for years. A patient comes in with a problem, receives treatment for it, pays, and goes home. If complications arise or results are unsatisfactory, he comes back in to address those concerns. The uncomfortable truth is that complications mean more income for that practice—and more pain and expense for the patient.
Dr. Rothman envisioned a better way. "He felt that there had to be a better way to build a business and over the years, Dr. Rothman developed what he called his subspecialty care model. Unlike fee-based models, Rothman Orthopaedics measures its success on the successful outcomes and more rewarding experiences of its patients. We provide a value-based, quality product."
Ah ha, we nodded. Sure. But, what the heck is a subspecialty care model?
We learned that subspecialties cover the complete orthopedic landscape. There's sports medicine, orthopedic oncology, non-surgical treatment, and rehabilitation. Every joint gets its own specialty: from the spine to shoulder and elbow to hip and knee to hand and wrist to foot and ankle.
Says Dr. Osbahr, "Key to the success of our subspecialty model is that all of our physicians keep strictly to their specialty and don't stray outside of it. Our hip and knee specialists don't do the occasional shoulder surgery, for example. They are highly-trained, experienced experts in their field motivated to continually strive to be the best in their specialty. That means they go to all the national and international meetings, stay on top of innovations and become teachers and leaders in their specialty."
"Dr. Rothman realized long ago that high volume is the best way to build expertise in a physician. But he also placed as high a value on education, innovation and research. You want the guy who operates on your knee to go to all the conferences, stay on top of all the innovations, teach the procedures, and lead the discussions. "Clinical quality. Academics with research, education, innovation, leadership; patients find all that at Rothman Orthopaedics. It's what is in our DNA."
Jon Schmidt, Vice President of Operations adds one more goal to the list for Rothman Orthopaedics – Florida. "We are building our brand here. We are very conscious of that and are confident that subspecialty care is the way to do that. We are not as well-known as other brands in Central Florida—but give us time. The Rothman brand in orthopedics is very strong. Everyone in orthopedics knows who we are.
"To that end, we really strive to create an exceptional experience, not just through surgeries but throughout our entire practice. You won't come in to the front desk and speak to someone, get help if you need it, and then have that same person be distracted answering the phone, making appointments, etc. As far as our physicians are concerned, our work here is a collaborative effort. It is not unusual for a patient to hear I am not the best physician for "X" so I am going to send you to my partner who is. That is the Rothman model.
"Outside of all the marketing and the magazines and everything we're doing to get our name out there, when someone calls me and says I have to get in, I get them in. Invariably, a week later I hear from them and they say I can't believe how amazing that whole experience was! The point is, we focus on the patient and give them the best experience possible. That's how we will build our brand locally."
But people who find themselves in need of a physician don't really have the tools they need to choose one. What do they do? They ask friends, ask their primary doctor, wade through the mountains of data on the internet. The one data point that sticks with us about Rothman is this one from Dr. Osbahr: "We are simply doing more surgeries by the right surgeons with expertise in those specialties than anybody else in this region."
"We put patients in the right surgeon's hands at the right place at the right time."