For Jangi Borhi, healthy aging is a potent cocktail of self-love, discovery, connection and rock-solid energy.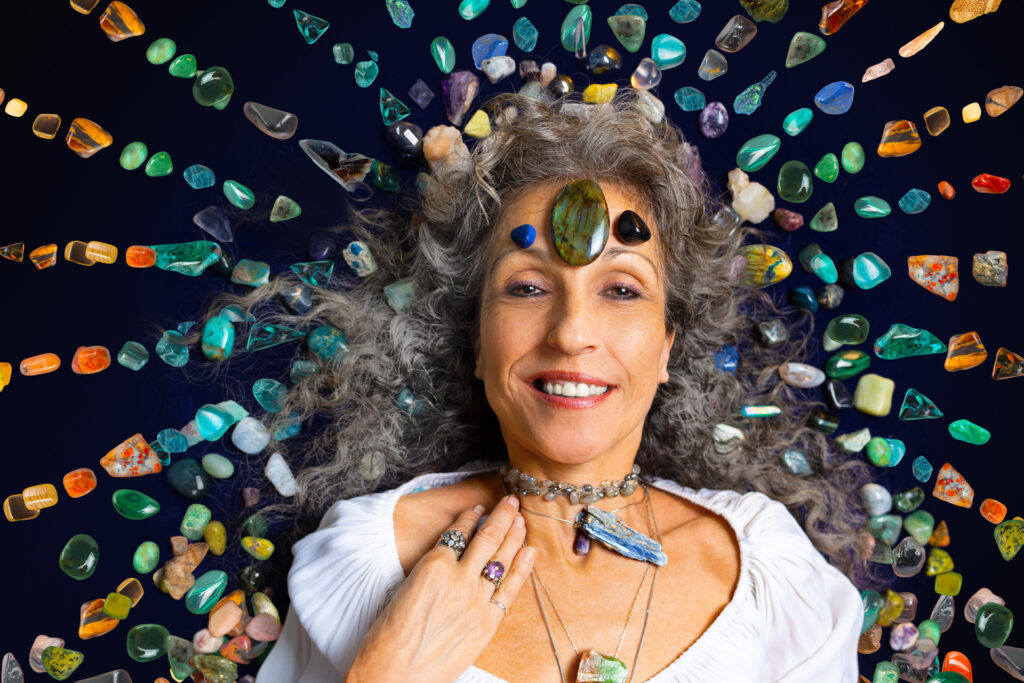 She has a cat named Elvis, a pit mix named Kouki, and a toolbox filled with crystals. If that doesn't tell you what you need to know about Jangi Borhi (pronounced hahn-jee), then maybe this will: "Aging is beautiful. It's a gift to grow older. I absolutely love where I'm at in life."
Simply put, Jangi knows how to be. The 58-year-old breezes through the world with a bright smile and grace. She knows how to talk to people in a way that's easy. She knows how to laugh and tell a good story and get serious when she wants to be serious. She's comfortable in her own skin, and it shows in every facet of her being.
Of course, it's taken nearly six decades to get to this place of ease, but she wouldn't trade those experiences either. Not the 28 years spent with her husband before he passed. Not the decades spent living and working in New York City, chasing careers in fashion and IT, and climbing rungs on the corporate ladder.
In fact, only one constant in Jangi's life has been rock solid. Literally.
She was all of 7 or 8 when she realized that rocks were more than, well, rocks.
"I was on the playground, during recess when I found the best rock. So I brought it in with me and during show-and-tell, I talked about the rock, how it had mica and feldspar in it, minerals that you could see because they had different colors. And the minerals were from the earth, and the earth had energy. I can't even tell you how I knew that, but I did," she laughs. "That rock captured my attention, and it has been that way ever since."
These days, she is an energy practitioner who uses rocks, in the form of crystals, as a central part of her healing practice.
"Our bodies are dynamic, electromagnetic organisms—we have physical, emotional, mental, and spiritual energy flowing through us all the time," Jangi says. "Crystals are a fun and unique way to help direct that energy towards greater health, especially  when used with the right intention."
Although it may sound a bit bohemian, Jangi is quick to point out that humans have valued crystals for ages: Ancient Egyptian used them for healing, while ancient Greeks and Romans used them for protection in battle. Sacred Indian texts explain specific healing properties of various crystals and how to use them to treat illnesses, and Chinese medicine still often includes the use of crystals."Humans have used stones for healing and energetic purposes for thousands of years," she says.
So perhaps it's not so farfetched that modern humans are returning to the potential healing powers of crystals and stones, in much the same way more of us are practicing yoga, meditation or prayer, or cleanses with sage or incense. Whether you identify with a specific religion or none at all, we are all in search of something that will help us to get in more touch with our spiritual selves.
"I like to say that we're beings of light having a human experience because we all have that in common..."
"Just as yoga works on a structural, energetic, and emotional level to help us connect to the source—whether you call it god, spirit, or whatever—energy-healing modalities aim to guide people back to a sense of belonging with that source," she says.
For Jangi, it's the potent cocktail of energy healing, self-love, discovery, and connection that keeps her grounded, focused, and young at heart. Rocks just happen to be the conduit.
Although crystals have always captured her imagination, it wasn't until she was a stressed-out adult that her younger and older selves aligned.
"Learning to let go has been the biggest, healthiest change in my life," Jangi says. "As a young kid, I didn't care that my sister or her friends teased me for having a box of rocks under my bed. But as I became a young adult and got involved in the corporate world, I became more image conscious.  I had a high-stress job with incredibly long hours across international time zones, and I got very, very sick. The doctors would check me out and always come back with things like, 'Oh, your blood tests look fine,' or 'Your X-rays look fine,' or 'There's nothing physically wrong with you.'  But I knew something was off. It took several years, but eventually, I realized that the stress was doing it to me."
"That was in my late-30s, I think. So, I slowly started eliminating the things that made me stressed out. I left the high-pressure job. I moved to Florida, for the first time. I started revisiting crystals and energy healing. And over time, you start kind of really seeing more clearly what stress does to your life. Especially when you watch children. Children aren't weighed down by the world. They're out and they're enjoying life and they're living it, and they're having fun and they're playing and they're happy. And so I just try to create that space in my life. So yeah, life experience taught me to dump the crap, and do the things that are really important, which is self love, well, all forms of love, spiritual connection, and find connection with good people."
It sounds terribly simple, and yet profoundly difficult. But you can't help but see the joy and verve in Jangi's demeanor and immediately want that for yourself.
Jangi's journey back to self began with crystals and the decision to get her health coaching certification.
"All those years when the doctors found nothing, it turns out that I actually had autoimmune diseases, which is only exacerbated by stress, diet, and lifestyle choices. Fixing my own health became the catalyst for my new life these last 10 years. I renewed my interest in crystal energy and got my reiki certification. At the same time, I signed up for the Institute of Integrative Nutrition health coaching program and started changing my diet and changing everything that I put in my body and on my body, including my personal hygiene, my cleansers, my home cleansers, makeup, everything. I decided to go let my hair grow out and go gray. And every time I made a change, I felt better. Physically, for sure, but emotionally and mentally as well. I just kind of started stepping into who I am as an adult woman and finding my own identity again in my life. And that's just mind-blowing. It's just like, 'Wow. That's right. This is who I am. And it's fun."
Fun. That's a word that comes up a lot in conversations with Jangi. And that's wildly appropriate for a woman whose energy is incredibly playful and engaging. 
In fact, it was fun that led her to her current job at Divine Wellness in downtown Winter Garden.
Turns out, I'm not a little rock hound weirdo that just likes to collect stones … It's really something that I'm meant to do. It's my connection to the planet, to Source, and it's my connection self.
"I had been shopping there for many years, many, many years. And I was already working in the neighborhood and one day for lunch I was having a stressful day and I'm like, I'm just going to go in here and ask Michelle [the owner] to make a custom aromatherapy blend for me. When I got there, she had a mother and daughter in the shop looking at crystals. The girl was asking questions, and the mom didn't know, so I just stepped in, showing her different crystals and explaining what they do. Michelle heard me and later asked if I was interested in a job. It started out as part time, but when I left my other job, Michelle was thrilled. So now I'm full time, working the shop and doing energy healing. And I just love it. It's so refreshing to have fun at work and just laugh and just be myself. No airs, no pretense, no posturing. I'm with people who share my passion for the nature, the Earth, for crystals. I'm actually able to be creative there. And … I get to play with crystals all day," she laughs.
Back to the crystals, which can be a little woo-woo for those not familiar with the metaphysical.  Thankfully, Jangi delights in sharing her knowledge and experience. "OK. Well, we're all energy. There's always energy out there, whether it is something like a car moving past us, or the lights or the wind. Everything is energy. I like to say that we're beings of light having a human experience because we all have that in common, that we can grow and we can share our light with people. The energy is part of that light. And when we match that on ourselves, we're more in tune with who we are.
With the help of crystals, Jangi works to bring the body and mind back in balance."You may have heard of the term chakras, and that's certainly part of it, but there is more. What I do is clear a pathway for all forms of energy, because sometimes we don't process things properly. We hold back our emotions, we don't communicate, and we create what I refer to as energy blockages. And that's where discomfort comes from, whether that's a physical ailment or just feeling like you're not yourself."
By opening those pathways, she helps clear all the excess stuff that hasn't been processed, on an emotional, physical, mental, and spiritual level. "Heartache, sadness, abandonment issues from our childhood that we don't even know that are there; they all leave an energetic residue. And it's my purpose in life to help people clear that out so that they can live a more fulfilled and happier life. And it's lovely, I've seen the results, and it's just like you see people with more motivation, more, their face lights up, all that stress and pressure in their faces. You see when they walk out of the session, they're like, 'Oh, OK. Yeah, I remember what this feels like.'"
Indeed, Jangi's own life transformation echoes that statement. "With this job, at this particular phase in life, I've rediscovered parts of myself that were missing. Turns out, I'm not a little rock hound weirdo that just likes to collect stones secretly in her bedroom.It's really something that I'm suited for and I'm meant to do it. It's my connection to the planet, to source, and it's my connection self.
She continues, "Discovering yourself again is like falling into the rabbit hole. It really is. And I find that when I was child, I knew better who I was and what I needed than I did in my adult life. Twenties are all about partying and pushing boundaries. Thirties are about moving forward that career and establishing yourself financially. Forties are more of the same, maybe raising a family or investing in a spouse. But 50 … It's all about self. Not in a selfish way, but a self-love way. I  love being in my 50s; I feel like I've finally stepped into my own. I know how to be, and there's no greater gift in the world."