Andre Baptiste on cultivating a farm, a following, and a food forest.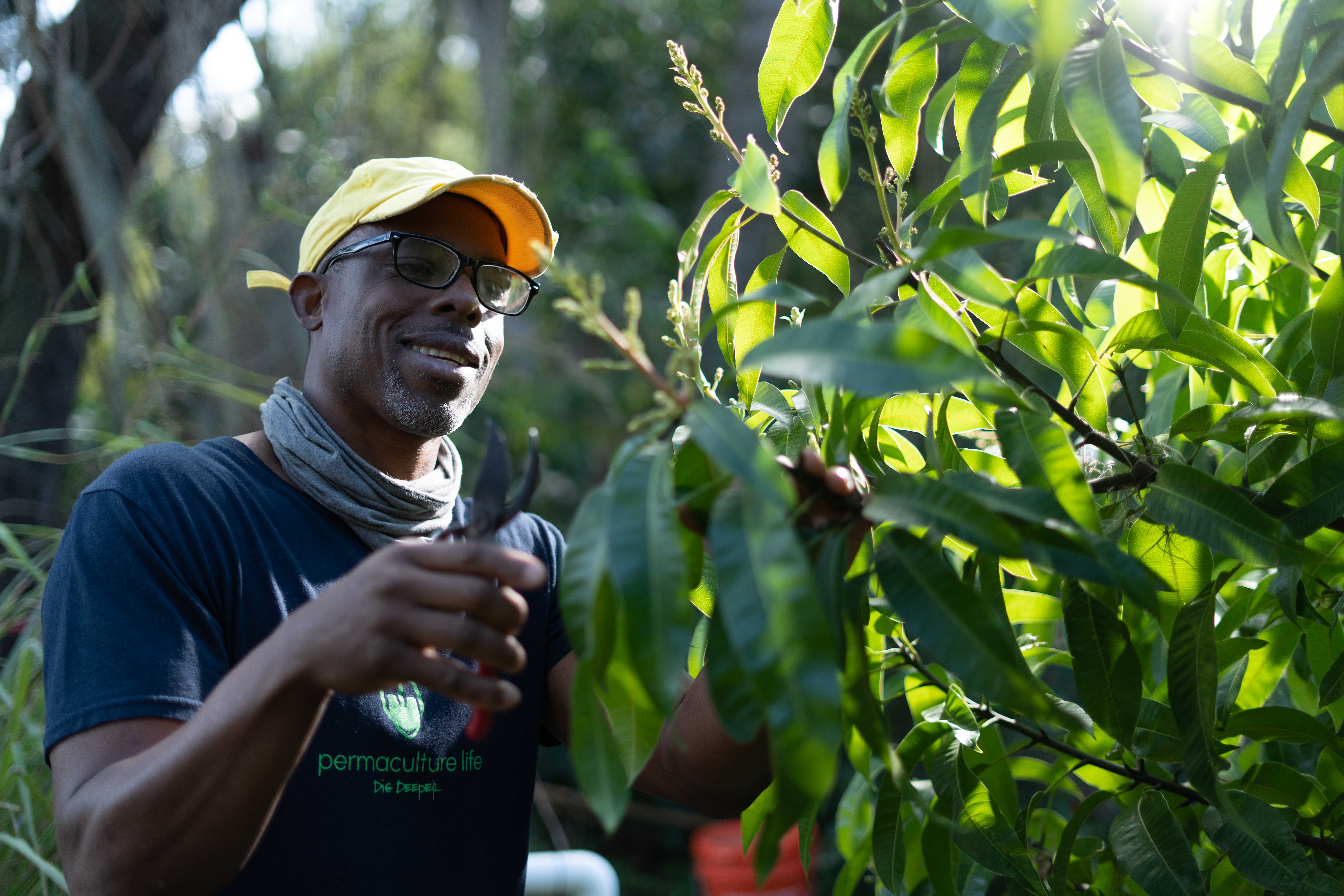 On an early March morning, long before the sun digs its heels into the day, Andre Baptiste pulls a bright banana off the newly ripened stalk, a cascade of brush surrounding him. This is his happy place, and it is entirely his creation.
If you had told him 10 years ago that he'd be spending his days in a haven of foliage, Andre would have laughed. "I had never gardened before. Never even crossed my mind. But when we moved here about seven years ago, the land was all brush. We didn't even know if we would be able to carve a pathway to get to the lake, but we knew we wanted to try. About six months after that, I planted a mango tree. I can't tell you why exactly, except that I liked mangos. After a few years, I got a mango from it, and it was probably the best mango that I've ever had. So I thought, I might as well plant another mango tree and get twice as many mangos!"
What followed borders on obsession, albeit a healthy one. "After the mango trees, I planted an avocado tree, then a lychee tree, then a Barbados cherry, then more mangos, and eventually I got to this point, where now I have more than 100 fruit trees," he says with a broad smile.
Before he knew it, Andre cultivated an entirely new hobby—one that was beginning to plant opportunities right in front of him. "I would research gardening tips on TikTok, and I learned so much.Eventually,  I got to the point where I was like, I could be doing this, helping other people that are just starting out." With his knowledge and affable demeanor, it's no surprise that Andre has cultivated a dedicated following of 450,000 on TikTok as @andrethefarmer.
Although he does it effortlessly, maintaining this account is not as easy as it looks—in fact, he might even call it more difficult than gardening. Andre devotes much of his time to creating informational videos and answering numerous farming questions. "Every single morning, I wake up early and host a live video on TikTok. I have a bunch of regular followers, and we get together on the live and just walk through the garden. I might do a little work if it needs to be done, or teach my viewers something. It's something to look forward to; I go to bed excited to get up the next day and see what's new."
"Every single morning, I wake up early and host a live video on TikTok … I go to bed excited to get up the next day and see what's new in the garden."
As Andre's enthusiasm for the hobby has grown, so has his reach. Outside of social media, Andre volunteers his time and talents at Oak Hill Elementary. "We're building a community garden for the kids there. They have a garden club, and I run it. About three to four times a month I'll go to the school to work on the garden. It's so much fun to see the kids get excited about the things they are growing!"
And because the orthodontist-turned-gardener is also a serial entrepreneur, Andre also has another company called Permaculture Life, creating sustainably sourced apparel. "The shirt I'm wearing is made 100% from plastic bottles. The hat, from bamboo. And one dollar from every sale goes toward building community gardens."
Whether it's tending his own garden, helping friends and followers with their gardens, or working in community gardens, Andre easily spends four to six hours a day with his hands in the dirt. And every day he learns something new. "I'm definitely not an expert," he says. "There's still so much to learn. But my philosophy is 'get it in the ground.' Get it in the ground, then learn about it as you go. A lot of the time, people want to plan and research before they do anything, and they end up spending all their time planning when they could just be getting the experience. These trees take years to grow and mature and become fruitful. Get it in the ground; you can move it, you can learn from it. Even if it dies, you learn something in the process."
Indeed, Andre admits to killing more than his fair share of plants, but that's hardly any reason to give up. As he puts it, "I learned most of this from trial and error, a lot from friends, social media. When I have my lives and make my posts, I learn as much from my followers as I do teaching them."
Plus, now Andre's followers are able to share his gardening achievements with him, and with Andre's sage advice, they even experience their own achievements.
"Having this connection on TikTok has definitely helped to hone my passion further. Getting that positive feedback makes me want to do it more. I get people that tell me all the time that I've inspired them to start their own gardens. That really inspires me to keep going."
As Andre's love for gardening continues to bloom, so does his crop. According to this accidental farmer, each new fruit he produces is an exciting experience. "The first product of every plant is always a milestone for me. So many exciting things have happened; that's part of why I grow so much. Every time I come down, something new will be here."
And even with hundreds of varieties in his own garden, Andre still finds new things to cultivate. "Coconuts are next. I'm not sure if it's the climate or the soil, but I have had a couple of them die. Right now, I have three coconut trees that have made it through a couple of winters, so I'm hoping I get coconuts this year. That would be amazing!"
By far, his favorite thing to grow is bananas. "They're not my favorite thing to eat out of the garden, but to me, the whole growth cycle of bananas is fascinating. When the banana flowers and produces fruit, you have to chop the whole thing down, because each stalk only produces one rack of bananas. One!! I think the whole concept of growing an entire plant for just one rack of bananas is cool."
Bananas aside, the fruits of his labor, pun intended, are well worth the toil. "Growing the fruit changes the taste of it," Andre says. "Some of it is psychological. It's more special because I grew it, so, of course, it will taste better. Plus, I'm picking food at its optimal ripeness. When you buy a mango in the store, that mango has been picked way before it's ripe; it has been shipped, and has been sitting in refrigeration for weeks, if not longer. But I can pluck a mango from the yard, and within a day or two, it's perfectly ripe, juicy, and sweet. It's just so much better than anything you buy in the store."
From just one mango seed, Andre has permanently planted his roots into the world of gardening, and with a hobby that will ever sprout new seeds of passion, Andre is exactly where he belongs. "This entire experience has been so enlightening; gardening is something I should have always been doing. It's so cool, and the thing is that anyone can do this. When I started, I had zero experience. But now, I feel like gardening just fits into my personality. I've always been pretty laid back and mellow, and this is just a way for me to refine that side of myself, to keep learning and keep growing."