Winter Garden Beekeepers share the latest buzz.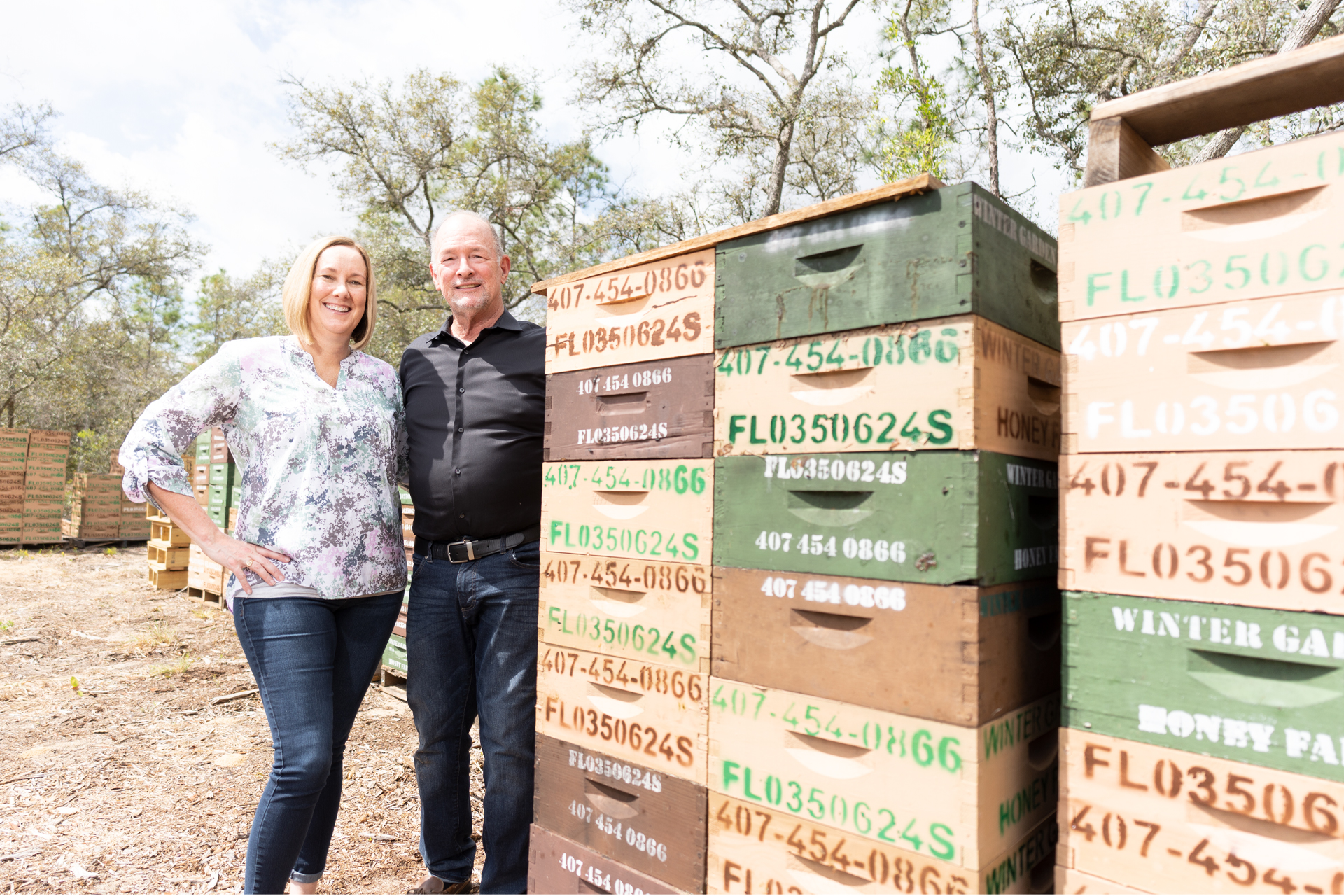 We watch in fascination as they probe their long tongues into clover flowers to collect nectar and swat them away from picnics, hoping not to get stung. We harvest honey to spread on toast, swirl into tea, and drizzle over yogurt. In addition to the roughly 150 million pounds of the sweet stuff they produce each year in the U.S., bees are responsible for pollinating about 35% of our food crops. They also pollinate the flowering plants that feed the livestock we eat.
Love them or fear them, honeybees are crucial to sustaining a diverse, nutritious food supply. No one understands this better than local beekeepers Bob Stevens and Paul Allison, who have been caring for bees for decades.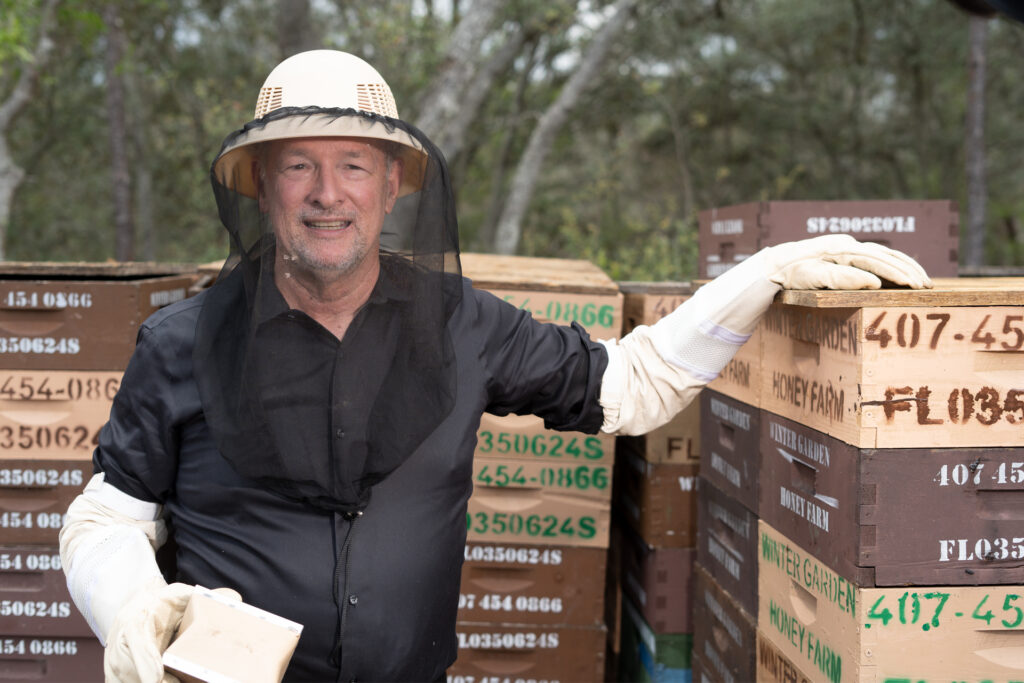 Winter Garden's sweetest secret is tucked away in a pine tree forest off a quiet country road, just minutes from the bustling traffic on Avalon Road. A red brick path leads to a small cabin. Inside, rows of pure, unfiltered honey line the shelves. Pick up a bottle or two of Orange Blossom, Brazilian, or Saw Palmetto honey—payment is on the honor system.
This self-serve stand is owned by Bob and Trilby Stevens, beekeepers and owners of Winter Garden Honey Farm. Bob's obsession with bees began in boyhood. Like many 8-year-olds, he was attracted to anything that crawls, bites, or slithers. His curiosity led him to the plentiful honeybees that thrived in the orange groves behind his house in rural Orlando. With an encouraging mother, he was introduced to local beekeeper Jim Bradshaw, who became Bob's mentor.
"The bees were so fascinating, and you could get something from them—honey. I sold it and thought, 'Wow. I can do something interesting and make money! I was hooked," Bob shares. By 8th grade, he was selling honey in 55-gallon drums from the citrus trees in his backyard. At 15, he had his first honey company, Bob's Honey in Apopka. Over half a century later, he's still at it.
But it's important to remember that passion comes with a price. Bob works 50-plus hours a week at an office job and devotes another 25-30 hours to beekeeping, as income from honey is unpredictable.
"People don't understand the challenges. They think 'oh, you can just go order more.' But there are so many factors," he says. "When I was growing up, citrus was huge, and Orlando was a rockstar area for beekeepers. Things have changed."
Subdivisions replaced saw palmetto and citrus groves, making it harder to find places for bees to forage. Varroa mites, an external parasite that attacks bees directly, arrived in the 1980s. Small hive beetles came on the scene in the 1990s, damaging hives. Keeping bees healthy is an ongoing battle.
"Bees are master craftsmen and builders. They're one of the more important creatures in the world. Without them, there is no us."
And if that wasn't enough, weather plays a role, too.
"Last year, freezing rain killed the blooms; this year, it's been so dry there's no nectar. I'll make 25% of what I made last year. At least I have a day job," he says.
But accolades from customers who taste this raw, natural honey only fuel Bob's passion.
"The customer appreciation is unbelievable. The texts, the smiles. People love the connection," he says. And the honey is sweet, too.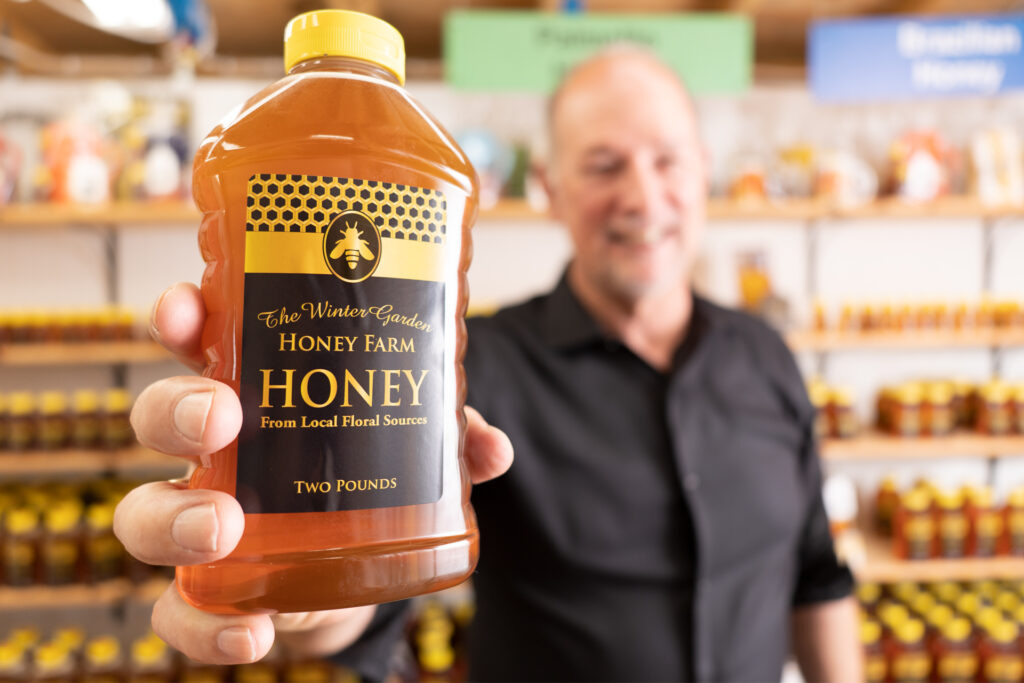 Across town in Ocoee, Paul Allison stands in his 3-acre farmyard as goats nibble at his pants, roosters crow, and a handful of ducks waddle around. A cow, a turkey, and some chickens complete the brood. Beehives, stacked five or six high, sit near some banana trees on the edge of the yard.
"I love being out in the bee yard. It's relaxing and calming," he says, as dozens of bees dart in and out of the hives. "As long as they're not angry, the sound is mesmerizing."
Bees are misunderstood, Paul adds. "We're taught that bees are bad because they sting. But if you like to eat, we need healthy bees."
Many fruits and vegetables won't produce unless they're pollinated, he explains. No more avocado toast, berries in your cereal, or melons for dessert. Kiss cucumbers, eggplants, and broccoli goodbye without bees. It's not just honey we're at risk of losing. By some estimates, more than 30% of our food crops depend on bees for pollination. Attached to your morning cup of joe? You can thank the bees for pollinating the coffee plants.
Paul, his wife, Gina, and their five kids are doing their part to sustain the food supply with their family honey business Allison's Apiaries. Paul faces the same challenges as many other beekeepers: colonies collapsing from disease and citrus greening shrinking the bees' foraging territory. At one point he lost 30-40% of his hives to mites. Pesticides used in home gardens are also dangerous because the poisoned bees infect the rest of the hive. Paul must be more diligent than ever to check on his bees, developing solutions to problems. An entire hive unchecked could be decimated in two weeks by mites or beetles.
"Some people think they don't like honey, but then I let them taste mine."
Paul developed an interest in bees after earning a Boy Scout merit badge in beekeeping when he was 12. Shortly after, his parents gave him a few hives, and more than 40 years later, he's still sweet on honey. In 2015 he decided to pursue beekeeping as a full-time career.
Paul spends a lot of time educating customers. He wants people to know that honey sold in stores is pasteurized and microfiltered, a process that destroys much of the flavor and many of the nutrients found in raw honey. Sometimes fillers, like corn syrup, are added. Raw, natural honey is straight from the bees, filtered just enough to remove any wax and dead bees.
"Some people think they don't like honey, but then I let them taste mine," says Paul, who compares honey to wine. Floral, grassy, oaky, sweet, amber—these words can all be used to describe its flavor. The characteristics of this golden nectar are influenced by the terroir of where the bees gather. Orange blossom honey has distinctly floral notes and golden color; saw palmetto has amber hues and a richer flavor. Florida holly is lighter, with a hint of bitterness. And like wine, the flavor varies from year to year.
Paul also sells a version of bee bread, a high-protein snack combining honey and pollen that bees feed their young. Spread it on bread or pancakes or blend it into a smoothie for its allergy-fighting and immune-boosting properties.
There are so many ways to enjoy the goodness of raw honey, from salad dressings to smoothies. Or straight by the spoonful. Just remember to show your honey some love. Don't put it in the refrigerator, and if it crystalizes, heat it gently in warm water. Microwaving kills the good nutrients.
"The customer appreciation is unbelievable. The texts, the smiles. People love the connection."