Charlie and Faye Roper on how a change of color can bring a family closer together.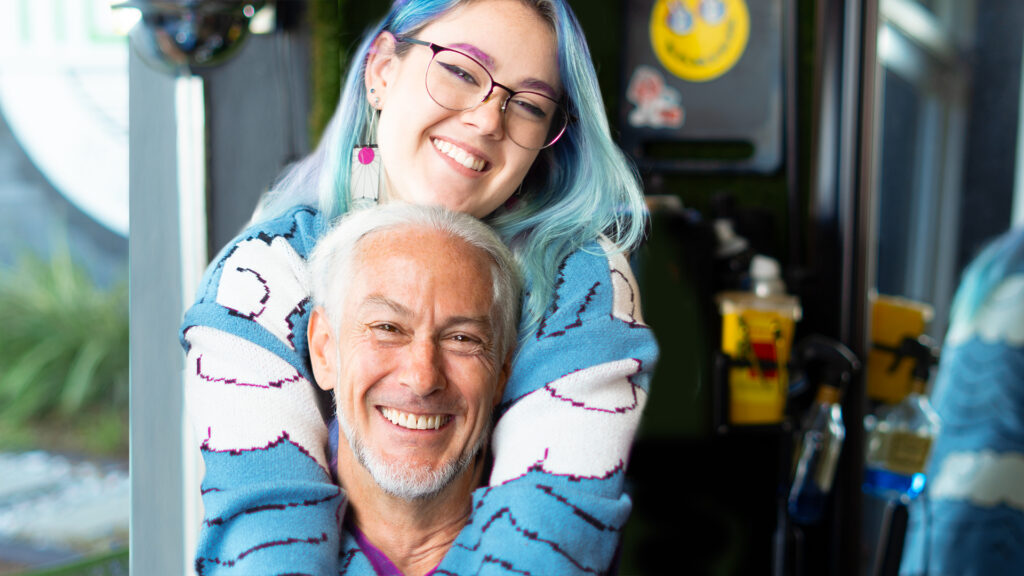 Charlie Roper sits in an office chair, centered on a large bathroom mirror. His 21-year-old daughter, Faye, stands behind him, working Charlie's silver and ultraviolet strands into a semi-elaborate braid. Together, they are testing styles for a Lord of the Rings–themed wedding Charlie's son, Sutton, is having later this month. But every eight weeks or so, the scene plays out similarly … Faye and Charlie, gathered in front of that mirror, experimenting with color and styling.
Generations of Ropers have helped shape the community in a myriad of ways, from citrus groves to theaters, coffee shops to martini bars. You'd expect to read stories about business development and philanthropic pursuits, but this story is much simpler: The love of a father who would do anything for his family,and a daughter with a dream.
"We were getting ready to go on a family trip to Africa," Charlie recalls. "Faye wanted to color her hair, but it wasn't allowed in school and she didn't want to break the rules. So, Karen [my wife] and I were talking to her and we suggested that she just color the tips. That way, if it's still there at the end of the summer, we just cut it off and she would be fine for school."
I don't really care what somebody else thinks. It's my hair. But I've definitely seen a change in perception and attitude when it comes to color.
Faye smiles and continues the story. "So that's what we did! We colored my tips, and when it was done, I still had a little bit of color left in my tube. I looked at him and said, 'I'd love to color your hair, but you'd never let me.' And he was like, why not? He sat down in the chair, this office chair that we've had for years and we still use, and we colored his hair."
And that's how Charlie Roper went to Africa in 2013 with purple hair, and Faye's passion for fashion color was born.
So … what makes any man, let alone a pillar in the community, say yes to colorful tresses?
"It's just hair," Charlie says with a shrug. "It was something fun to do with my daughter. I mean, I love all three of my kids—Sutton, Renee, and Faye—and I like to be able to do fun things with them. I remember Karen telling me when we had our first girl that the relationship that I make with my daughters is going to greatly influence whom they choose as a partner later in life and how they should expect to be treated by others. That's really impacted me and has been one of the driving forces for the relationship with me and my girls. So kudos to Karen 23 years ago."
"Of course, I have expectations and standards, sometimes they are a little hard, sometimes not … I mean, I am still her dad and my job is to be a parent first," he continues. "But that doesn't mean that I can't relate to my daughter, have fun with her, and use these moments together to have really good conversations about easy topics and tough topics."
Still, the truth is that not everyone is as open-minded as Charlie.
"When I first did it, professional people were looking at me like I was crazy, and more than a few told me it was a mistake, that I would lose business over it. Maybe I did … I don't know, but I don't really care what somebody else thinks. It's my hair. It's my head. It's showing part of my personality. And, in the end, my family comes first. But I can tell you that over the years, I've seen a change in perception and attitude when it comes to color. It's been nine years since Faye first dyed my hair, and now fashion color is mainstream. Now when I walk into a room with colored hair, nobody cares. In fact, they are curious. It's kind of become a game. What color is Charlie's hair today?" He laughs.
Faye winks, playfully adding: "He's a little bit of a peacock. He definitely likes the attention."
Charlie smiles. "She's not wrong. It's kind of like a calling card for me now. Plus I'm a walking billboard for her."
Indeed, Charlie certainly reminds the community every day just how great stepping out of your comfort zone and embracing change can be. So much so that he has inspired others to join the fun. At a recent birthday party, Faye says, "We went to Pilar's and everybody there was wearing wigs to celebrate him. It was so much fun!"
As for Faye, almost a decade later, her passion for fashion hair ignited a career. She works full-time at The Lab in Clermont coloring hair. "I specialize in the bright and vibrant colors, rainbows, red, purple, blue, neon, you know, all that stuff. It's what I enjoy the most. I do traditional highlights and blondes, but my favorite thing is fashion color because it's basically artwork. I love painting, and this is essentially painting on hair."
For Charlie, there is nothing better than seeing his daughter follow her lifelong dream. "I'm so proud of her. As a parent, what more could you ask for? Your kid says they're going to do something, they put their mind to it, they get it done. And then they get rewarded with the dream job that they wanted. She worked hard and proved herself and made it happen!"
Of course, Charlie's willingness to embrace individuality in the name of family certainly aided in kindling Faye's passion. But the dream doesn't stop there.
"I would love to see Faye build her dream salon here in Winter Garden at some point," says Charlie. "But The Lab has been great to her. She's getting a lot of experience and learning so much about the business. She's really blossomed there, and I'm so proud of her. But she has a really bright future, and I'd love that to be right here in Winter Garden."
What started as simply a fun idea nearly a decade ago has blossomed into an entire lifestyle for both Charlie and Faye — a colorful testimony to a father's love.